We are continually working on the website to keep it updated. Covering sires for broodmares, three year olds, young stock, competition horses - it's all here.
And we're getting regular updates from Gladys McArdle at Drumhowan Stud on their stallion roster for 2019 and the achievements of their progeny.
Click on the names of individual stallions to get pictures and more information.
ALSO, DETAILS ON HOW TO GET FROZEN SEMEN OF RINGFORT CRUISE...AND MORE NEWS ON OUR EVENTERS IN TRAINING!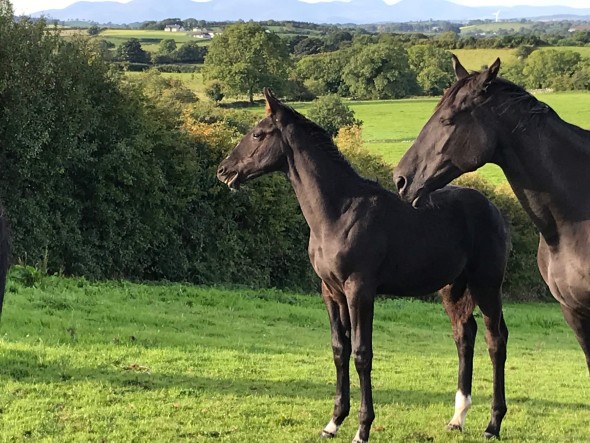 Click here for details of Ringfort Broodmares, past and present, to find more information on their breedings, foals and youngstock.
RINGFORT CRUISE HAS MOVED TO GALWAY AND IS NATURAL COVER ONLY - BUT NORTHERN IRELAND MARE-OWNERS CAN GET FROZEN SEMEN FROM RINGFORT!
See details under his name on the drop-down menu...
In 2019 (as we did in 2017 and 2018) we are sharing our website with Drumhowan Stud from Castleblayney in Co. Monaghan, to bring to mare owners more details of the important roster of stallions there. It was a great success in 2017 and 2018 and mare owners planning their breeding season found it very useful to get additional information on the performance, pedigree and progeny of the stallions they were considering.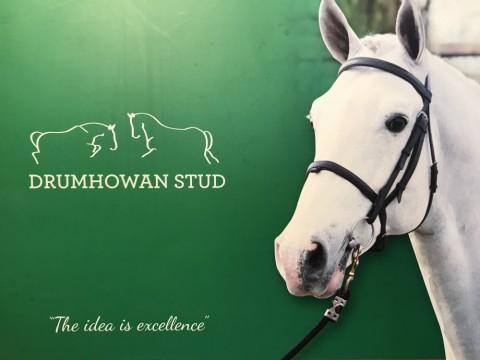 ========DON'T RING US! RING GLADYS!========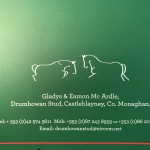 Click here for information about individual stallions. CLICK on the DROP-DOWN menu for contact details of DRUMHOWAN STUD. The owners of the stud, Gladys and Eamon McArdle, are knowledgeable about bloodlines, temperament and performance and will advise on stud fees and booking details.
A SHORT HISTORY OF RINGFORT STUD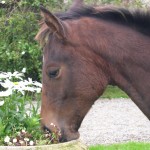 For nearly 30 years, the last 23 at Ringfort Stud, John Eakin and Diane Harron Eakin have been breeding performance Irish Sport Horses for sale to the Sport Horse industry. They developed a well-defined breeding policy - crossing the best of Irish bloodlines with those European lines that had proved themselves in competition on the world stage.
To that end, the first three mares they bought were a daughter, a granddaughter and a great granddaughter of the great Dutch "Stallion of the Century" Nimmerdor.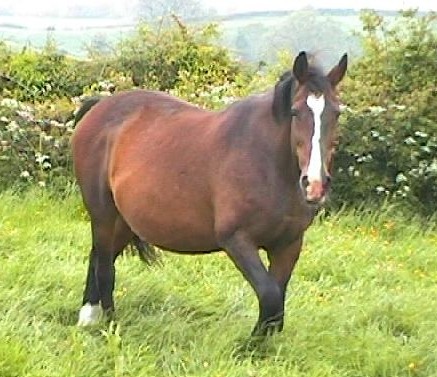 Renkum Woudina by Nimmerdor, dam of Approved sire Ringfort Cruise, Renkum Hollanta, Approved sire Renkum Englishman, et al...
The foundation mare of the stud, Renkum Woudina, died in 2002 at the age of 23 and Renkum Hollanta and Renkum Inglewood (pictured right) were retired from breeding in 2010. But Renkum Woudina's legacy at the stud lives on in her stallion son Ringfort Cruise by Cruising, and in her grand-daughter Ringfort String of Pearls by Larino.
Over the years new blood-lines have been added with the retention of home bred fillies, or the selection and purchase of new brood-mares, but always with the defining attributes of top pedigree and/or personal performance.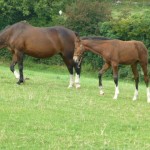 In the Sport horse brood-mare band currently are Ringfort Rara Ruby (retired), 3* eventer; and several more recent acquisitions - young mares by Luidam and Womaniser, and older mares by Pachat and Try Time. Fillies by Ice Man and Cobra 18 have been retained.
Another accolade for Ringfort Sport Horses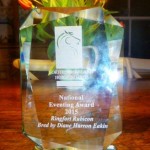 We are very honoured to have received the Northern Ireland Horse Board Breeder's Award for Eventing, for breeding Ringfort Rubicon, International 2* son of Ringfort Rara Ruby, also an International 3* eventer. The beautiful etched glass award was presented on 27th April 2016 at the NIHB AGM and Awards ceremony.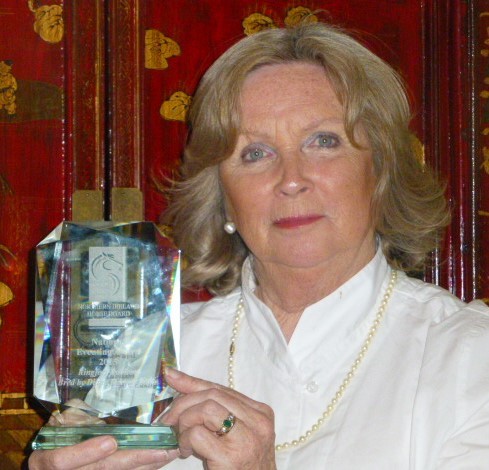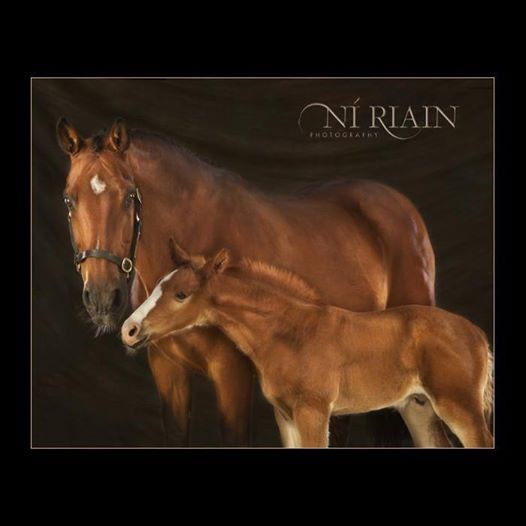 Ringfort Rara Ruby with her two week old 2014 foal Ringfort Ruby's Cruise (Harold) by Ringfort Cruise...special as we bred Harold's mother and father at the stud.
SEPTEMBER 2014 - THE IRISH FIELD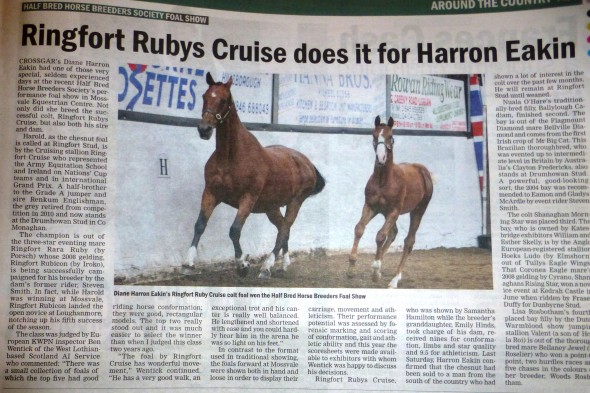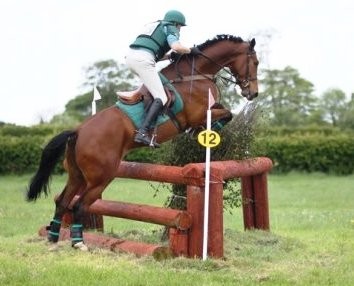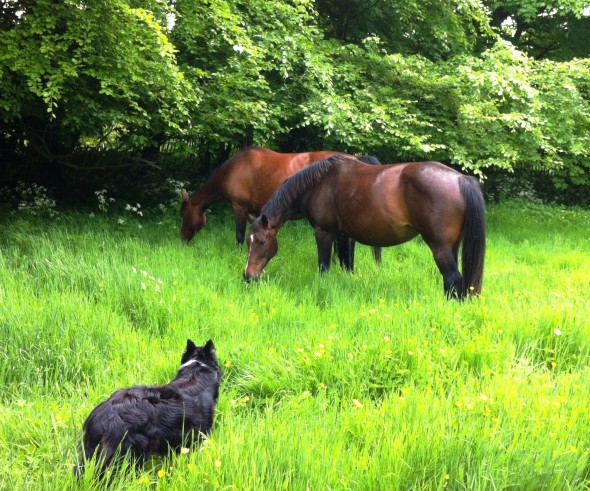 Ringfort String of Pearls (below) by Larino out of Renkum Hollanta out of Renkum Woudina, now owned and ridden by Stephanie Cunningham.
UPDATE: Coals to Newcastle? Ringfort String of Pearls, following a very successful career with Stephanie Cunningham, has now been sold to Holland!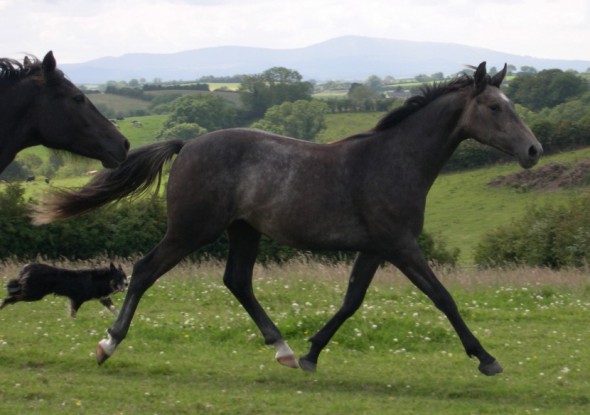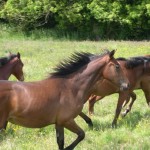 With a small band of broodmares and carefully selected stallions, Ringfort Stud has bred and produced Dublin Champions, Black Type race horses, and highly successful performance horses in dressage, eventing and show jumping. Only horses bred at the stud are allowed to carry the Ringfort Prefix (sadly a few good ones bred at the stud are competing under other prefixes - such as Ronan Tynan's showjumping stallion, Warrenstown U2) and the Ringfort name has become a by-word for talented young horses who can expect to go all the way in their chosen discipline.
Some of the foals they have kept ownership of and put in training in order to enjoy travelling throughout Ireland, and further afield, to support their young stock. Other young stock they have sold world-wide to international professional and amateur riders in all disciplines.
Horses such as home-bred stallion Ringfort Tinkatoo, by World Champion stallion Tinka's Boy, winner of the Eventing Ireland Northern Region Owner/Breeder trophy, and winner of the Novice Championship and the Novice Final. He was already winning at Intermediate level, when he was exported to the United States. His daughter, Tinkabella, followed soon after. Two other eventers left here for the US last year, including Ringfort Fighting Chance to Olympic rider Kim Severson.
Ringfort Tinkatoo - International Eventing Stallion and proven Sire of eventers.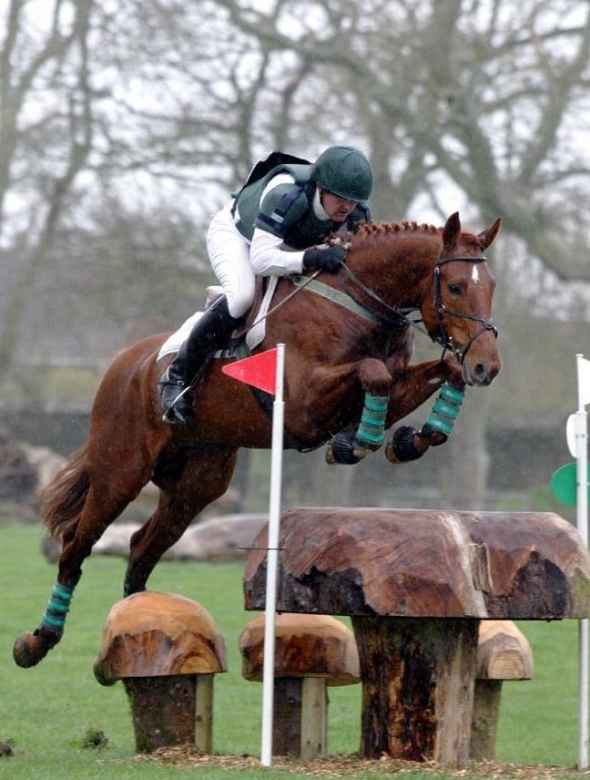 Ringfort Rara Ruby - International 3* event mare and dam of successful event horses.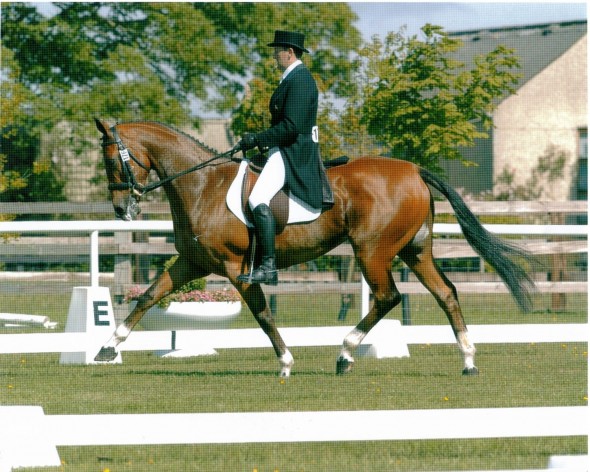 Warrenstown U2 - International Grand Prix and Nations Cup Showjumper.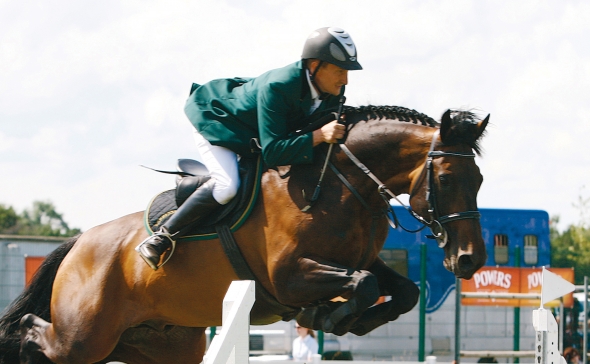 RINGFORT CRUISE - International Grand Prix and Nations Cup Showjumper and successful sire of event horses and show-jumpers.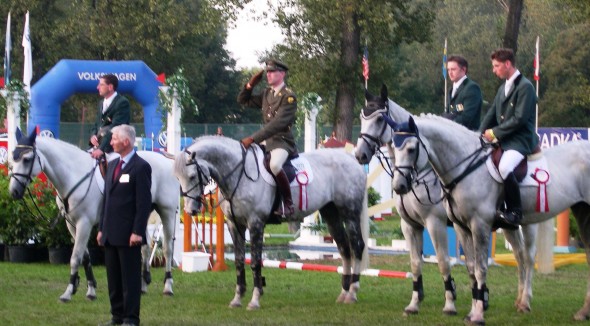 ALSO IN "NEWS" SEE OUR PREMIUM AWARD WINNING FOALS AT THE GERMAN STUD BOOK INSPECTION. THEY WERE TOP OF THE CLASS!
Tinkabella - by Ringfort Tinkatoo competing with Steven Smith of Gilford before her export to the USA.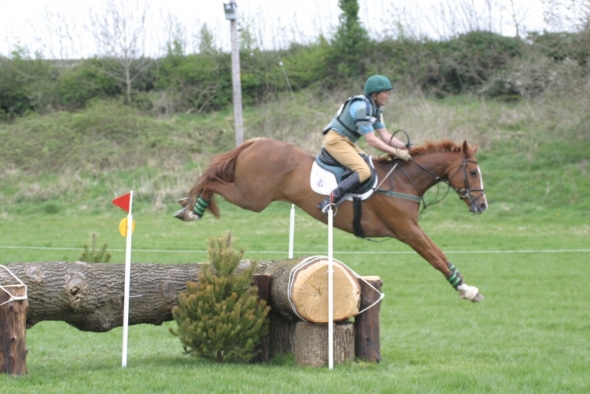 RINGFORT RARA RUBY (pictured below competing at Tattersalls.)
Ringfort Rara Ruby by Porsch, reached 3* level at eventing before being injured just as she was going through an assessment for the Irish Army Eventing Team. She returned to the farm here to breed and is the dam of two young horses, Ringfort Rubicon by embryo transfer, and Ringfort Rua, both rising four this year. She was covered in 2011 by Ringfort Cruise, the only fully Approved Nations Cup son of Cruising standing at stud in Ireland. Expected date of foaling March 16th 2012.
Other young stock bred at the Ringfort Stud, but sold on and competing at Nations Cup and Grand Prix level include top showjumping stallion Warrenstown U2, owned now by Internationally renowned Irish tenor Ronan Tynan. (One of our home-breds whose Ringfort Prefix got away!) His own young stock are now winning at high level.
PERHAPS ONE OF THE BEST EXAMPLES OF OUR BREEDING POLICY IS RINGFORT CRUISE. SEE HIS PAGE ON DROP DOWN MENU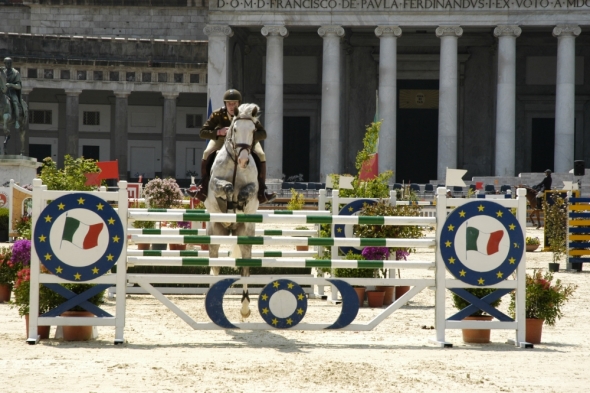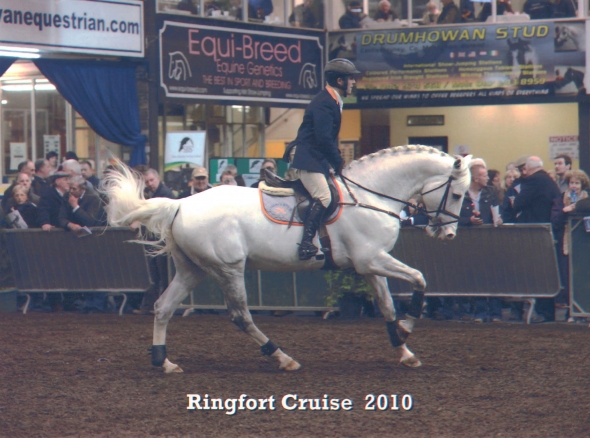 NOW FOLLOWS SOME HEADLINES FROM OVER THE LAST FEW YEARS BUT GO TO NEWS ON THE DROP DOWN MENU FOR MORE DETAILS - MOST RECENT FIRST...
ANOTHER YEAR STARTS AT RINGFORT STUD
Stone Beck covered by Winged Love on 17th January. Very early but massive follicle too good to ignore!
Pregnancies confirmed with Ringfort Rara Ruby and Sheepcote Solitude. Both comfortablly in foal to Ringfort Cruise. Now looking for another performance brood mare for next year. Also, Stonebeck, having taken her year off, will be covered again.
Quietish month - horses sold to United States , success in eventing, trip to Madrid for Show-jumping European Championships. More haylage made for the winter. See NEWS for more details.
13th August...and they do it again at Ballyvannon! See news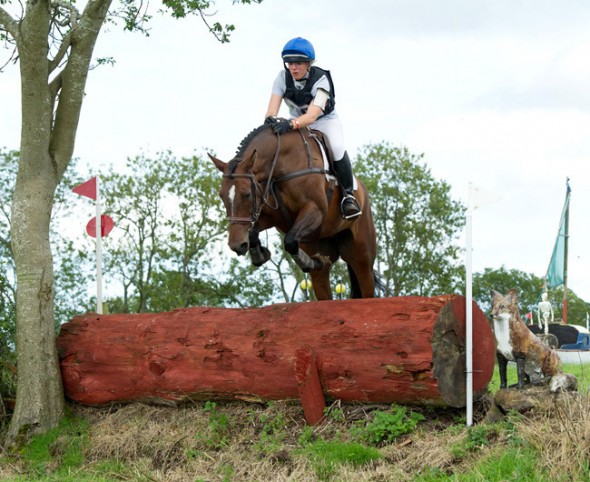 RINGFORT HORSES SWEEP THE BOARDS AT TULLYLISH EVENT (see report in News)
RINGFORT BUTTERFLY WITH NEW RIDER EMILY CORBETT WOWS CONNECTIONS AT BALMORAL NATIONAL CHAMPIONSHIPS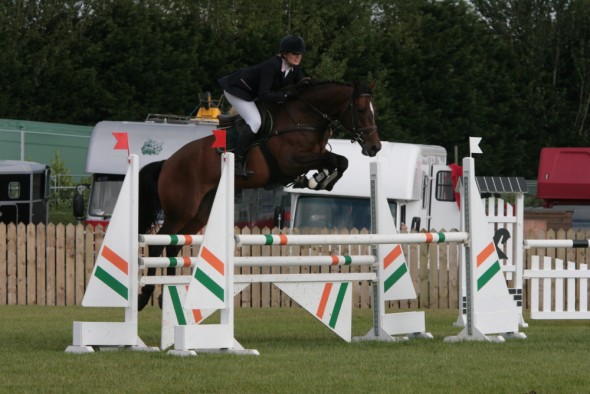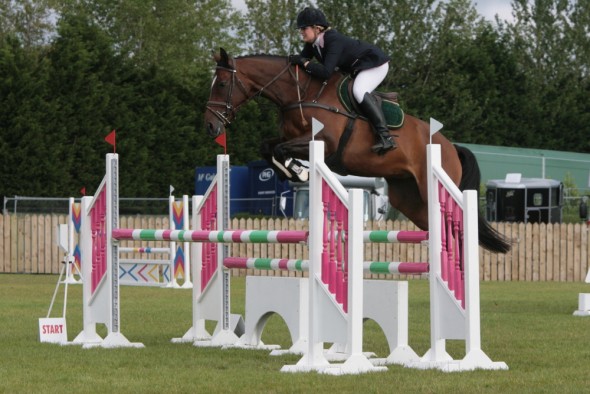 See 2010 foals (now yearlings) under Horses for Sale
SEE NEWS ON DROP DOWN MENU FOR MORE INFORMATION
RINGFORT RUBICON QUALIFIES FOR RDS 3 YEAR OLD POTENTIAL EVENT HORSE CLASS
RINGFORT CRUISE FILLY OUT OF NH MARE STONE BECK BORN 19 DAYS EARLY!
NEWS: SHEEPCOTE SOLITUDE RETURNS TO RINGFORT STUD AS A BROODMARE
News: Stone Beck's 5 year old wins his Maiden race second time out.
News: Ringfort Tinkatoo filly takes the Blue Riband in USA
Plenty going on for the stud in the last month - see NEWS for all the details.
News (1) for breeding developments - mostly very disappointing.
News (2) A great honour for the Stud in a Lifetime Achievement Award and the Neil Mathieson Trophy.
News (3) Good news about successes for Ringfort bred, but not now owned, horses; Ringfort India, Ringfort Tinkaturk and Ringfort Fighting Chance.
News (4) The sire of Garryhinch Cinderella's expected foal, The Square Rigmarole, goes from strength to strength.
Ringfort Cruise - the only Nations' Cup Fully Approved son of Cruising standing at stud in Ireland.
*RINGFORT CRUISE - USE HIM ON THE CORRECT MARE TO BREED A TOP SHOWJUMPER OR EVENTER*
With such an emphasis being placed on the importance of thoroughbred blood in eventing horses, don't just think about breeding a showjumper with Ringfort Cruise. On a three-quarter or full thoroughbred mare, he will give the jump, the step for the dressage phase and the temperament and courage for the cross-country, to breed a potential 4 star eventer!
As is the case with most other horse owners, breeders, and producers, we have have spent the last six weeks ferrying water to the frozen troughs, and forage to the ring-feeders, slipping and sliding on hard icy ground and generally wondering why we didn't decide to take up embroidery at an early age instead of horses.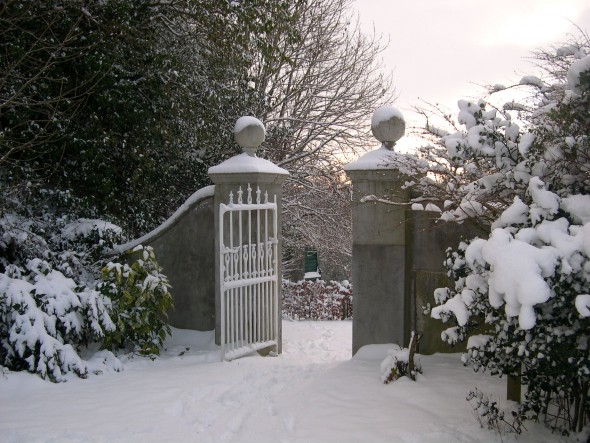 Add to the climactic woes, the economic woes, and it is obvious that only the most passionate, desperate - and foolhardy - are going to survive 2010/2011 with any sanity intact. And now I hear that we are to get temperatures of -20 degrees in February.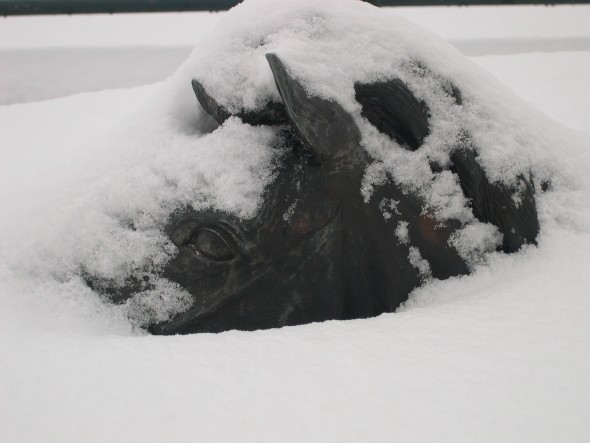 Don't panic! Just a bronze sculpture, not my best mare! See NEWS for a general update.
Ringfort Carragheen in superb form in Championship in USA (see more pix on News page.)