WE ARE COLLABORATING AGAIN WITH DRUMHOWAN STUD IN 2019 TO BRING YOU SOME DETAILS OF THEIR STALLIONS. THEY ARE PIGGY-BACKING ON OUR WEBSITE - BUT......
+++++++PLEASE DO NOT CONTACT RINGFORT OR DIANE HARRON EAKIN ABOUT DRUMHOWAN STUD STALLIONS. WE DON'T HAVE ANY OF THE ANSWERS!+++++++
For all the information on stallions, terms, etc. contact Gladys or Eamon McArdle at Drumhowan Stud: telephone 00353872438959 or 00353862094441.
Or email them at drumhowanstud@eircom.net.
HERE WE HAVE AN "AT-A-GLANCE" PICTURE COLLECTION OF THE 2019 ROSTER...TO LEARN MORE...
...CLICK ON THE INDIVIDUAL STALLION'S NAME ON THE DROP-DOWN MENU ON THE LEFT...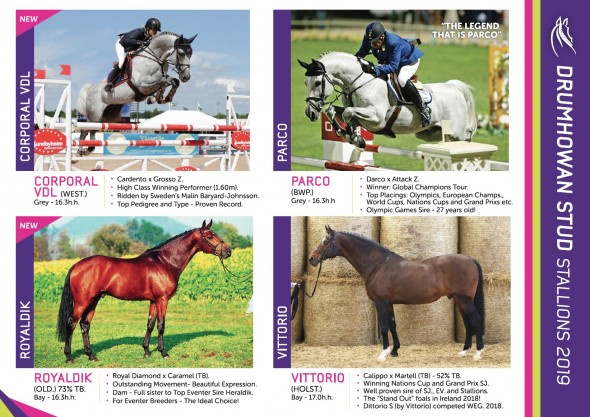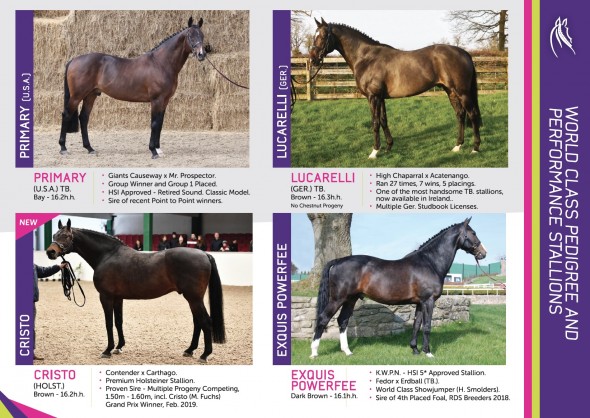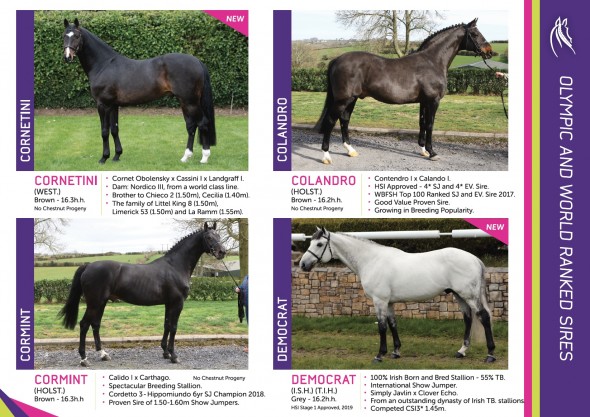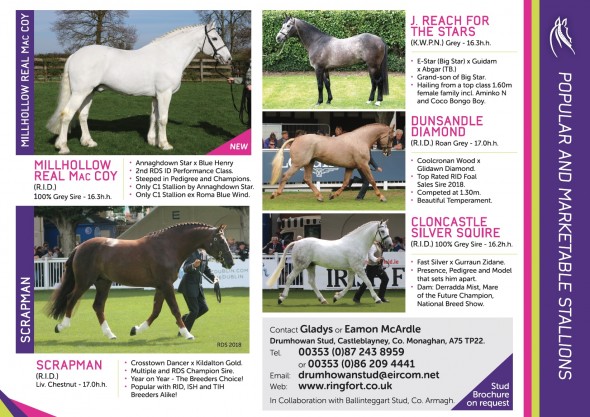 WHAT IS THE GREATEST ASSET OF DRUMHOWAN STUD? IT IS THAT UNBEATABLE OPPORTUNITY TO GO TO SEE THE STALLION YOU ARE CONSIDERING FOR YOUR MARE...RING GLADYS AND GO!
Some exciting new names will be joining those who were so successful last year...including a much sought after Traditional Irish Horse stallion.
Corporal VDL, Royaldik, Cristo, Exquis Powerfee, Vittorio, Parco, J. Reach for the Stars, Cormint (Holst), Primary (TB), Colandro, Lucarelli, Scrapman, Cloncastle Silver Squire, Milhollow Real McCoy, Democrat (ISH)(TIH), Dunsandle Diamond...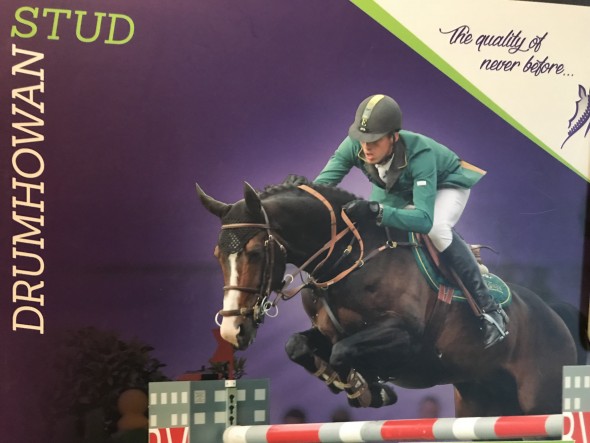 (Harrie Smolders and Exquis Powerfee)
CONTACT - AND JUST TO REMIND YOU....
Any enquiries should be addressed to Gladys or Eamon at DRUMHOWAN STUD - SEE THEIR CONTACT DETAILS BELOW.