2021 STALLION ROSTER AT DRUMHOWAN
Some very exciting stallions have joined the roster for the 2021 season. See below for pictures and details. To get details of stud fees and breeding terms ring Gladys McArdle on 00353872438959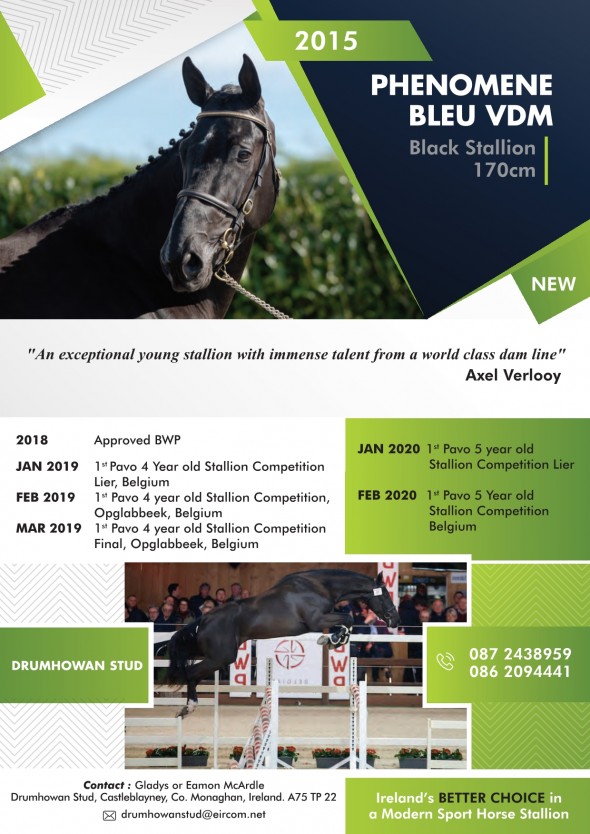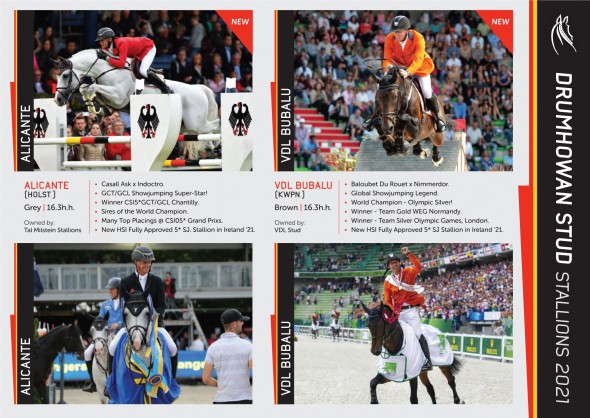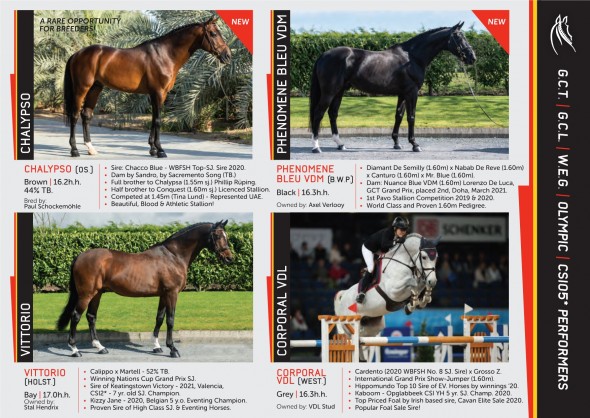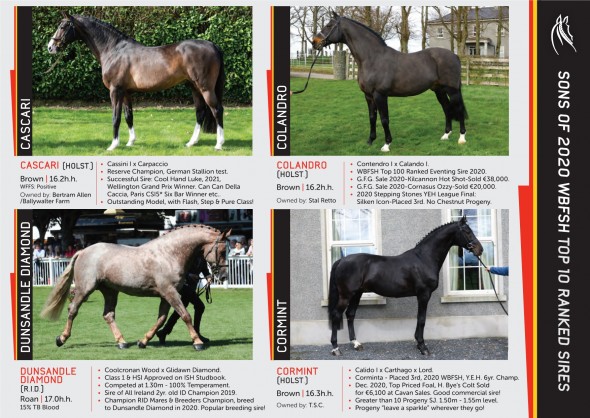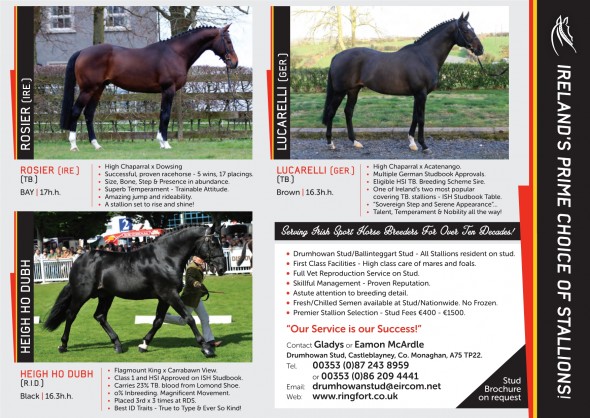 Some more information on the exciting new sires for the 2021 season at Drumhowan...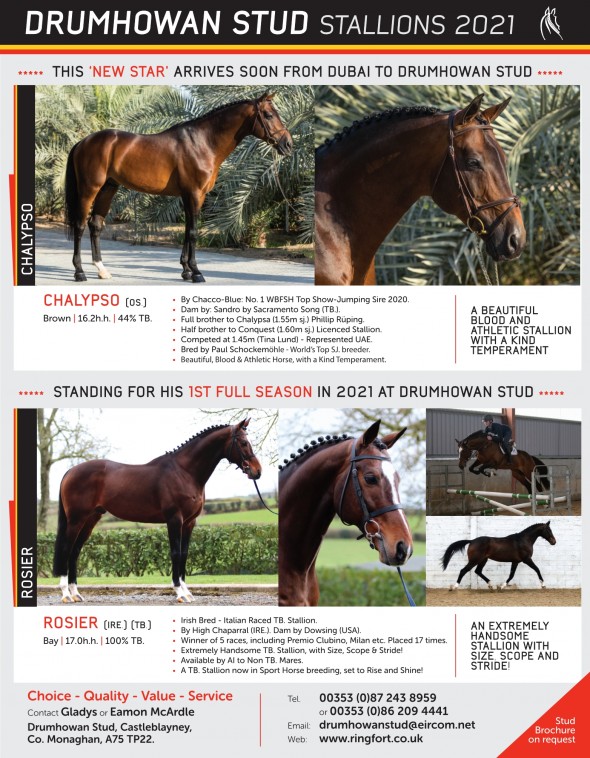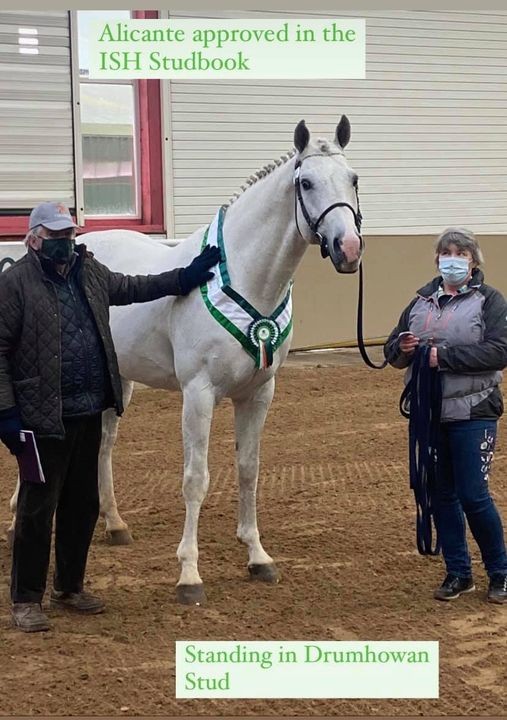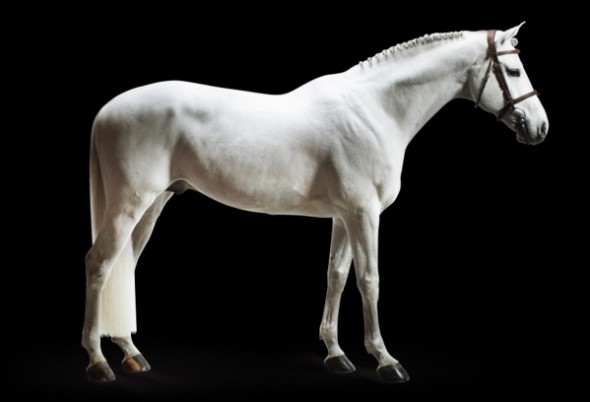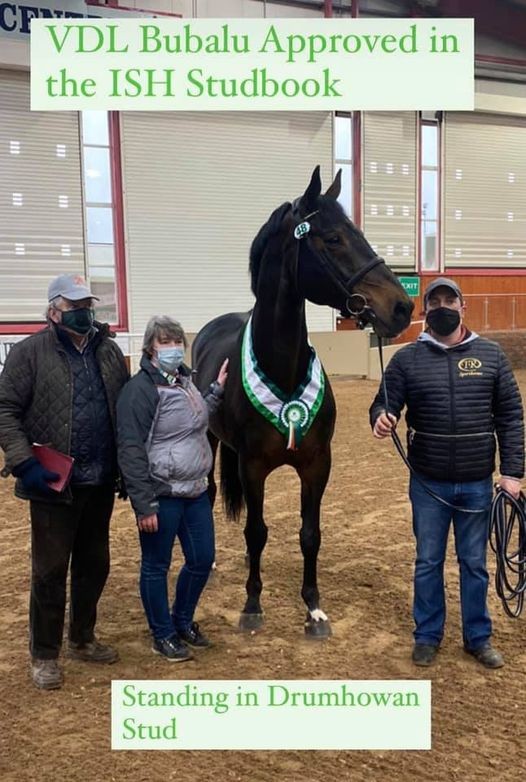 2020 STALLION ROSTER AT DRUMHOWAN STUD
AT LAST - SOME OF OUR FAVOURITES, AND SOME NEW EXCITING SIRES COMING TO DRUMHOWAN...
We will be bringing you information about a new thoroughbred at Drumhowan - Rosier by High Chaparral...
...and also new for 2020 Ballywalter Farms (Bertram Allen)'s superb Holstein horse Cascari - a modern, athletic, blood stallion.
MEANWHILE, UNTIL WE ARE ALL UPDATED, JUST DO THE USUAL - GO TO THE NAMES OF THE INDIVIDUAL SIRES ON THE DROP DOWN MENU. IF YOU NEED MORE INFORMATION RING GLADYS AT DRUMHOWAN - 00353872438959, AND THEN BOOK SEMEN OR BOOK IN YOUR MARE.
You will see SCRAPMAN and EXQUIS POWERFEE are still on the menu - SCRAPMAN is not available this season as he has been exported to Mexico; and EXQUIS POWERFEE is deceased. Information is remaining for the convenience of mare owners who have foals due.
AND JUST TO REMIND YOU THAT YOU CAN STILL GET THE DRUMHOWAN STUD BROCHURE...
Enjoy browsing for stallions the old-fashioned way. To get a Drumhowan Stud stallion brochure sent to you, telephone or text Gladys McArdle on 00353872438959. 84 pages of pure performance genes!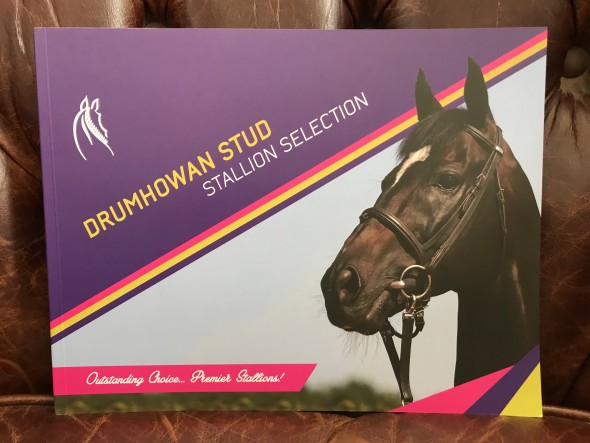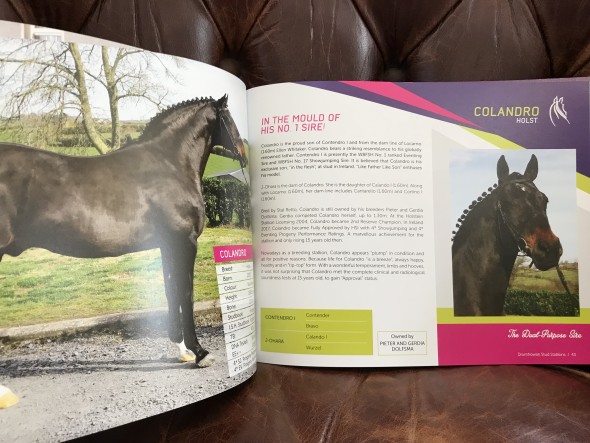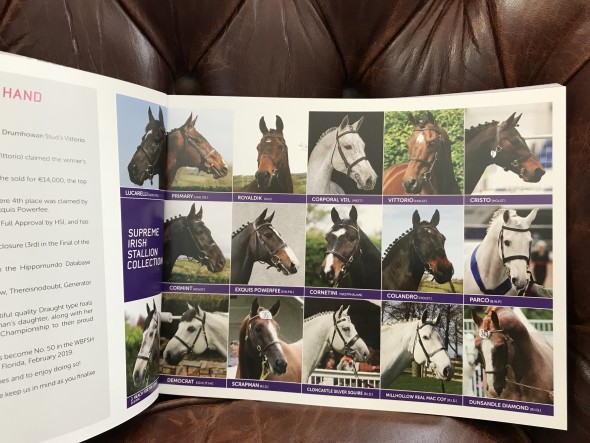 More news of success and accolades for Drumhowan Stud stallions and their progeny:
SCRAPMAN - HE HAS BEEN EXPORTED TO MEXICO BUT HIS PROGENY IN IRELAND ARE STILL HITTING THE HIGH NOTES!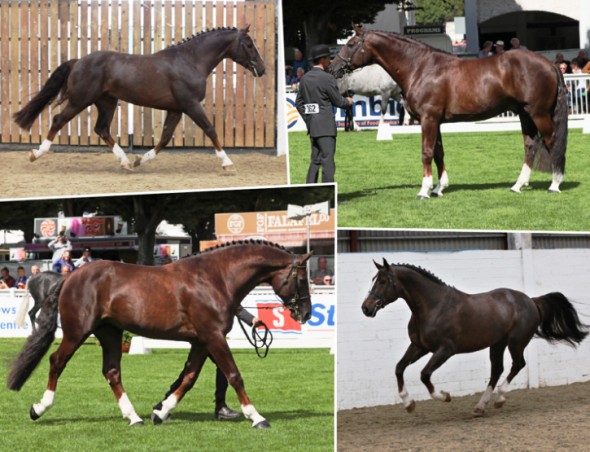 ROCKVALE MOON RIVER by SCRAPMAN
Rockvale Moon River"....(Harley)....The 4 year old home bred by Audrey Gregg, Irish Draught by "Scrapman" out of their champion mare "Kerrins Ginger Mist" with his owner/rider Laura Napier winning the Irish Draught Working Hunter Class and going on to take the overall Working Hunter Championship at Armagh Show in June..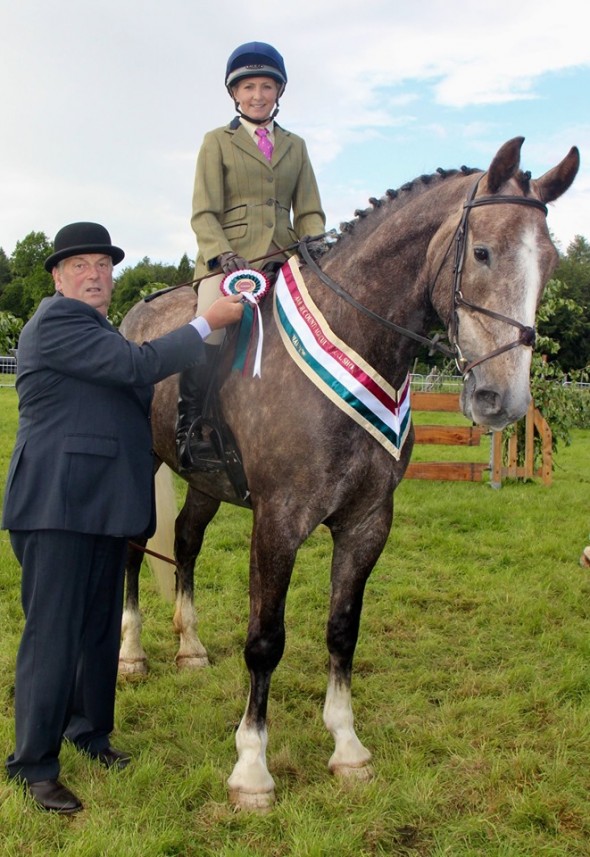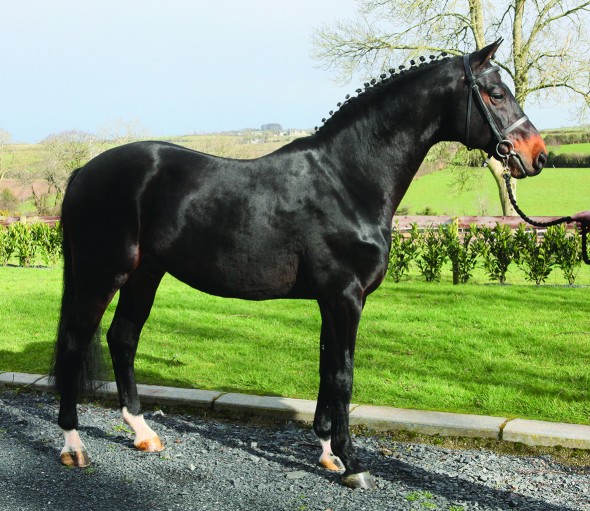 Success at Ballindenisk for this daughter of Colandro, Bernadette Utopia. Kazuma Tomoto will be hoping for selection of this mare for the Tokyo Olympics - whenever, and if, they happen!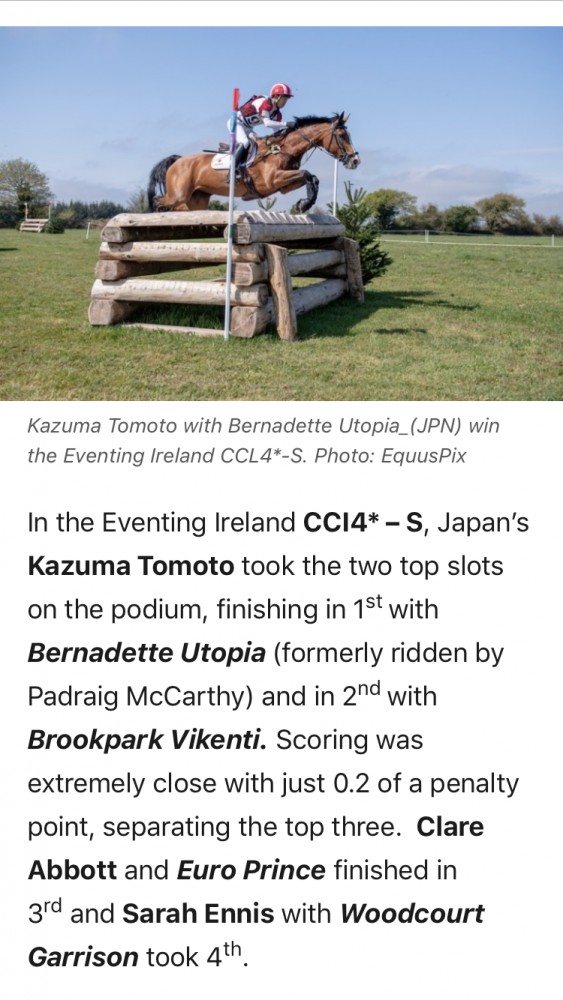 And from an Olympic horse by Colandro to one just starting on his career...
...Bred at Drumhowan Stud by Eamon McArdle, now competing in the RDS qualifiers for the 3 year old Potential Event Horse 2019
...Mary Bolger's Drumhowan, a bay gelding, by Colandro (HOLST), out of Aster (KWPN), by Crown Z (ZANG), took runner-up place on the night at Ross House, Co.Cavan and is qualified for the final.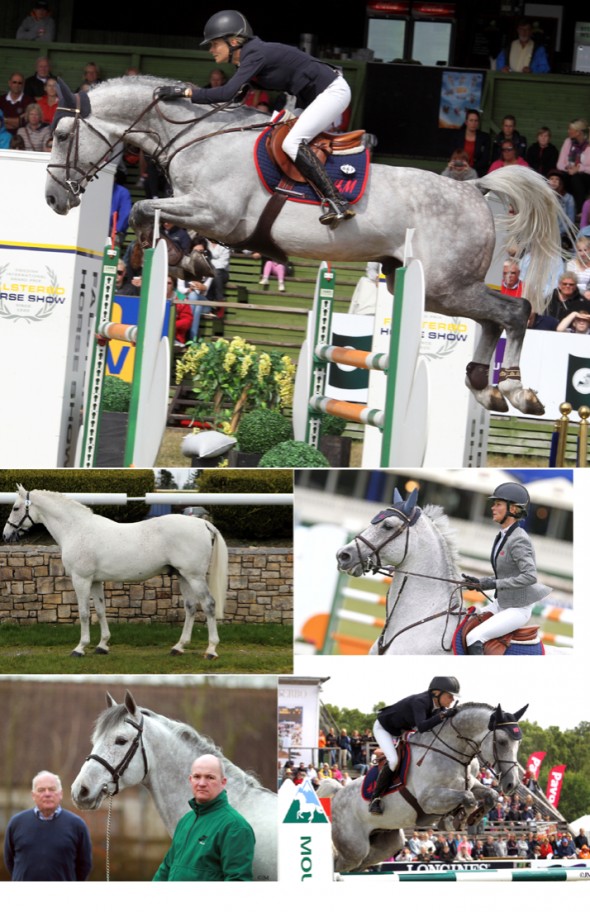 Arriving in Ireland in March 2019, the top showjumping stallion Corporal VDL gained full approval by HSI, and has since embarked on his breeding career "in the flesh" at Drumhowan Stud.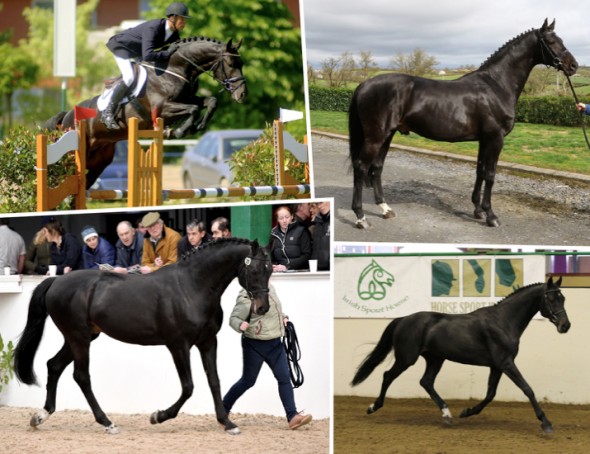 The graceful Cormint became the Sire of the Best Six Year Old Showjumper in the Hippomundo Database Rankings February 2019.
He also is the sire of top eventing athlete Nicola Wilson's Chabadu, on the winner's podium at Ballindenisk last month.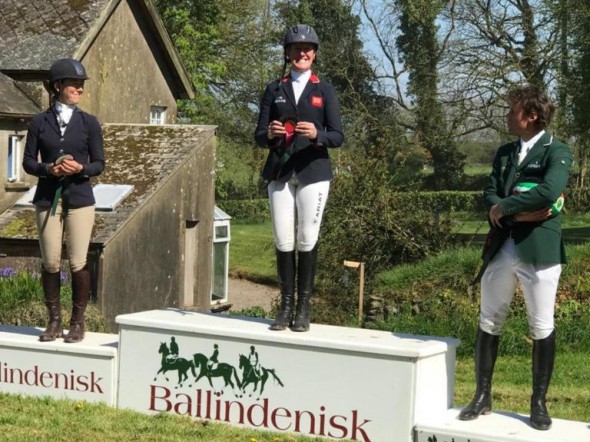 "We then travelled to a very sunny Ireland and Ballindenisk with ' Chabadu' competing in his first 3 day event. He led from the dressage to finish with a super double clear to win the 2*L. This result ticks the box as part of his 7yr old World Breeding Championship qualification for later in the year (if he is selected) to go to Le Lion, France. Fingers crossed he continues to progress nicely over the summer" .
In 2018 and 2019, the winning offspring of Primary flowed full and plenty like First Flow, Thereisnodoubt, Generator City and Tuff Nano.
"First Flow turned in an impressive performance as he notched up a hat-trick in the Sky Bet Supreme Trial Rossington Main Novices' Hurdle at Haydock.
A winner at Lingfield in November and then Newbury last month for Kim Bailey, First Flow was sent off the 9-4 favourite for this near two-mile heat and his supporters were treated to a clear-cut victory."
...and Primary now siring superb foals to sport horse mares.
...and more success in 2018...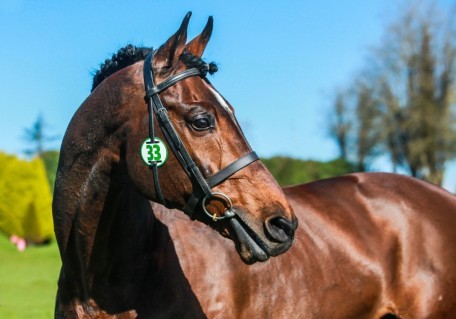 The World Championships in Tryon in 2018 was the sport's highlight in equestrianism. Drumhowan Stud's Vittorio was represented there through the participation of his showjumping son Dittorio S.
At the prestigious KWPN Stallion Grand Prix in s'Hertogenbosch, Don Diablo HX (by Vittorio) claimed the winner's place on the podium.
Selected for the IBC Foal Auction 2018 was the colt son of Vittorio (ex Celano Dam), he sold for €14,000, the top price foal by an Irish based stallion at this sale.
EXQUIS POWERFEE (Deceased but his progeny continue to impress.)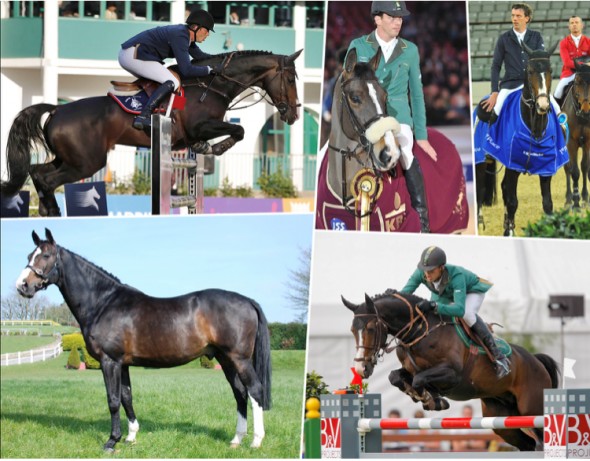 The RDS Breeders Championship is the "Holy Grail" for many sport horse breeders. Here 4th place was claimed by the former Drumhowan Stud owned mare Cause I Love You Z with her colt foal by Exquis Powerfee.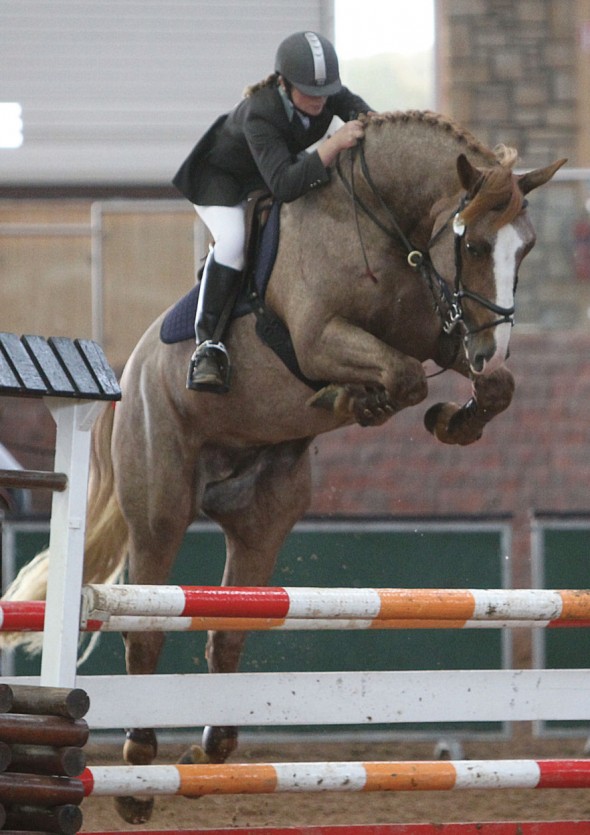 The National Irish Draught Sales of 2018 in Cavan saw Dunsandle Diamond's beautiful quality Draught type foals secure the best prices and attract the professional show hunter producers.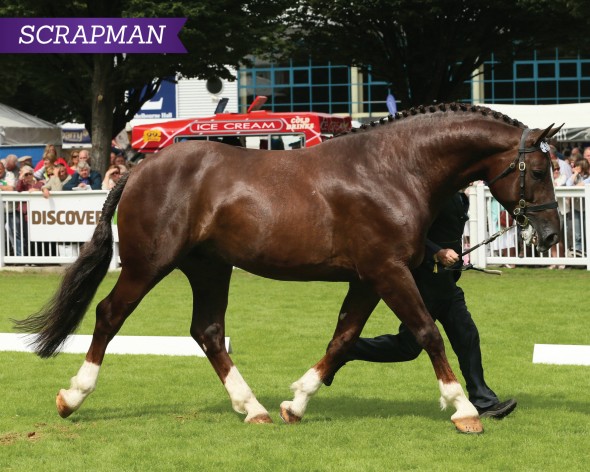 Scrapman's daughter, along with her Agherlow dam, brought the new IDHBA National Show Premier Mare and Foal Championship to their proud owners.
WE ARE COLLABORATING AGAIN WITH DRUMHOWAN STUD IN 2020 TO BRING YOU SOME DETAILS OF THEIR STALLIONS. THEY ARE PIGGY-BACKING ON OUR WEBSITE - BUT......
+++++++PLEASE DO NOT CONTACT RINGFORT OR DIANE HARRON EAKIN ABOUT DRUMHOWAN STUD STALLIONS. WE DON'T HAVE ANY OF THE ANSWERS!+++++++
For all the information on stallions, terms, etc. contact Gladys or Eamon McArdle at Drumhowan Stud: telephone 00353872438959 or 00353862094441.
Or email them at drumhowanstud@eircom.net.
HERE WE HAVE AN "AT-A-GLANCE" PICTURE COLLECTION OF THE 2019 ROSTER...TO LEARN MORE...
...CLICK ON THE INDIVIDUAL STALLION'S NAME ON THE DROP-DOWN MENU ON THE LEFT...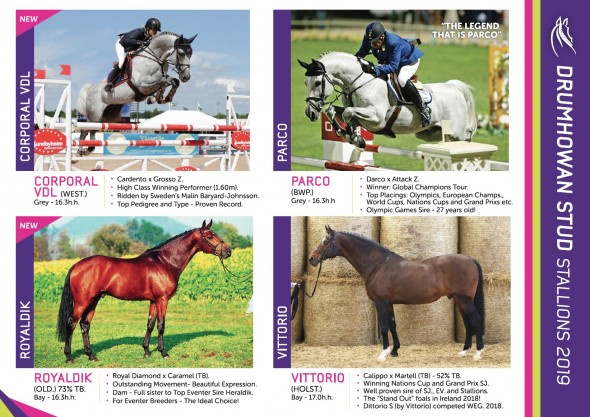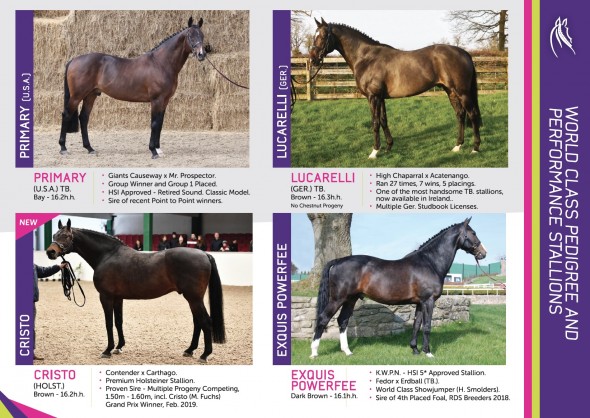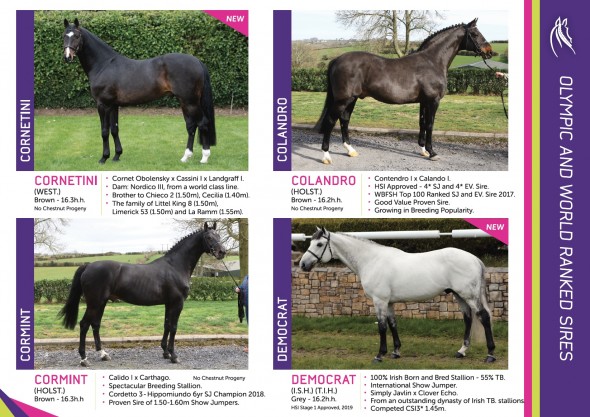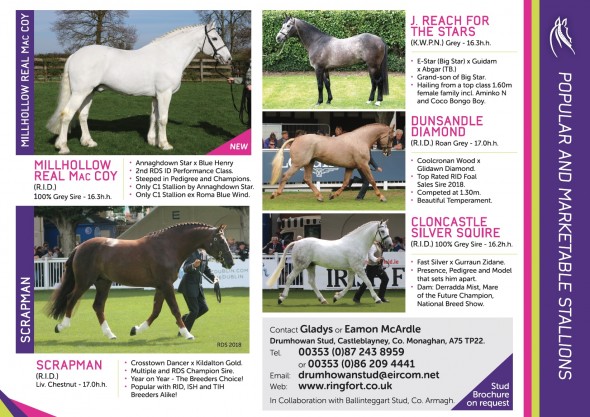 Some exciting new names will be joining those who were so successful last year...including a much sought after Traditional Irish Horse stallion.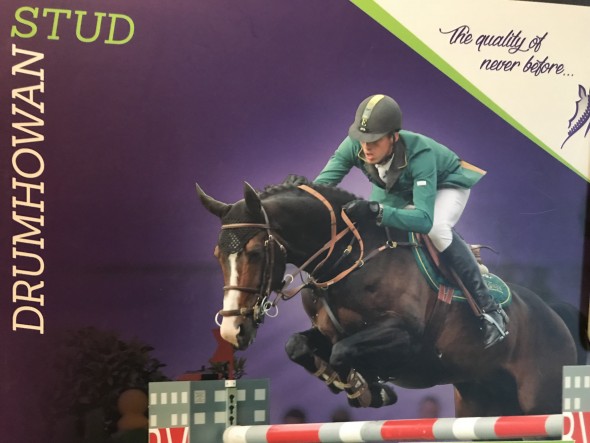 (Harrie Smolders and Exquis Powerfee)
CONTACT - AND JUST TO REMIND YOU....
Any enquiries should be addressed to Gladys or Eamon at DRUMHOWAN STUD - SEE THEIR CONTACT DETAILS BELOW.