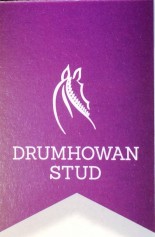 SON OF A LEGEND SIRE OF CHAMPIONS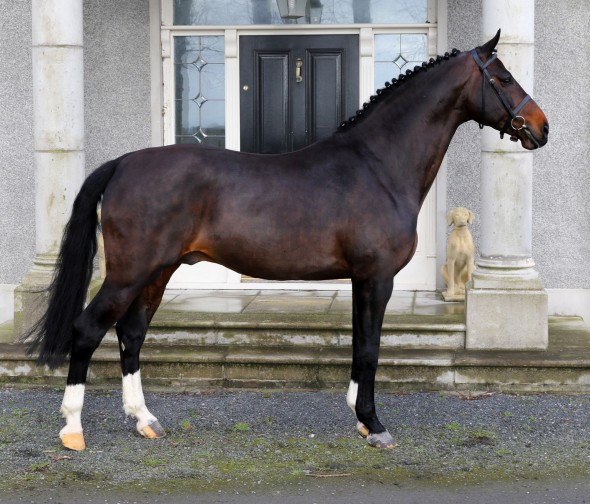 Tested EE Positive: will not produce chestnut offspring.
Westphalian Stallion Licensed ZfdP, Approved by AES & Registered with HSI (green book eligible).
BY CORNET OBOLENSKY OUT OF A RAMIRO Z MARE
Having covered a limited number of mares as a 4yo, Cobra 18 then concentrated on his own show jumping career, until a career ending injury in 2014 forced his retirement to stud.
Cobra 18 is genetically superb!
His sire - Cornet Obolensky -
– has consistently ranked in the top 3 in the WBFSH Show Jumping sire rankings since 2014 and passes on the performance genes of Clinton. In addition to the magic mix of Cornet Obolensky and Ramiro Z, Cobra 18 also benefits from the essential thoroughbred blood of Usurpator xx, making him 49% thoroughbred - a winning combination in modern day sport horses.
– is a daughter of Ramiro Z, himself a famous international competitor and also sire of countless Grand Prix jumpers, including Ludger Beerbaum's renowned Ratina Z.
Ranaschun is a full sister to the licensed stallion Rodney, who competed under Fritz Ligges (Germany) on the International Circuit, enjoying many Grand Prix and Nation's Cups wins.
Ranashun produced 11 foals, including 5 licensed stallions and sport horses that have won in 150 Level show jumping, passing on her performance genes to her daughters and granddaughters.
Her offspring are also producing successful competition horses, proving that her exceptionally competitive damline, originating from Hannover Stamm 461 and passed on from her legendary foundation dam, Usch, continues to dominate today.
This includes Cornet's Gold 2 (Kyle Timm, CAN, 1.55), Miss Fritz (Tim Stockdale, GB, 1.45) and Phoenix L (Dan Jocelyn, NZL, CCI4*).
Cobra 18 is a product of the proven magic mix of Cornet Obolensky x Ramiro Z, as seen in Comme Il Faut (Marcus Ehning GER), Conte Bellini (Kristaps Neretnieks LAT) and Corneta (Zuzana Zelinkova CZE.
However, Cobra 18's breeding line goes further again and also includes, from his granddam, Usch, the essential infusion of thoroughbred blood from Usurpator xx, a necessary genetic addition for today's modern sport horse.
Cobra 18 has been awarded Approved Stallion status with the Anglo European Studbook (AES), German Stud Book ZfDP and is registered with Horse Sport Ireland.
Cobra 18 covered a limited number of mares as a 4yo before concentrating on his own show jumping career, until a career ending injury in 2014 forced his retirement to stud.
During this time, he jumped to international 1.50 level, but what was the sport's loss is the breeders' gain.
COBRA 18 - THE BREEDER'S CHOICE!
SELECTED FOR THE IBC FOAL SALE, THE THREE MONTH OLD FILLY (COBRA 18 X HORNET ROSE) SOLD FOR €10,000.
ON THE HSI LIST OF CLASSIFIED STALLIONS 2017, COBRA 18 PROVED THE MOST POPULAR SIRE NUMERICALLY WITH FOALS REGISTERED.
ONE OF THE MOST USED STALLIONS BY BREEDERS IN THEIR EMBRYO TRANSFER PROGRAMMES.
The combination of Cobra 18's sire and dam has resulted in a fantastic, competitive gene pool, demonstrated by his offspring competing in the sport.
Currently the most notable Cobra 18 sired competitor is the 10 year old Dublin (Cobra 18 X Calido), who made his 1.60m debut in 2016 with Carly Anthony of Team Eric Lamaze and is now under the new ownership of Team USA's Kent Farrington.
Championship Jumper Classic CSI5* Final at WEF in March 2017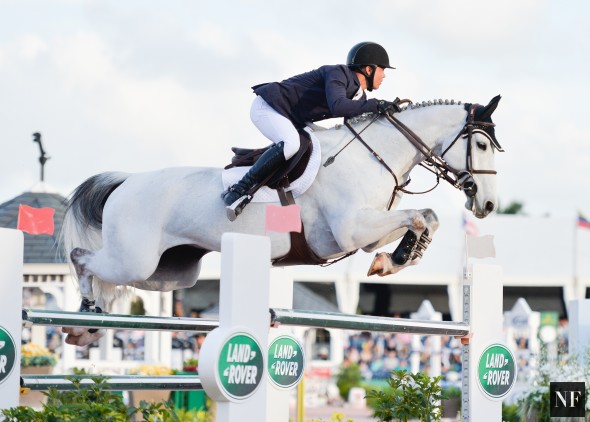 Kent Farrington and son of Cobra 18, "Dublin" Win $130,000 Suncast®1.50m Championship CSI5* Final at WEF
Another is Congstar, (Cobra 18 x Boreas), produced by Tim Rieskamp-Goedeking (GER) with great success in young horse classes and now ridden by a junior rider.
Jessica Mendoza, Team GB's SJ reserve at the Rio Olympics is breeding one...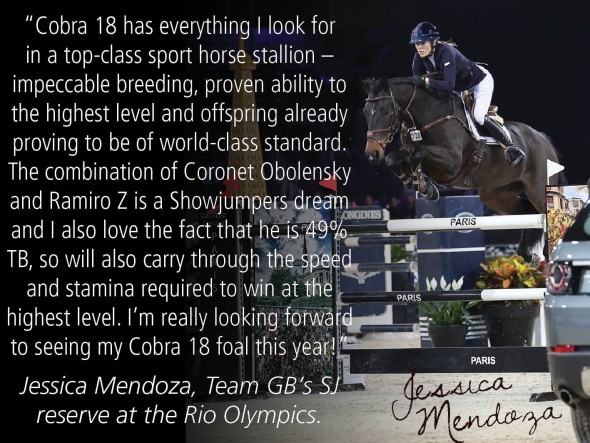 I'm really looking forward to seeing my Cobra 18 foal this year!"
Cobra 18 has everything I look for in a top-class sport horse stallion – impeccable breeding, proven ability to the highest level and offspring already proving to be of world-class standard.
The combination of Coronet Obolensky and Ramiro Z is a Showjumper's dream and I also love the fact that he is 49% TB, so will also carry through the speed and stamina required to win at the highest level.
For information about stud fees, terms, etc. contact the stud, details below: