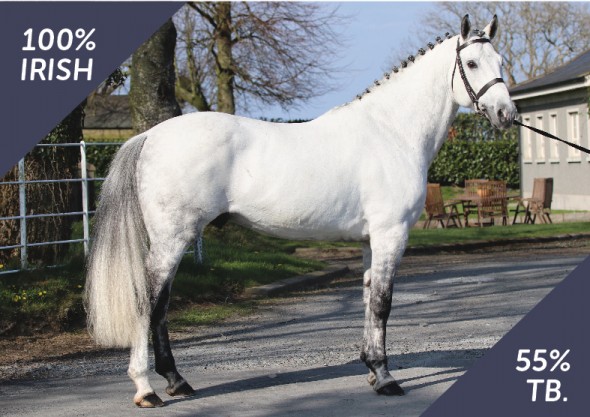 NEW PURE IRISH BRED STALLION! GENETIC – BLOOD – PERFORMER – RESILIENT – SOUND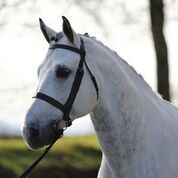 UPDATE FOR DEMOCRAT FOR 2020
1. NOW A FULLY APPROVED STALLION OF HSI (December 2019)
2. 4th IN THE GRAND PRIX AT CAVAN (December 2019)
3. NOT JUST A BREEDING AND PERFORMANCE STALLION - DOING A SPOT OF HUNTING TOO!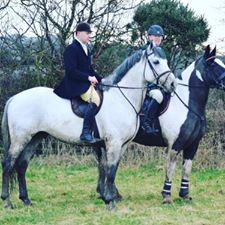 Born, Bred and Produced in Ireland, the thrilling new stallion Democrat launched his public breeding career at Drumhowan Stud in 2019.
Democrat is truly an exceptional stallion – rarely now does an Irish stallion be produced with so many desired credentials. This Traditional Irish Sport Horse stallion was bred by his owners Northern Ireland based Lee Johnston and F L McDowell.
A traditional Irish Sport Horse which meets all the criteria for the much sought after Shamrock stamp is standing again at Drumhowan Stud for 2020.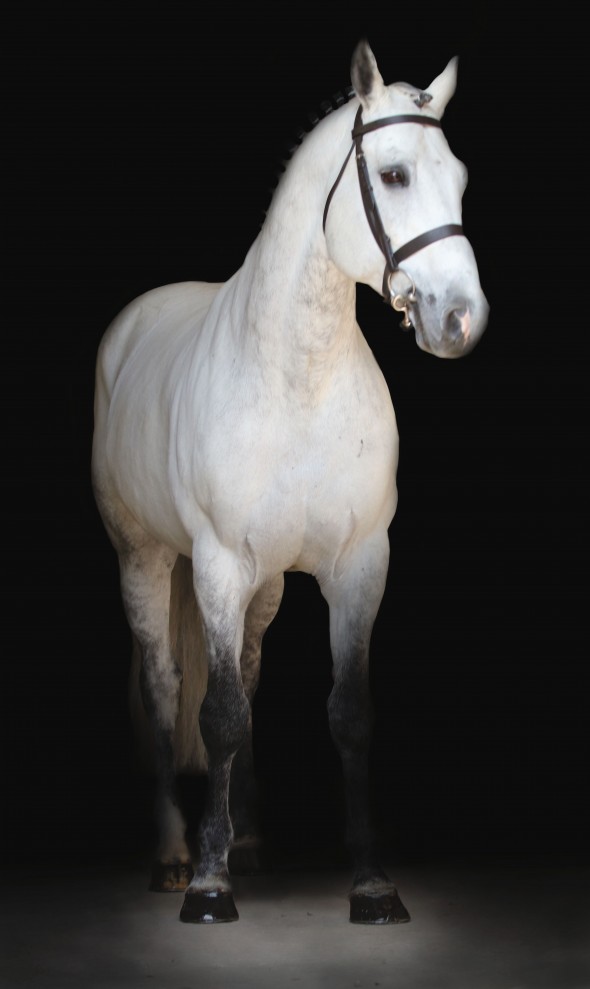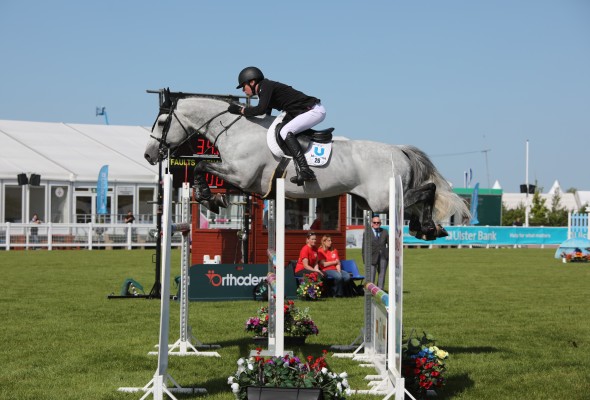 Fully Approved at stallion inspection December 2019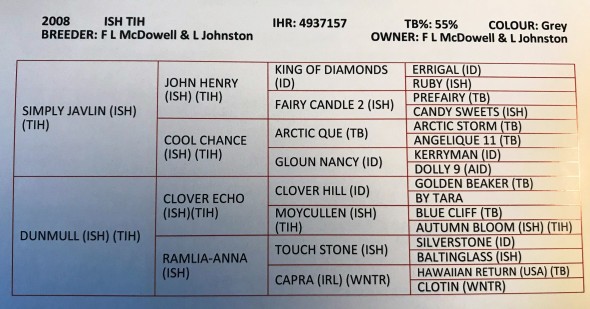 LACED IN TB BLOODLINES * PROVEN FAMILY …
Democrat is the son of the successful and well known show-jumping stallion Simply Javlin. This Traditional Irish Sport Horse Stallion was owned and ridden by George Newtown. Simply Javlin jumped at 1.30m and himself carries 52% TB blood.
Democrat is the sole offspring of his dam Dunmull (ISH) (TIH). Dunmull by Clover Echo, competed herself at 1.30m with Hannah Patterson.
The 2nd dam Ramlia-Anna produced Americk Anna, by Limmerick, who competed at 1.30m and a Select 3* SJ own performer. She also produced the successful Select 5* SJ Progeny Performer broodmare Mountain Mist.
Mountain Mist is the dam of Mullabrack Royal Pursuit (ISH) aka MJM Pursuit who won 1st CSIO5* 2018 Calgary Six Bar, 1st CSI4* 2018 Hamburg 1.45m, 1st CSI3* 2019 Vejer de la Frontera 1.45m and Competed CSIO5* 1.50m with Dermot Lennon (IRL).
The 3rd dam CAPRA (IRE) (WNTR) is the daughter of the TB stallion Hawaiian Return. Amongst Capra's successful offspring are Vanilla Sky who competed CCI1* (Jim Newsam (IRE)). Placed 5th CIC1* 2003, Richill. She also produced Phillip Gaw's 1.30m show-jumper Welcome Return.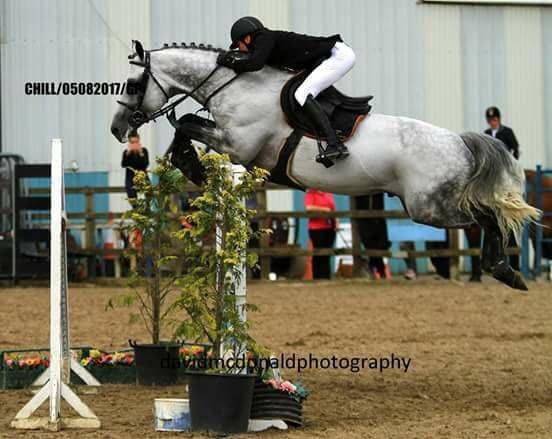 DEMOCRAT: CONSISTENT PERFORMER
From such a rich Thoroughbred descent, Democrat is unquestionably one of the best pure Irish bred stallions of recent times. He has represented Irish breeding on the International show-jumping stage. He is still only 12 years old. His competition records indeed prove the talented sport horse that Democrat is"
Some notable achievements include:
• 4th International Grand Prix Cavan December 2019
. Competed CSI3* 1.45m (Kenneth Graham (IRL)
• Competed National Grand Prix.
• 3rd CSI2* 2017, Lanaken, 1.35m.
• 4th CSI1* 2018, Oliva Valencia, 1.35m.
• Double Clear round CSI2* 2018, Mullingar, 1.30m.
• Double Clear round CSI2* 2017, Lanaken, 1.40m.
• Double Clear round 6th 2018, Tattersalls National Grand Prix, 1.40m.
• Double Clear round 2016, Omagh National Grand Prix, 1.40m.
• HIS Stage 1 Approved, March 2019.
Democrat is ultra careful, consistent and easy to ride. Keen, Brave and Eager to please, he brings all the best qualities from his impeccable Traditional Irish pedigree.
Democrat beams a bright and enthusiastic character. A striking bright grey model, his dark mane and tail adds to the compulsive attraction of this super moving stallion.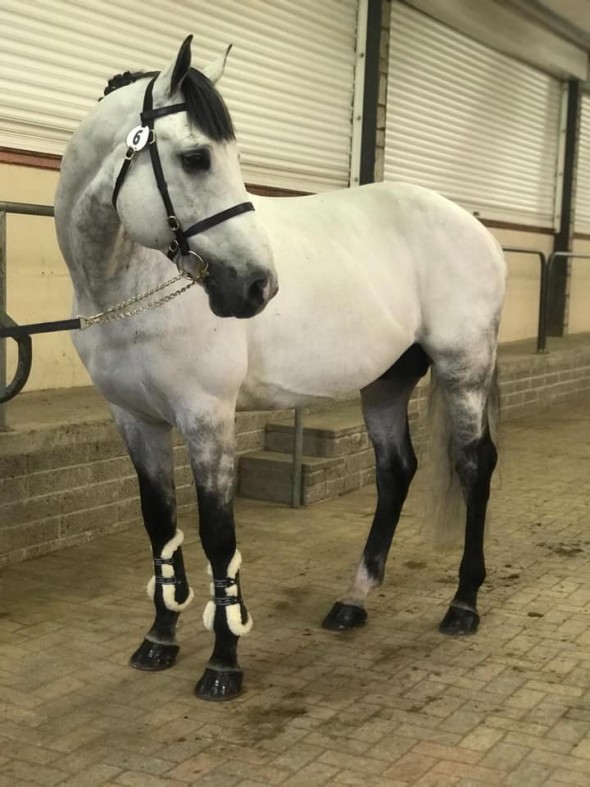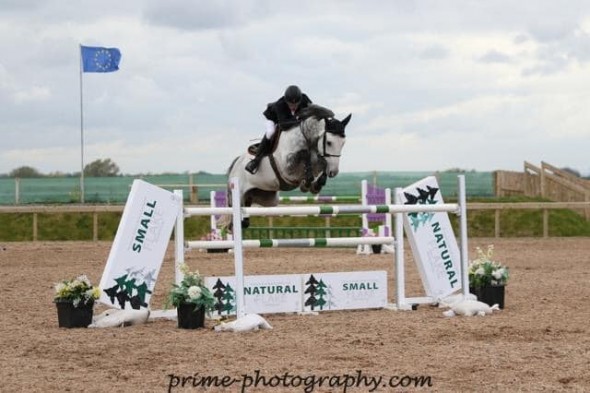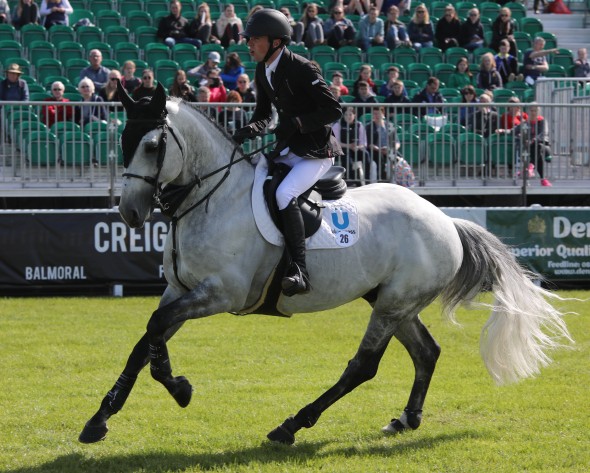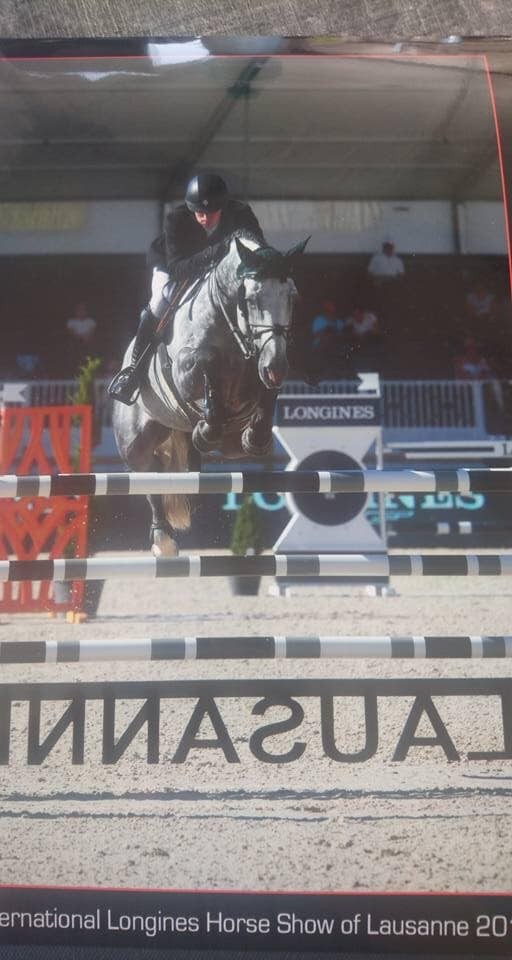 Today Democrat provides breeders an unduplicated top offer in a TIH Performance Stallion.
He is uniquely blessed with such a strong percentage of pure TB blood, the ideal genetics to infuse back into Irish breeding – stallions like Prefairy (TB), Artic Que (TB), Golden Beaker (TB), Blue Cliff (TB), Hawaiian Return (TB) – Powerful combination of renowned Irish TB sires – Blood that Captivates!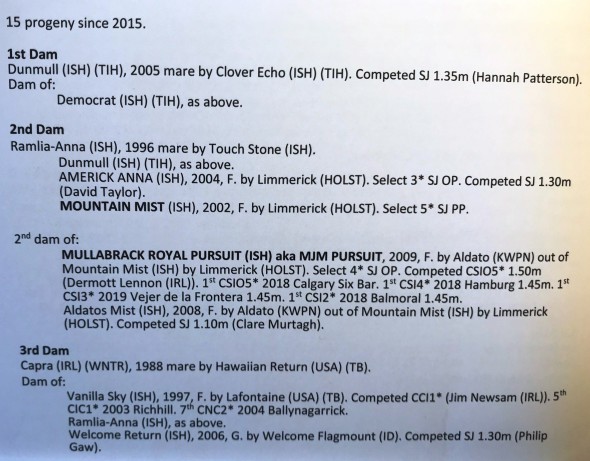 "An Opportunity no Serious Breeder should miss in Ireland!"
Democrat is one of the finest examples of the Traditional Irish Horse - with a pedigree and a performance record second to none.
What is a Traditional Irish Horse?
The Original Irish Sport Horse
The Traditional Irish Horse (TIH) is the original indigenous Irish Sport Horse breed which was developed here in Ireland 200-300 years ago using the Irish Draught, the Thoroughbred and, to a lesser extent, the Connemara Pony.
It was called the Irish Hunter until 1974 when the Irish Sport Horse (ISH) studbook was established. The Irish Sport Horse breed was comprised only of Traditional Irish Horses until 1982 when foreign breeds and crosses were first registered as Irish Sport
TIH's are now a subset of the Irish Sport Horse population.
They are registered as Irish Sport Horses and designated as Traditional Irish Horses (ISH)(TIH) in their passports and as Traditional Irish Horse Category on IHR Online (formerly Capalloir).
A TIH is bred by breeding TIH to TIH or by crossing Thoroughbred, Irish Draught or Connemara with another of these 3 breeds or with TIH.
Today we have a base of around 3,000 TIH mares which are often bred to TIH stallions to breed showjumpers, eventers, amateur and leisure horses.
As the Thoroughbred, Irish Draught and Connemara are its three component breeds, any cross of these 3 breeds with each other or with TIH is accepted as a TIH.