OWNED BY BALLYWALTER FARMS/BERTRAM ALLEN AND STANDING IN IRELAND FOR THE FIRST TIME AT DRUMHOWAN STUD!
ATTRACTIVE, MODERN, ATHLETIC, BLOOD STALLION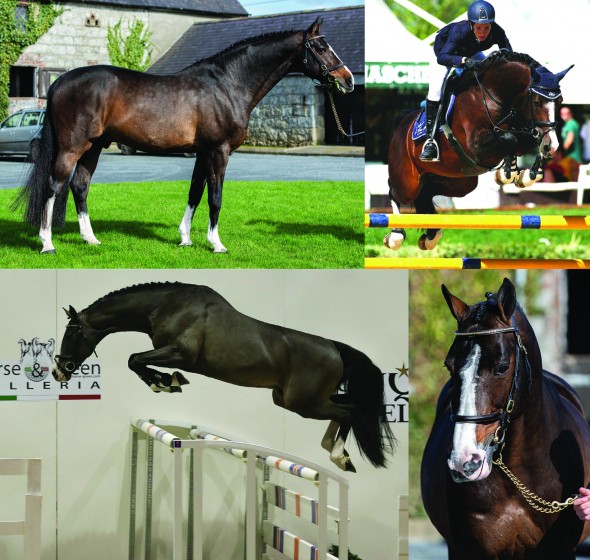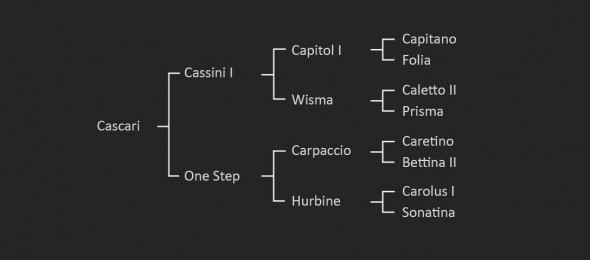 Reserve Champion, German Stallion Test
Leading sire in Italian 6 and 7 year old Championships, Arezzo 2018
SUCCESSFUL BREEDING SIRE:
Casaktie (1.50m)
Can Can (GCT)
Cool Hand Luke (1.55m)
Betty Buh (1.50m)
...and many more!
Seven year old by Cascari
At the German stallion test in Neumeunster, Holsteiner Körung 2007, two stallions were raised to the skies with the judges' awards. The winner Diarado, whom we all know, was closely followed by Cascari, who was named Reserve Champion . American young horse expert Guy Hodgson noted Cascari from the stallion test: "He was exceptional. A beautiful head, excellent movements, light and uphill. A very good push back and a powerful jump that got even better when the obstacles got bigger "
Cascari as a four year old...
Cascari also impressed during the stallion competitions in Adelheidsdorf where he got the high jump scores 122.8 points which placed him in the top as a total of 4th. He continues his career in Italy with 11 flawless rounds in a row 4 years old. He is exceptionally athletic, careful with tremendous scoop and has a super riding ability with a spectacular canter. He is a dream to work with and has a cool relaxed attitude with the twinkle in his eye.
Cascari was consistently successful in young horse classes until a tragic accident in the pasture resulted in the premature retirement of this superstar only 6 years old.
Cascari was acquired by Ballywalter Farms and Bertram Allen because of their impressive qualities both as a sport and breeding stallion. He came to Sweden for the first time in 2018 and received some 40 mares and had a fantastic pregnancy rate of 94%!
Cascari is at the top of the German breeding index thanks to his phenomenal acquisition!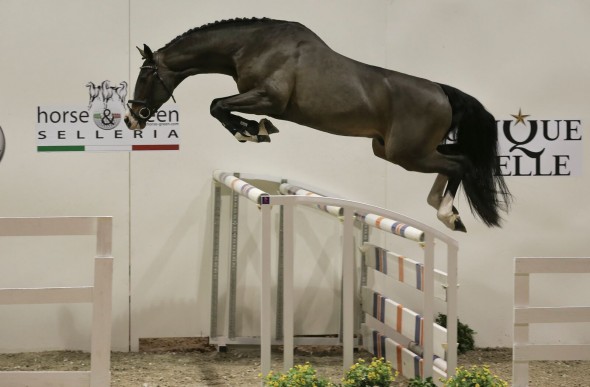 The German Holsteiner Association rates Cascari extremely highly as a breeding stallion because of his impeccable pedigree.
Cascari has an excellent pedigree and is after the mighty Cassini I , one of the most successful holstein stallions ever to compete in 1m60 with Franke Sloothaak. Cassini has left over 40 licensed stallions, including Cumano, Berlin (Father of Dino W), Cabrio van de Heffinck (Father of Hector van D'abdijhoeve), Chicago and Quite Cassini to name but a few.
Cascari's grandfather Carpaccio , was ranked number one in his breeding index thanks to his offspring's fantastic jumping skills combined with excellent, elastic gaits. He was champion of his 100-day test and won his class at the German Bundeschampionatet. He has dozens of offspring competing at the highest level in 1m60 jumps such as Castello, Louisiama, Miss Saigon I, Carpoccino, M-Catatani, Capatino and others. Carpaccio is also the grandfather of Cambell VDL . Carpaccio is after Caretino who is impeccable in the breeding books around the world, known for his fantastic offspring, including "our own" CASALL ASK with constant Rolf-Göran Bengtsson in the saddle.
Cascari's mother is a full sister to Chelsea 52 who competes internationally 1m60 while also grandmother is a full sister with a successful 1m60 horse in the mare Cosima II .
In the third part of the pedigree we find breeding legend Carolus In . A German heavyweight with 14 approved sons including Clinton I-II, Cascavello, Conto, Contagious, C.Chap, Countach, Calderon, Campostello, Caplan, Contini, Caronimo and other stallions. Carolus I is also the grandfather of LEVISTO Z .
Cascari comes from one of the most successful chair lines in Holstein, Holsteiner Performance Line strain 7126 which produced over 50 approved stallions such as, Accord I-III, Acobat I-III, Aco Sirco, Athletico, Shareholders, Burggraaf, Caddington, Caesar Caligula, Charisma, Catango Z, Chicago, Exodus, Jonny, Lady King, Lasirco, Quidam , Silverstone, etc. and international stars such as Bella Donna(1.60m / Meredith Michaels-Beerbaum)
Cascari's oldest offspring have reached the age of 10, and they are being noticed outside the European competition progeny.
He consistently produces beautiful modern horses with high riding ability, great capacity and excellent gaits where the canter is particularly good with strong push.
Due to Cascari's accident, he was temporarily removed from breeding to heal his injuries, which resulted in his smaller proportion of offspring. Despite this, Cascari has achieved a brilliant breeding career to date with several successful sons and international stars successfully up to CSI5 * 1m40-1m50, such as Casaktie, Rumers Cascari, Cool Hand Luke 3, Betty Buh, Calle 70, Stella , Coolman, Casting, Castello, Chateaux , Cascanetti , Can Can, Casmann 2, Fashion Blue, Fiamma di Sabucci, Sprint de Marchesana and Etna della Loggia who all compete 1m40 and up!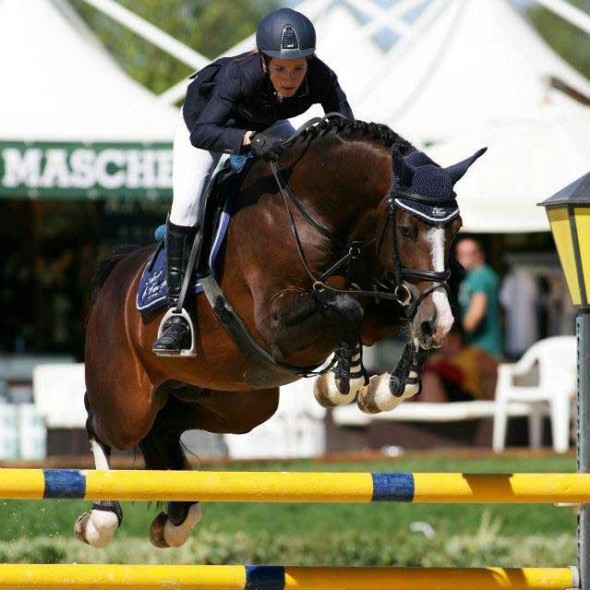 Casaktiehad a brilliant season 2019 with Ellen Whitaker in the saddle and took lots of winnings and placements, among others they won CSI3 * in Rome , were 2nd in Mannheim , 2nd in Opglabbeek , 3rd in Harthill , 3rd in Béthune and others.
Can Can , together with its rider Nayel Nassar, has distinguished itself in some of Europe's toughest arenas and has lots of nice results and impressive rounds during the GCT in Vaalkenswaard. Contessa Bianca (5 years) represented Italy at the young horse World Cup in Zangersheide 2018 with nice rounds in the luggage. During the Italian Championships in Arezzo for 4, 5, 6 and 7-year-old horses in 2018, Cascari was the father stallion for both the Gold Medalist in the 6 year old class and Silver medalist in the 7 year old class.
Cascari also became the leading father stallion with a full 8 offspring represented in the finals, placing him ahead of the heavy names Kannan, Diamant de Semilly, Balou du Roet and others.
The first foals by Cascari in Sweden were born in 2019 and they distinguished themselves on all foals around the country with very good ratings! Bla won Caracas SE foal championship in SWB Mälardalen by as much as 83%!