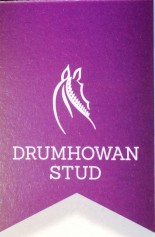 SCRAPMAN "An eye-catcher in all respects..."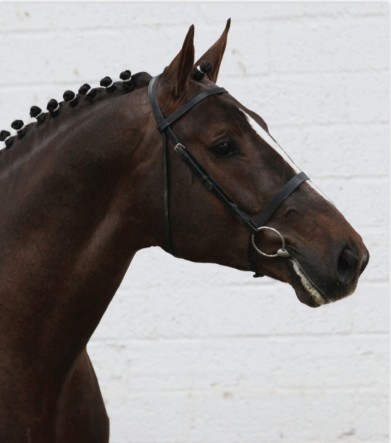 Born: 2008
Colour: Liv. Ches.
Height: 173cms
Bone: 23.4cms
Irish Sport Horse Studbook: Approved
Irish Draught Horse Studbook Class 1 : Silver Merit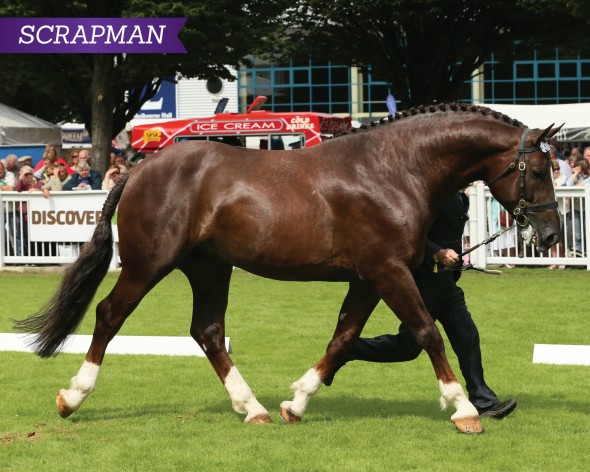 SIRE: Crosstown Dancer by Flagmount Diamond out of Tara Sky
DAM: Radiance BY Kildalton Gold out of Madden Lady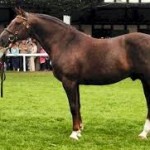 Early 2015, an "Appreciation" in "The Irish Field", to the late Fintan Brannigan, read; "But Fintan's love was jumping and his pride and joy was the result of Tara Sky's visit to George Fintan Brannigan's Flagmount Diamond. The result, Crosstown Dancer, (George) gave Fintan some wonderful times..."
CROSSTOWN DANCER winning the Irish Draught Stallion Championship at the 2007 Dublin Horseshow (Photo: Camilla Walter/EPS)
In 2014, the arrival of Scrapman to stand with Gladys McArdle (nee Nesbitt) evoked memories of 25 years previous.
True to his inheritance, Scrapman bears a striking resemblance to his now deceased sire, Crosstown Dancer.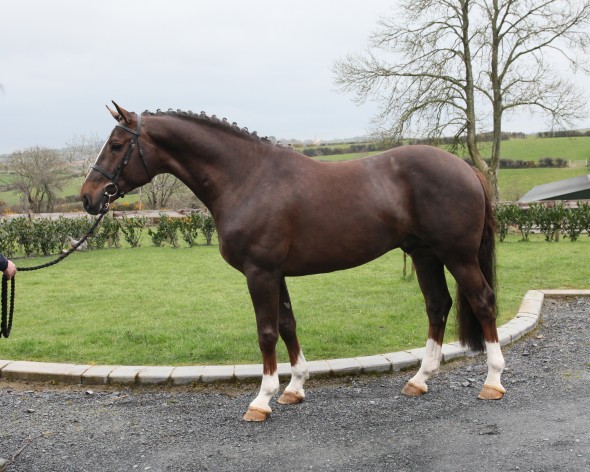 Scrapman is properly built and modern, yet a robust Irish Draught model. With time he has fulfilled his H.S.I Inspection Panel Summary - "Scrapman should develop into a good type of Irish Draught Stallion, although at three years of age, he is still immature. This stallion has an attractive head. Scrapman displays a good walk and very powerful trot, with excellent impulsion. He showed very good length of stride in canter, combined with good impulsion and balance... He showed a good attitude when jumping". A fair report and robust endorsement of this young stallion.
Scrapman breathes a champion pedigree. He was awarded 10 pedigree bonus points by H.S.I. Inspection Panel's Pedigree Committee, based on Crosstown Dancer (Gold Merit) and Radiance (Gold Merit).
His Grandsire Kildalton Gold was also a multiple R.D.S. Irish Draught Champion.
Regularly shown by his breeder Carol Dempsey, Scrapman claimed many wins and top placings as a youngster.
He completed his stallion Approval at 3 years old in 2011. Under the saddle of Grand Prix show-jumper Tom Slattery, Scrapman loved his work and his true talent became evident.
At only 5 years old and a short time competing, he accumulated 93 SJI points and an unrivalled 8 Double Clear Show-Jumping rounds at 1.20m.
Now, more than ever before, Scrapman is the type of fresh, new, R.I.D. stallion sought after, to make horses suitable for demands of the modern marketplace. His foundation is paired with classy looks, temperament and clever jump attributes. Since, Scrapman has commanded the popularity of Traditional Sport Horse Breeders and Irish Draught enthusiasts alike - This is no surprise at all!!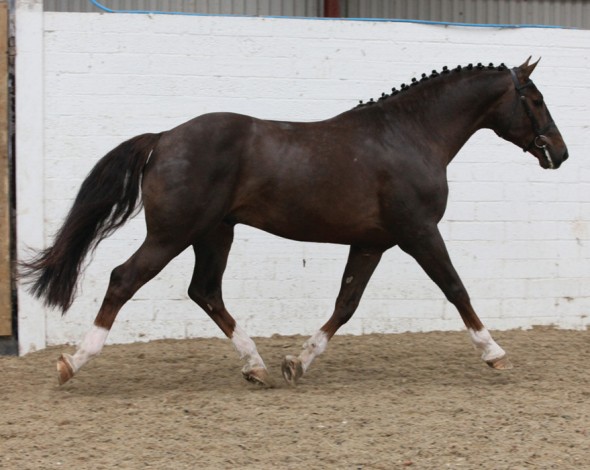 In 2014, at 6 years old, Scrapman began his serious breeding career. His owner's decision to stand Scrapman at Drumhowan Stud exemplifies this smart young stallion with the exposure to breeders which he deserves.
In 2016 Scrapman was sire of the RDS Champion Irish Draught Foal and sire of the All Ireland Irish Draught Foal Champion at Ballinasloe.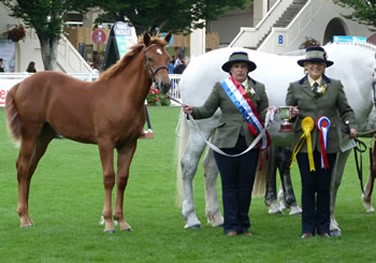 For more information about stud fees, terms, etc., contact the stud. Details below: