CSF Lulu in foal for 2019 to Vittorio.
She lost her stunning 2018 foal by Vittorio following an accident in the field when he was three months old.
14th June 2018 - Vittorio foal for Lulu!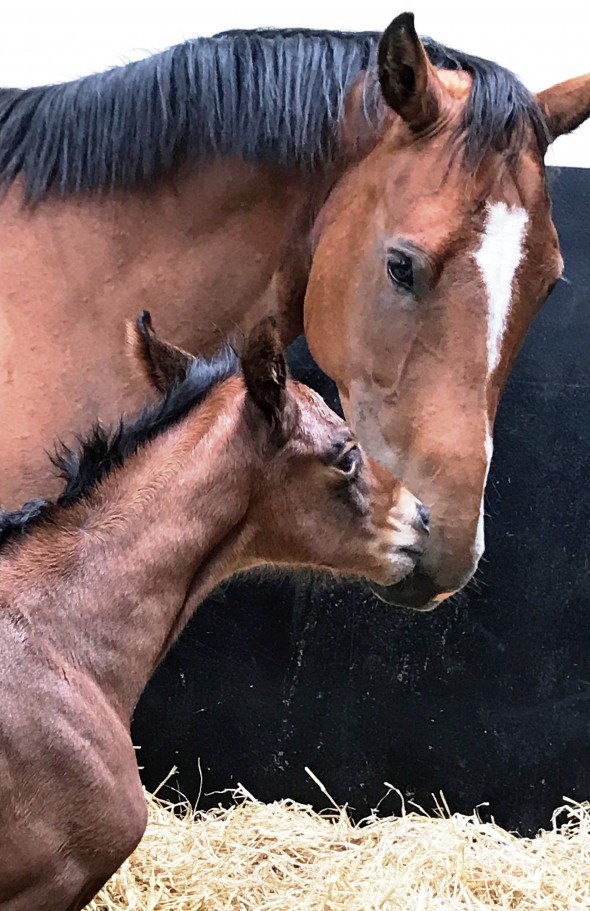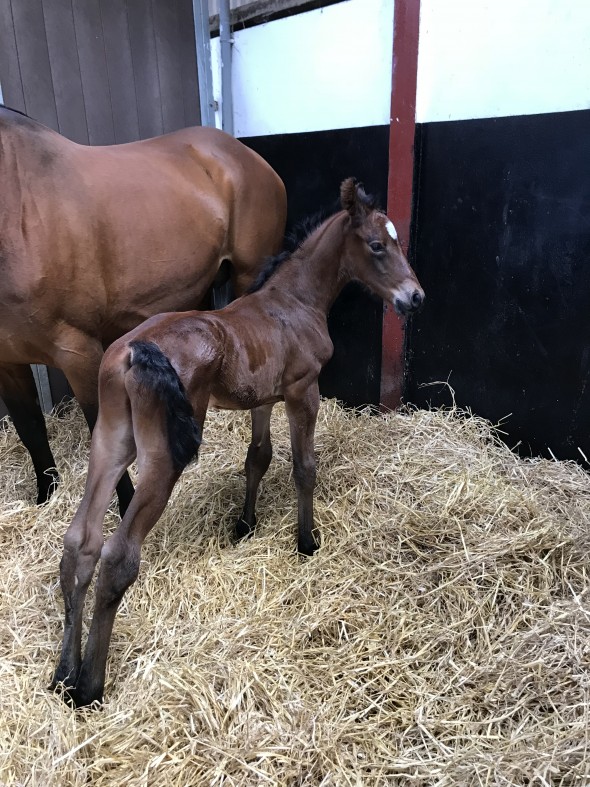 A stunning colt foal by Vittorio for Lulu by Luidam - four days early and all is well!
CSF Lulu: 4th in the Cavan Loose Jumping final in 2012 before retiring to the breeding paddock.
HOME TO RINGFORT 28TH APRIL 2017
Lulu has been inseminated with Vittorio and is now home. She is joining the other broodmares in the paddock with a great view of The Mourne Mountains.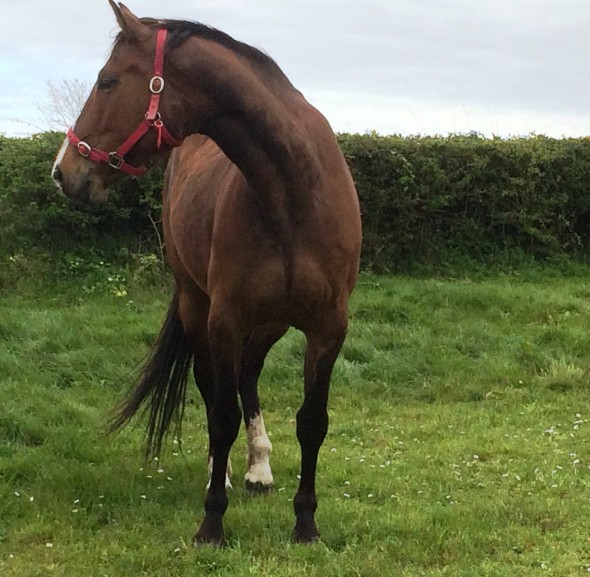 CSF Lulu (Luidam) in foal to Vittorio (Holst) see below - due date 18.06.18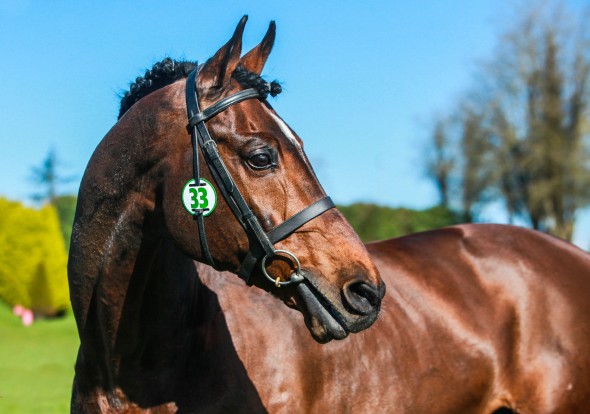 Vittorio (Holst) - above. See all his details on the drop down menu of Drumhowan Stallions under his name.
First foal: CBI Bella Donna by Zapatero VDL out of CSF Lulu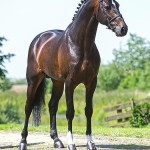 Lulu's first foal, CBI Bella Donna, was born in 2015. Sired by VDL Stud's Zapatero, (photograph, right) this beautiful filly was sold to Sweden.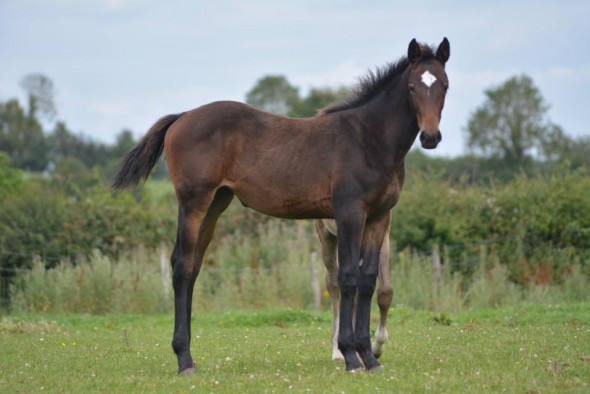 PEDIGREE OF CSF LULU: LUIDAM X MAJOR DE LA COUR X ALMÉ X ACER XX
CSF Lulu comes from a family full of top performers
DAM: SURPRISE VAN DE SOMME by MAJOR DE LA COUR
Damsire Major de la Cour (below)
PEDIGREE: Major de la Cour's sire Grand Veneur was one of France's best high-class performance stallions. He was the sire of 74 stallions, including Major de la Cour, (who became a most important sire in Belgium); approximately 30 Grand Prix horses, and in all more than 335 show-jumping winners. Major de la Cour's dam is also the dam of Creme de la Cour, an Olympic horse in Canada.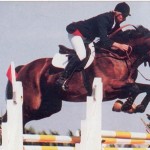 PERFORMANCE: Major de la Cour competed successfully up through the ranks in the 4-5 and 6-year old classes. As a seven year old he competed successfully with Philip Vandelanotte in international classes. Major de la Cour was ranked 14th in the World Breeding Federation Sporthorses rankings for showjumping stallions. His Dam Sire Alme was the most influential international show jumper and elite sire.
PROGENY: Major de la Cour's list of offspring is remarkable. He is the sire of six approved stallions, sire of Fortis van het Paerdkin, champion of the 5-year olds and finalist at the World Championships in Dortmund in 1990. Capricieux des Six Censes, champion of the 5-year olds Cycle Classique Belgium. Kay Epona, champion of the 5-year olds Fontainebleau France in 1992. Major (ex Ghandi) European Champion 1992 , German junior champion 1992, third place Volvo World Cup 1992, and winner of many other competitions. Favorite D, Belgium Junior Champion 1992. Veneur de la Cour, winner of the final test in the 5-year olds in Gesves. The international showjumpers Joli Coeur, with Franke Sloothaak, Patrigano and furthermore Fientje, Fara, Galeon, Fire, Hunter, Havana van het Paerdkin, Grand Seigneur, Insel Sitte, Kobalt W. The list continues to grow. Major de la Cour's successful offspring continue to follow each other.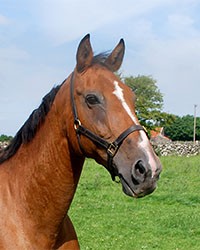 CSF Lulu's dam, Suprise Van De Somme is a sister to five horses that have competed at international level, the most famous being her full sister, Picobello Wodiena who has competed up to World Cup level.
Picobello Wodiena '99 by Major de La Cour - 1.60 SJ Al Junabi (UAE). Silver medallist at the Asian Games.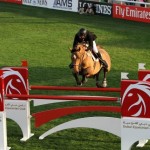 WODIENA II V/H CLAEYSEN HOF (Wodiena II vh Clayesenhof) (BWP, bay mare by Major de la Cour) ISJ level 1.60m with Ahmed Al Jneibi (ARE) and Julie Pascale Ruant (BEL) 2nd CSI3*-W 2009 - World Cup 2009 Abu Dhabi (UAE) ( 1.50m ); 2nd CSI3*-W 2009 - World Cup 2009 Dubai (UAE) ( 1.50m ); 2nd CSI3*-W 2008 - World Cup 2008 Doha (QAT) ( 1.50m ); 3rd CSI3*-W 2010 - World Cup 2010 Abu Dhabi (UAE) ( 1.50m );
Other international show-jumping siblings of Lulu's dam:
Rogima Van de Somme '94 by Heartbreaker - 1.50 SJ - Jean Francois Rondoux (FRA)
Quidam Van de Somme '93 by Denver - 1.50 SJ
Playboy Van de Somme '92 by Sir De Verneuil - 1.50 SJ - Lennart Van Vlaenderen (BEL)
Other results for Playboy Van de Somme, brother of Surprise... ISJ level 1.40m with Sigi Joinneau (BEL) and Lennart Van Vlaenderen (BEL) 1st CSI1* 2008 - Grand Prix 2008 Strazeele (FRA) ( 1.40m ); 1st CSIJ-A 2008 - Grand Prix 2008 Zwolle (NED);
Volontaire z '89 by Voltaire - 1.40 SJ - Approved Z, Bayren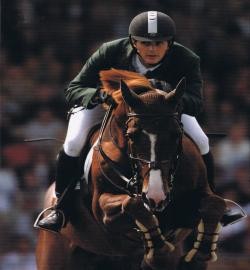 Luidam competed at the highest level for Ireland with Billy Twomey. In 2003 Luidam had tremendous success including being on the wining CSIO Nations Cup teams in St Gallen and Aachen. Luidam won the Grand Prix at La Baule, the final of the Samsung Super League Tour. He was 2nd in the Grand Prix of St. Gallen, Dublin, Mauberge, Norden Hadenburg and the British Open Championships at Sheffield. As the jewel in the crown Luidam was short listed for the Olympic games in Athens 2004.
Billy Twomey: 'Luidam is one of the best horses I have ever ridden'
Michael Whitaker: 'Luidam is one of the most exciting and promising new stallions to breeding programmes in many years'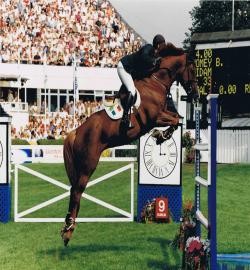 Luidam is a multiple Grand Prix winning show jumper and a HSI 5* rated stallion based on this own performance, as well as the performance of his progeny.
He is the best son of Guidam, leading showjumping sire in 2003/2004 (sire of Authentic, & Ninja La Silla).
Luidam was one of the most consistent performers on the European circuit and descends from a great lineage. His sire, Guidam, was from one of the strongest stallion lines in the breeding of jumping horses, the Ibrahim-Alme-Jalisco B Quidam de Revel line.
Luidam's dam, Eljenohve, was a 'Pref Elite' KWPN mare and from this dam line hail Orsini (international eventing winner), Scandic (international dressage winner and sire) and Ludger Beerbaum's Chaman, one of the world's most
Luidam's Career Highlights
1st Nations Cup St Gallen
Winner Samsung Super League GP
2nd GP Dublin, St Gallen and Ascona, British Open, Norden Hardenberg, Maubeuge
5th European Championships 2003
6th World Championships 2006
Short listed for Olympics Athens 2004
Leading Horse Golden Jubilee Tour 2003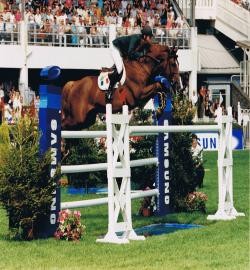 Luidam is proving to be as successful a sire as he was a competitor! His progeny are coming through stronger all the time and are now competing at all levels. The proof is in the progeny…
Luidam passes on an easy temperament, a nice shape with a long neck and strong legs. His offspring are athletic and move well with very balanced canters.
He brings to his offspring his scope and mental toughness and willingness and a particularly good jumping technique behind.
Of the 18 horses selected to represent the Irish WBFSH Studbooks at the FEI WBFSH World Breeding Jumping Championships for Young Horses 2016, Lanaken, Belgium, 4 of the 18 horses were sired by Luidam.
Blue Angel (Luidam x Ascendant xx) - Kent Farrington/Lauren Hough (see video below)
12th WBFSH Showjumping Rankings 2014 1st CSI5* Geneva 2013 1st $85,000 CSI3* Wellington 2015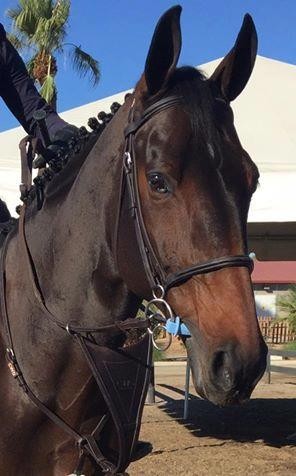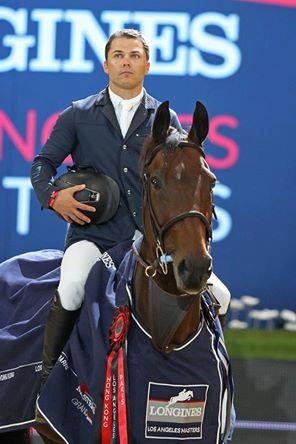 Ard Ginger Pop (Luidam x Cruising)1st $85,000 CSI3* Wellington 2015 (see video below!) Sale Topper at Goresbridge Supreme Sale of Showjumpers €95,000
Silver Medal 5yo World Breeding Jumping Championships for Young Horses 2nd 5yo Championship Dublin Horse Show 2014 Winner 5yo ISH Studbook Showjumping Series
Simon – Michael Whitaker (Luidam x Julio Mariner xx) 1st CSI5* Bordeaux 2011
BP Castlefield – Greg Broderick (Luidam x Darco) Winner 4yo 'Mo Chroi' Championship Dublin Horse Show 2014
Amelie – Leopold van Asten (Luidam x Fallon) 3rd CSI5* 'S-Hertogenbosch 2011
LB Rendam – Christina Liebherr (Luidam x Renville) 6th CSI5* Monte Carlo 2009 7th CSIO5* Hickstead 2009
Luikka – Daniel Deusser (Luidam x Renville) 3rd GP CSI4* Geesteren 2010
Pewit Quinto – Anthony Condon 5th CSIO3* Copenhagen 2013
Ashdale Luxara – Anthony Condon 3rd CSI3* Bolesworth 2014
Alfie – Eduardo Sanchez Navarro (Luidam x Quat'Sous) 2nd CSI2*-W Langley BC 2014
HHS Hercules(x Luidam) Winner 7 & 8 yo Qualifer Dublin Horse Show 2016 3rd International 7 & 8 Year Olds Final
Candy De Nantuel (Luidam x Diamant de Semilly) €125,000 Fences Elite Auction 2015, France
Beech Hill Lucia (Luidam x Popi D'Espoir SF) Dublin Horse Show 6yo Champion 2015
RVS Lui Fortunas (Luidam x Heritage Fortunus) Dublin Horse Show 5yo Champion 2015
Loughnavatta Indigo (Luidam x VDL Arkansas):
Winner Cork leg of Studbook Series 2016 and represented Ireland in the 2016 FEI WBFSH World Breeding Jumping Championships for Young Horses in Lanaken, Belgium