Jomira by Universeel/Olivi/Jazz out of Lomira by Zeoliet/Ramiro Z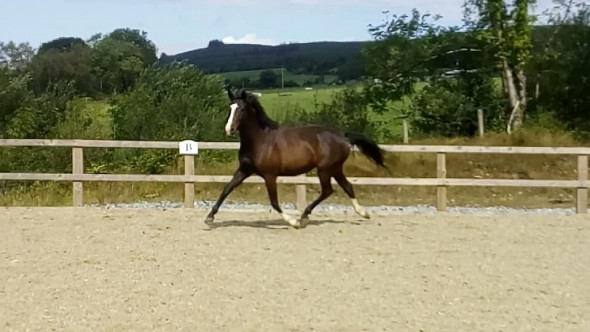 We have been so fortunate to acquire a young broodmare with some of the most interesting and exclusive breeding to come into Ireland.
We breed eventers and we breed show-jumpers - and we have purchased Jomira with the dedicated intention to breed a very superior eventer.
Her sire-line is predominantly International level dressage and her dam-line breeding is Grand Prix level showjumping. Now, with a top level proven show-jumping stallion to breed with her we hope to achieve our objective.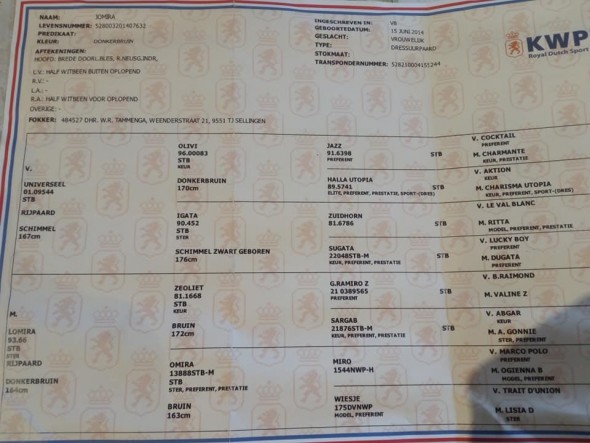 Even with a career ending injury to her shoulder which has resulted in a different career-path in the breeding paddock, Jomira still displays her exuberant flowing paces.
Sire of Jomira - Universeel. By the time he was seven he was considered to be in the top 9 of "U" year horses, fully approved by the KWPN.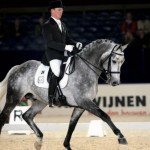 "Notable Dressage Stallions of the U-Year
The KWPN has approved nine dressage stallions that were born in 2001. Most of these demonstrate exceptional quality, whether competing at the national level or siring offspring. Their performance means that they are meeting the expectations placed on them as three-year-olds at the performance test."
UNIVERSEEL, SIRE OF JOMIRA (below)
Another approved Olivi son from the U-year is Universeel (out of Igata ster s.Zuidhorn, breeder: G.A. Post of Middelbert). He, like his half-brother UB40, also earned an 8.5 for talent as a dressage
horse.
Hamoen: "Universeel is a stallion with good conformation out of an interesting dam-line, and Olivi already produced good offspring at that time. He did well in Ermelo, and although we would've liked him to move more uphill overall, we wanted to
give him a chance to breed." The gray stallion competes at ZZ-light level
under Bart Bax and will soon move up to ZZ-advanced. According to his registered
party/breeder Gerardus Post,
Universeel was approved in the fall of 2004, and his oldest offspring are four years old.
Among his oldest offspring is the remarkable mare B.Kerose (ds.Zeoliet) who finished first this year among the four- to seven-year-old dressage mares at the Tolbert Central Inspection.
Prior to that, B.Kerose had scored 78.5 points in the IBOP.
B. Kerose has the same damsire as Jomira....ZEOLIET who died in 2002 at the age of 20
DAMSIRE OF JOMIRA: ZEOLIET/RAMIRO Z/RAIMOND
The stallion was bred by Eykenboom who still owned him together with the Dutch stallion station Nijhof in Geesteren, The Netherlands.
In 1984 Zeoliet was amongst the best stallion in the stallion performance test and he passed on his quality to his descendants. He received 9,2 for his dressage test and 9 and 9,5 for the jumping parts. Zeoliet competed in the Stallion Competition Circuit under Henk van den Broek and performed 4th level dressage with Roger Schulkens.
Zeoliet has two approved sons from his first breeding season, Elcaro and Eusebio. The dark bay was especially gifted as show jumping sire. He has sired several Grand Prix show jumpers like Escudo, Supercruise, Jumbo and Elando. Nevertheless, he also produced a large lot of top level dressage horses of which Dotato, Neoliet, Leoliet and Favoriet are renowned horses.
DAMLINE OF JOMIRA: A STRONG LINE WITH KEUR, PRESTATIE AND PREFERENT MARES.
Her grandam is by Miro by Marco Polo.
Marco Polo is generally considered to be the most influential Dutch sire in breeding and jumping. He was also the sire of the famous Olympic show jumper Milton.
He was a Trakehner by the renowned TB Poet xx, giving him 50% blood.