Kandice Z's 2018 foal by I'm Special de Muze.... black colt Ringfort K Special. FOR SALE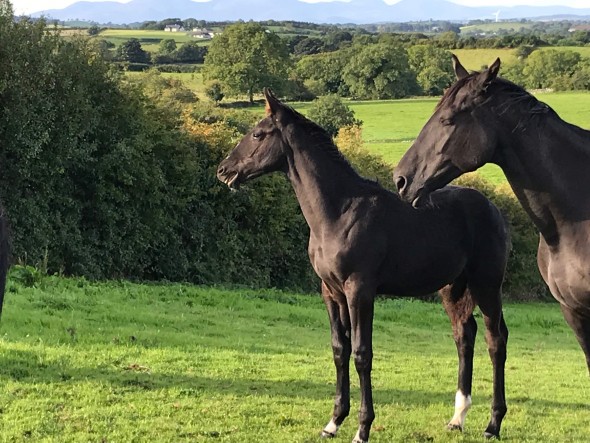 Kannan Z (Kannan) in foal to Parco for 2019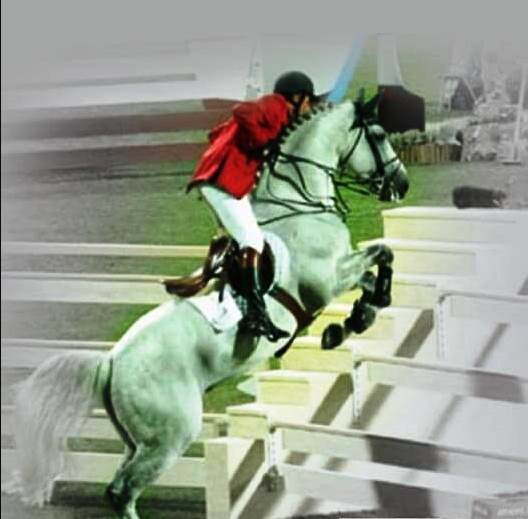 Kandice Z (Kannan) in foal to I'm Special de Muze - due date 18.04.18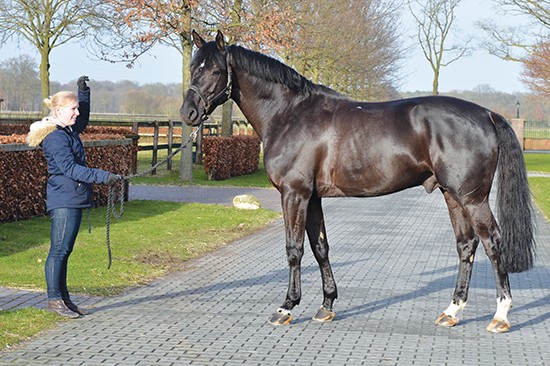 14.06 - Kandice Z scanned with a heartbeat to I'm Special de Muze! - see pictures and his details below.
Kandice Z by Kannan (Voltaire ex Nimmerdor) out of an Olympic Ramiro (Ramiro Z ex Voltaire) mare - so Voltaire top and bottom!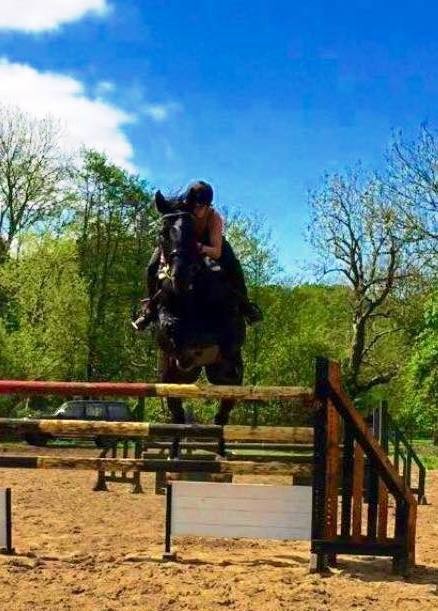 The Great Mystery of Breeding...
When you buy a broodmare (by Kannan with a very good performance damline) and put her in foal to an appropriate stallion (I'm Special de Muze) you still have to sit back over the winter months and wonder what the foal of that coupling will be like...in many ways that is the thrill of breeding. To be sure nothing is certain - as a very distinguished show-jumper once told me - Mohammed Ali had 6 brothers and not one of them could box!
To help those musings I received a couple of photographs this week of her first and only foal, by Baloubet du Rouet, who is now four, rising five and is jumping very pleasing double clears. (The mare herself was just jumped to 1.10 with an amateur lady following her first foaling, and then I bought her to breed).
KANDICE Z had a foal by Baloubet du Rouet (PK Kaloubet) before going jumping herself. With a lady amateur showjumper she was jumping 1.10 before an injury forced her to the breeding paddock!
PK Kaloubet by Baloubet de Rouet out of Kandice Z by Kannan as a foal.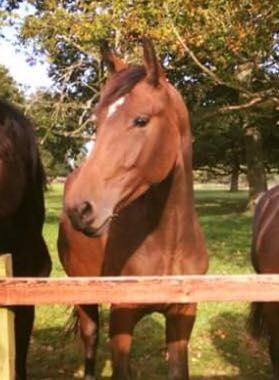 The foal of Kandice Z by Baloubet de Rouet was four in 2017 (photograph below taken of him as a three year old) and is starting his jumping career while Kandice Z re-starts her breeding career.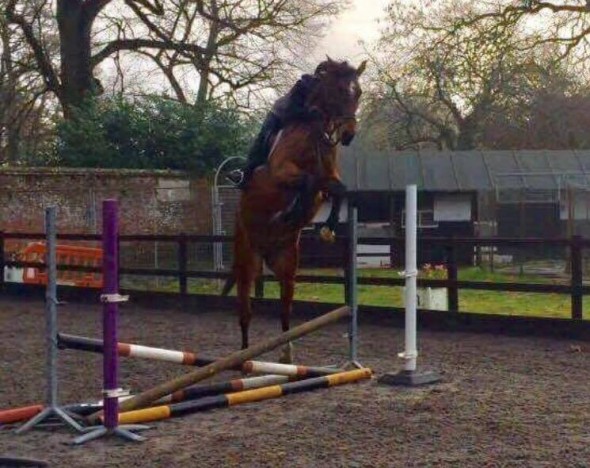 PK Kaloubet as a four year old...very handsome.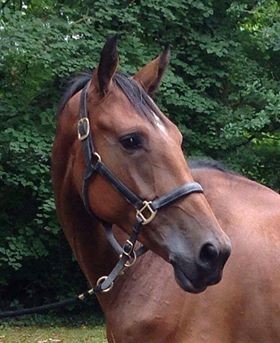 ...and getting his jump a bit more under control.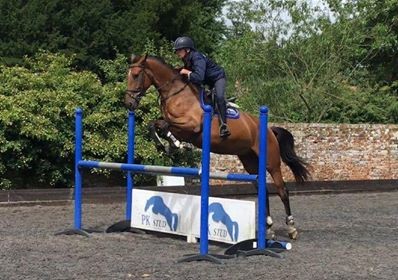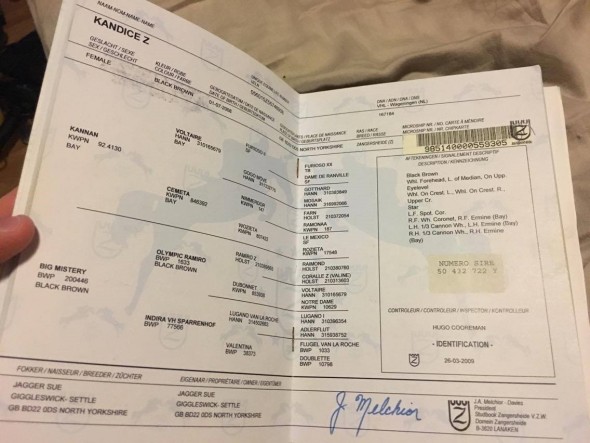 Kannan is the WORLD NUMBER 2 SHOWJUMPING SIRE!
He carries blood from all the important jumping breeds of Europe - Voltaire, Furioso, Nimmerdor, Gotthard, Farn, Le Mexico, all great progenitors of modern jumper breeding. Kannan is clearly a product of his genes.
Kannan brings power, movement and scope. He is also noted for his style, balance, temperament and good mouth.
One of his most notable offspring NINO DES BUISSONNETS carried Steve Guerdat to become Olympic Champion in 2012.
By Voltaire out of a Nimmerdor mare.
What else is left to say about Kannan? He is ranked #2 in the TOP10 of the best showjumping sires in 2015 with only a few points behind the first ranked, he was #1 for 2014. Kannan's offspring conquers at all level of competition worldwide. He seems to be destined for staying in the Top10 for the next ten years due to the outstanding quality of his youngsters. In terms of genetics, Kannan shows a pedigree full of major legends like Nimmerdor, Voltaire and Le Mexico. Kannan seems to match with a lot of mares while adding canter, strength and a super mouth, he particularly works well with blood types. The offspring are appreciated worldwide for their exceptional talent, great willingness and their ability to react.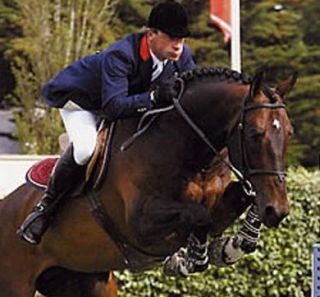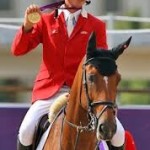 Offspring / Produits
♦ #5 WBFSH 2016Jumping Sires
♦ Oh d'Eole, German Champion 2012 (Marc Bettinger)
♦ Nino des Buissonets, GOLD MEDAL Olympic Games London 2012 (Steve Guerdat)
♦ A Pikachu de Muze, World 6 year-old Champion (Gregory Whatelet)
♦ Quannan R, WINNER CSI4* Fontainebleau (Marc Bettinger)
♦ Quorioso Pré Noir, WINNER NationsCup Drammen 2013 (Timothée Anciaume)
♦ PAILLE DE LA ROQUE, world champion 2015
♦ MOLLY MALONE, 1m60 (Bertram Allen)
♦ Ladro di Cuori di Ca'san, 3rd Championnat de France 6 year-old (Eric Navet)
PEDIGREE OF KANDICE Z - DAM
Olympic Ramiro out of Big Mistery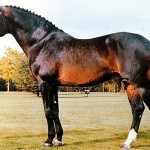 Conceived in Holstein, born in Westfalia, licensed at Neumünster, and himself an international performer under Fritz Ligges, Ramiro influenced nearly all European Performance Studbooks.
Ramiro was the most popular representative of the Ramzes line and at one stage was the most frequented sire in Germany. He stood at stud in Westfalia, Holstein, Zangersheide and Holland.
When Ramiro was presented for selection, he was described as the ideal type of the modern Holsteiner – strongly imprinted by his dam, tall and elegant, showing the top line of his grandfather, Cottage Son xx, with powerful frame, a glorious face and large, clear eyes. His excellently formed neck, beautifully set, could still be seen – even when he was an old horse – and is stamped on his progeny. Ramiro displayed a very good walk, a normal trot, and a great canter.
Ramiro was by the Ramzes son, Raimond who was born in 1960 out of Infra by Fanaticker. According to The Holsteiner Horse, "his progeny were very uniform, true-to-type and of good character, were trustworthy and easy to ride. Raimond sired well over 120 daughters who were held in high esteem, especially when they were out of Thoroughbred mares." He was the sire of eight approved sons but only Ramiro, born in 1965 out of the Cottage Son daughter, Valine, was successful. He was the only foal of Valine, who went to Italy where she was a successful jumping competitor.
The damline of Olympic Ramiro (Dubonnet by Voltaire) is littered with Approved stallions and 1.50 and 1.60 showjumpers.
2nd dam:
1972 Notre Dame ( Notre-Dame ) ( KWPN, chestnut mare by Exilio xx )
1977
R. Alrame B. (Alrame) (KWPN, chestnut stallion by Ramiro Z) Approved for: NRPS1985
Damiro B (KWPN, bay stallion by Ramiro Z) Approved for: KWPN, SF with Wout Jan van der Schans (NLD) 1986
Etorette B (KWPN, bay mare by Ramiro Z) dam of Presto B ( Piloot B ) ( KWPN, 1997, bay gelding by Peter Pan ) ISJ level 1.60m dam of True Love Santa Monica ( True Love B ) ( KWPN, 2000, bay stallion by Heartbreaker ) Approved for: Z ISJ level 1.50m
Udansa M (KWPN, bay mare by Quick Star) dam of Cudansa M ( KWPN, 2007, chestnut mare by For Pleasure ) ISJ level 1.45m
Rosanne M (KWPN, chestnut mare by Cash) dam of GRUPO PROM CHALLANGE Z ( Z, 2002, dark chestnut gelding by Calvino Z ) ISJ level 1.60m
Dubonnet (KWPN, chestnut mare by Voltaire)
1989
Honnete (KWPN, chestnut mare by Cantor)
1989
Honnete (KWPN, chestnut mare by Cantor)
3rd dam:
1968 J'Attendrai ( KWPN, mare by Sans Souci )

Windekind (KWPN, mare by Alme)
1972
Notre Dame (Notre-Dame) (KWPN, chestnut mare by Exilio xx): see above
Ipsylon B (KWPN, chestnut stallion by Feuerfunke xx) Approved for: KWPN1995
Zandoria Z (Z, chestnut mare by Zandor Z) dam of Angela de la Cruz ( Aida B ) ( KWPN, 2005, bay mare by Numero Uno ) ISJ level 1.50m
2003
CHOPIN B Z (Z, bay gelding by Chellano Z) ISJ level 1.60m with Sven Heitkemper (DEU) and Tim Rieskamp-Gödeking (DEU) 1st CSIO4* 2012 - Nations Cup 2012 Copenhagen (DEN) ( 1.60m ); 1st CSI3* 2016 San Giovanni di Marignano (ITA) ( 1.50m ); 1st CSI3* 2012 - Grand Prix 2012 Arezzo (ITA) ( 1.50m )
Kandice Z's GRANDAM - INDIRA VH SPARRENHOF IS JUMPING 1.30 with Jeremy Sintes of France
...and Kandice Z's dam's half-brother Nithard out of Indira vh Sparrenhof by Laudanum xx is jumping 1.60.
1990 NITHARD (BWP, chestnut stallion by Laudanum xx) Approved for: BWP ISJ level 1.60m with Willi Melliger (CHE) and Rudolf Letter (CHE) 1st CSI-W 1999 - World Cup 1999 Moscow (RUS) ( 1.60m );
Laudanum xx, sire of Nithard who is out of Indira vh Sparrenhof, dam of Kandice's dam Big Mistery.
In the era when a stallion has to also be a performer to attract mares, it is increasingly difficult for a Thoroughbred stallion to make any impression. Ladykiller, for instance, never appeared in the competition arena, and in today's environment, would not have attracted mares, and the Holstein Studbook – and world jumping breeding in general – would be much the poorer as a result.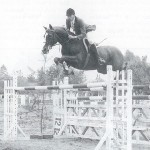 The modern exception to the rule is the French Thoroughbred stallion, Laudanum. He was the first international jumping star for the young Pierre Durand – winning Grand Prix, Puissance and Nations Cups and more than 100,000 French francs in prizemoney. He was described at the time as both careful and courageous. Laudanum is the only French Thoroughbred stallion to have jumped at the international level.
He is the sire of showjumping performers such as Jonggor's Ajonc (Yves Houtackers), Raspail Bose (ridden internationally by Roger-Yves Bost), Aferco (Alexandra Ledermann), BB Nithard (Niklaus Schurtenberger) and Chergar Mail (Philippe Rozier).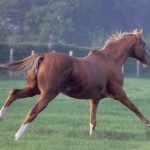 Licensed sons include Raspail Bose, Oberon du Moulin, Valbaussy and Nissan Duc de Moyon Z. His influence spans the world and the Mexican jumping stud, La Silla, stands the Laudanum son, Chapultepec La Silla.
COVERING SIRE FOR 2018 - I'M SPECIAL de MUZE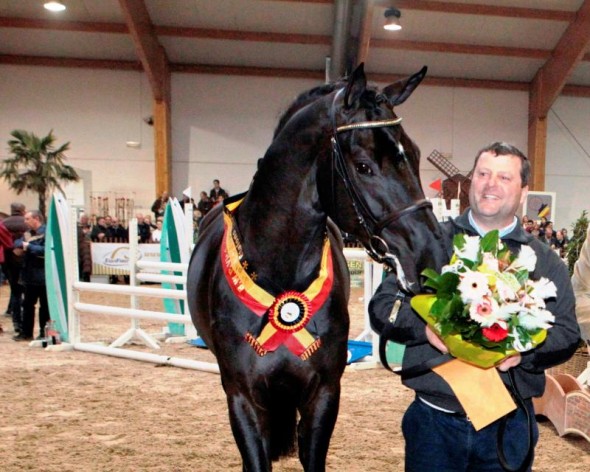 The stallion I'am Special de Muze honors him own name with his special pedigree. Both his sire Emerald van 't Ruytershof as well as his dam Walnut de Muze are very succesfull in international jumping with Harrie Smolders.
Smolders and Walnut de Muze presented the Netherlands in the winning nation cup team in Calgary and Dublin and represented Holland in the team at the European Championships in Calgary and the Worldchampionchips in Kentucky. Walnut de Muze is also the dam of the kwpn approved Falaise de Muze.
The granddam of Special de Muze is the famous mare Querly Chin. She competed in the worldcup final of Milan with Christophe Barbeau. She is one of the topmares in Belgium by producing several international jumpers such as Walnut de Muze, Merveille de Muze, Narcotique de Muze II, Narcotique de Muze IV, Walloon de Muze and Werly Chin de Muze. Also from her pedigree descend the approved stallions Querlybet Hero, Vagabond de la Pomme, Quel Hero de Muze and the bwp champion Inshallah de Muze.
Mr. Jones (I'm special de muze x Vertigo) - 4jaar - . Nick Bossaerts
Emerald Diamant de Semilly Le Tot de Semilly
Vernise des Cresles
Carthina Z Carthago Z
Tanagra S van het Darohof
Walnut de Muze Nabab de Reve Quidam de Revel
Melodie en Fa
Querly Chin Chin Chin
Kerly (v. Pacahat II)