RINGFORT HELOISE du MOULIN
Ready to take on the World! Bay filly by Cobra 18 (Cornet Obolensky ex Ramiro Z mare) out of Moulin Fontaine (Alligator Fontaine) out of Hortense du Moulin by Surcouf de Revel by Jalisco B....a whole heap of show-jumping genes in one little filly!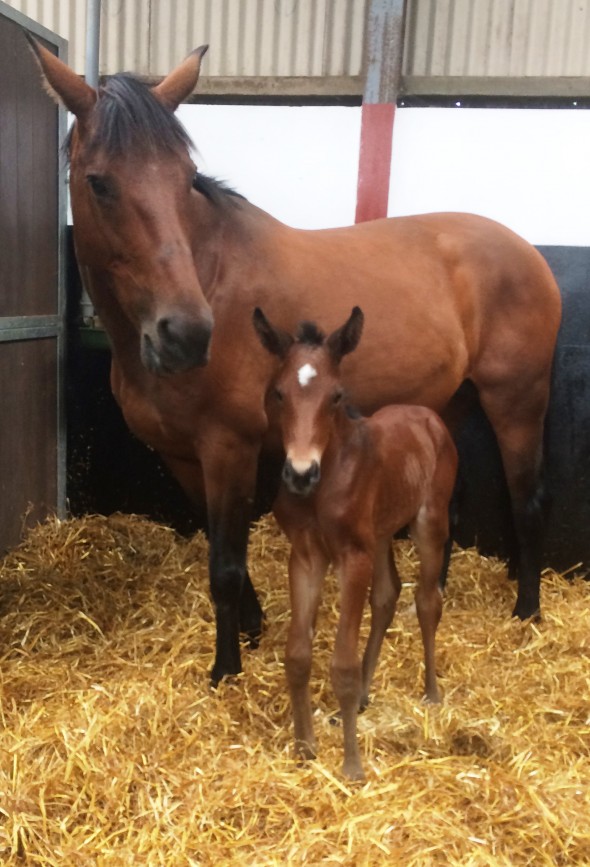 It is a lovely Sunday - and sunny - morning in Co.Down! Our beautiful Selle Francais mare foaled to Cobra 18 (Cornet Obolensky ex Ramiro Z) in the early hours and we have a stunning filly foal - bay, with the shiniest coat I have seen on a foal in 30 years of breeding! This is our last foal of the 2016 season. The dam of our mare Moulin Fontaine, a career broodmare, has three World Cup Showjumping siblings. A half-brother to the mare herself, Limestone Romeo, topped the Goresbridge sale in June at €30,000, Moulin Fontaine's first foal was exported to the US, and we have retained her 2015 foal by Glasgow van't Merelsnest at Ringfort.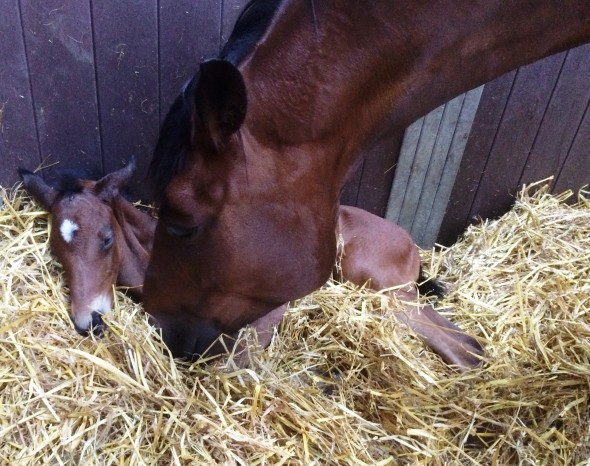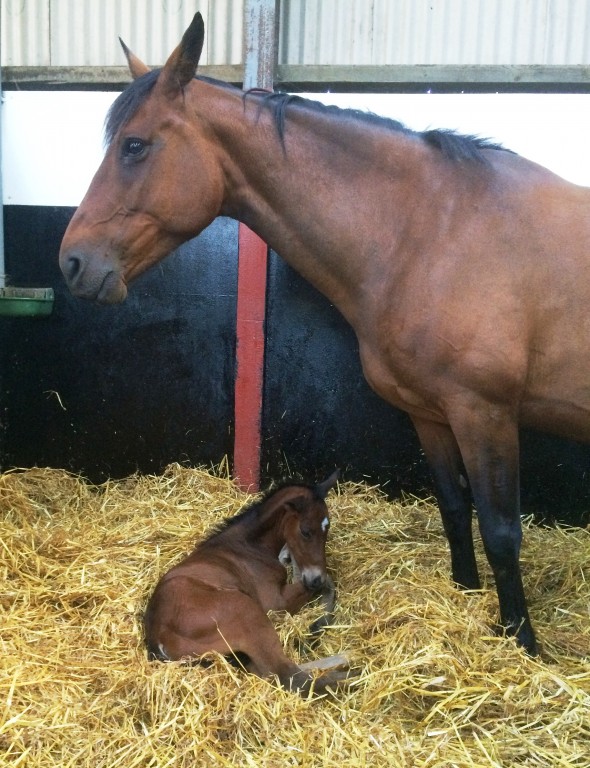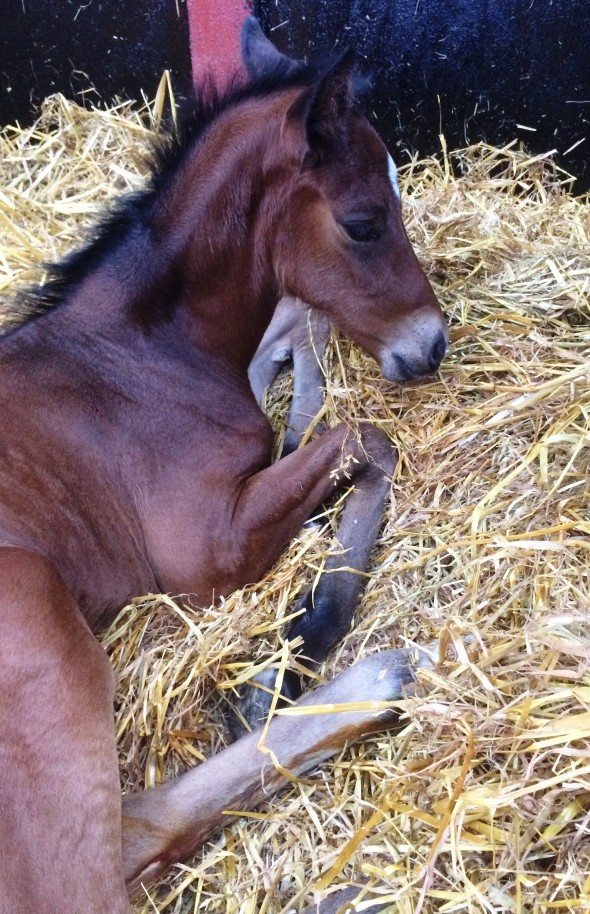 NEWS: four year old half-brother to Moulin Fontaine tops Goresbridge Sale!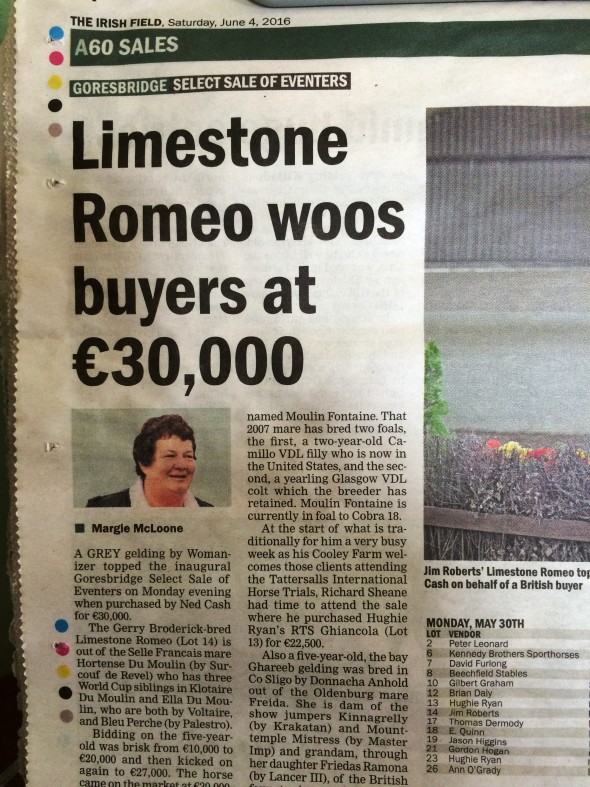 ...and Margie McLoone picked up on the relationship with Moulin Fontaine and their very famous dam...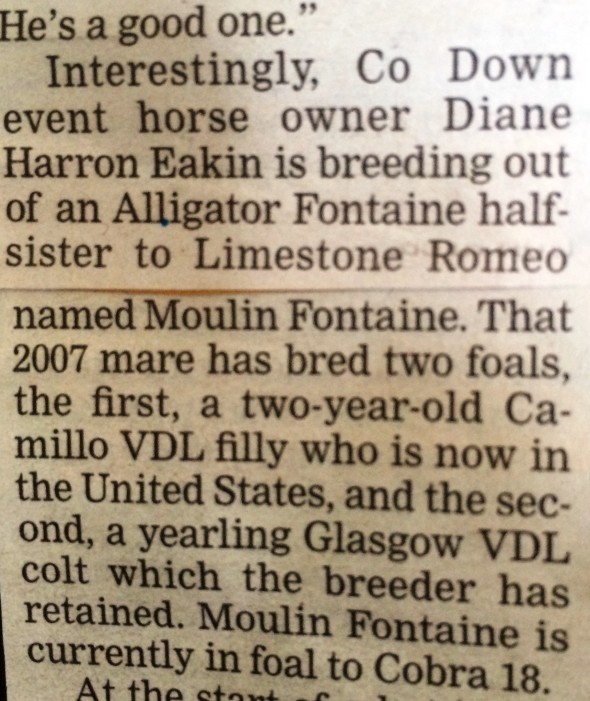 MOULIN FONTAINE - By Alligator Fontaine out of Hortense du Moulin - dam with THREE World Cup siblings - by Surcouf de Revel.
Confirmed in foal for 2016 to Cobra 18 (by Cornet Obolensky out of a Ramiro Z mare.)
And below is Dublin, also by Cobra 18, in March 2016. A huge congratulations to Carly Anthony and Dublin, owned by Artisan Farms LLC, on their third place finish in the $130,000 CSI4* Engel & Volkers Grand Prix at WEF - Winter Equestrian Festival.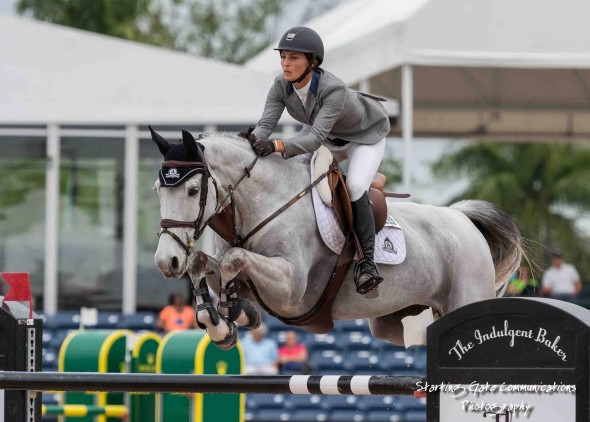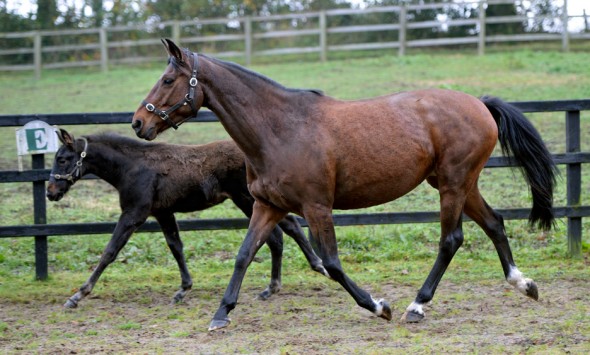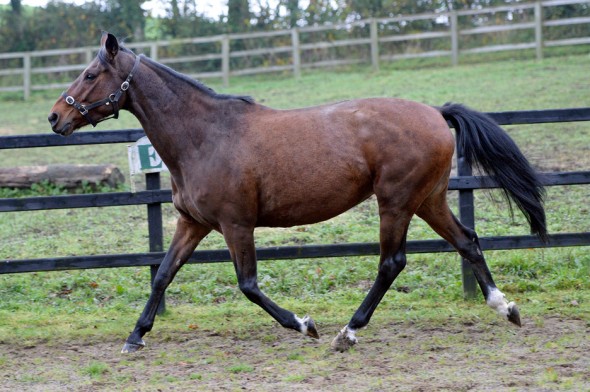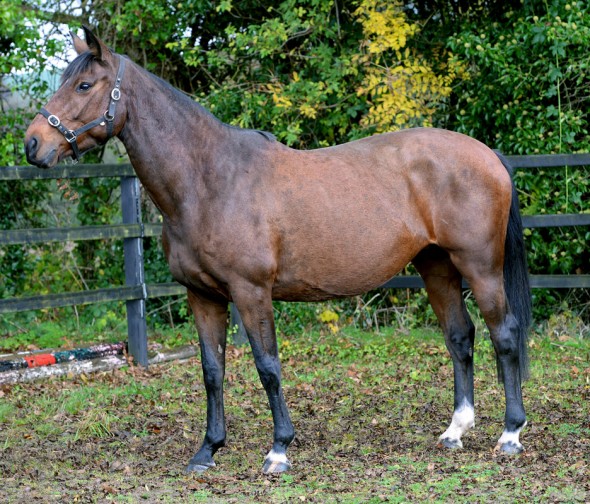 Below: Moulin Fontaine with her colt foal by Glasgow VDL.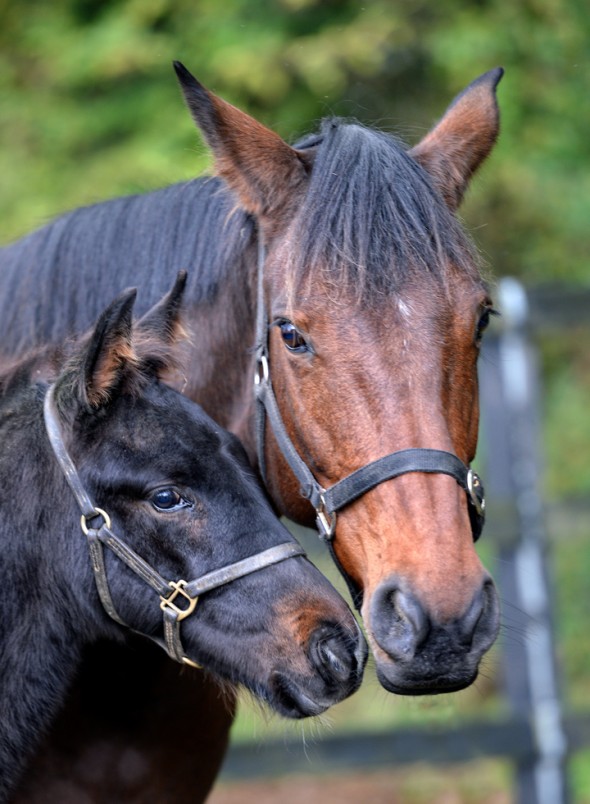 August 2015: Moulin Fontaine in foal for 2016 in foal heat to Cobra 18 (by Cornet Obolensky out of a Ramiro Z mare)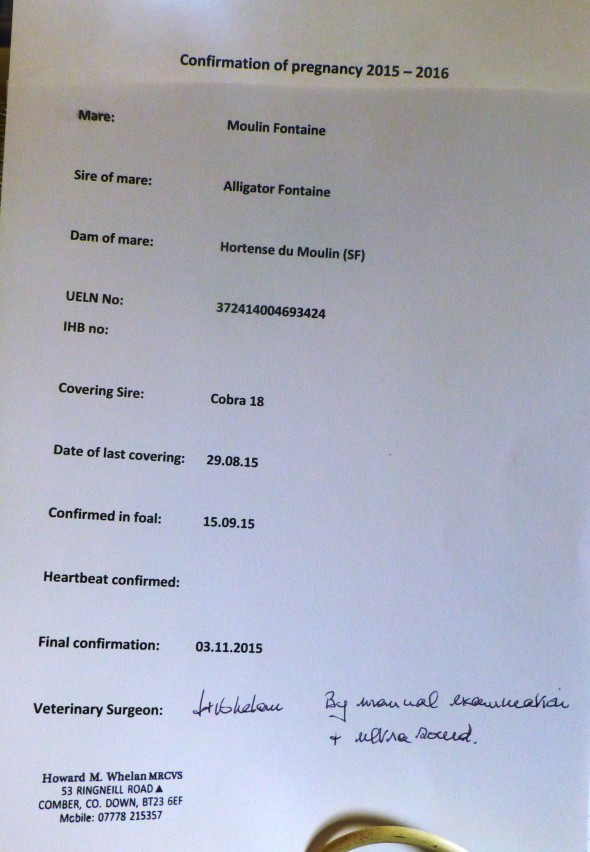 MOULIN FONTAINE was in foal for 2015 to Glasgow VDL, a young stallion ridden by Jur Vrieling...
...foal, Ringfort Reve du Moulin, born 21st August 2015 - with very long legs!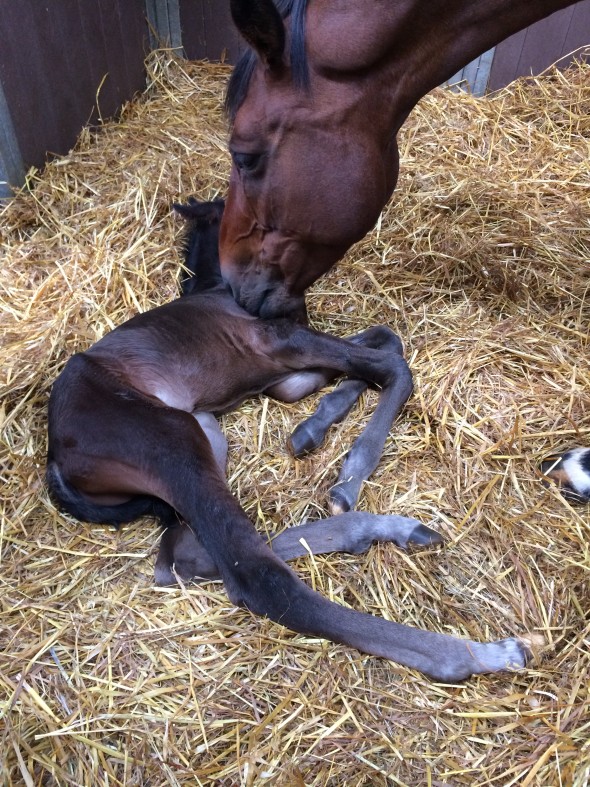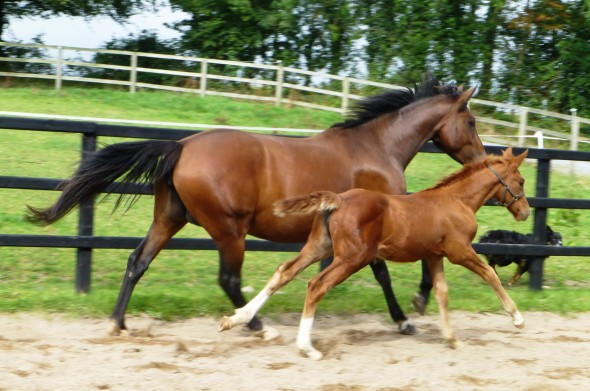 Above and below: First foal - filly - Ringfort Esprit du Moulin - by Camillo VDL, sold to United States.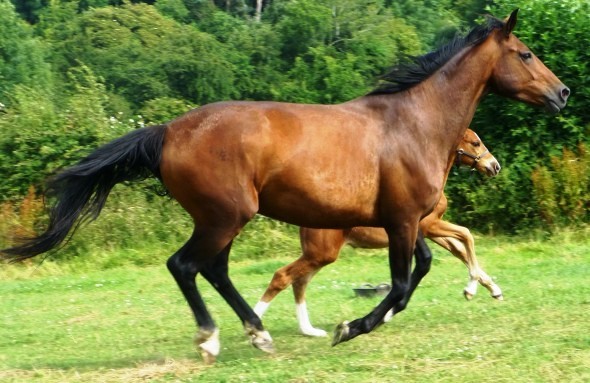 Damsire of Moulin Fontaine - Surcouf de Revel by Jalisco B
Surcouf De Revel Jumped for Portugal with his rider, Miguel Faria Leal - together they jumped in three European Championships, two World Championships and also at the Olympic Games in Atlanta '96
SIRE OF MOULIN FONTAINE - ALLIGATOR FONTAINE - 75% TB
His father NOREN, grandson of the thoroughbred MOURNE (like our top thoroughbred LAUDANUM) was a top international champion in the USA , " Horse of the Year 1982 ", winner of 10 international Grand Prix in 3 seasons, 9th in the World Cup 1983 etc…
NOREN who produced only a dozen foals per year during only 6years of breeding (1987-1992), has an excellent rate of success with 49 products indexed in compétitions out of 70 births (70%) including 13 with a ISO higher than 130 (26,5%).
His Dam NIGHTY FONTAINE, 7/8th thoroughbred is the daughter of DARK TIGER, thoroughbred and father of international winners in CSI & CCI. She is non other than the sister,by the same mother, of the famous top stallion I LOVE YOU; She has also bred two other international winners, the young Frisco Mail (Hand In Glove xx) and FRASCATOR MAIL (Jalisco B), vice champion 7year old Stallions in 2000, winner in Grand Prix CSI at 8 yrs old.
ALLIGATOR FONTAINE is the only stallion where the father was Horse of the Year &where the mother is sister of a stallion Horse of the Year .
Performances - ALLIGATOR FONTAINE is one of the top performing stallions. Judged the best stallion of his age group at 8 & 9 years old by ISO, ridden by Michel Robert, winning in CSI and CSIO at Blaye (1st Grand Prix), Dublin, Dinard, Deauville, Hickstead (1st Speed Derby), Gijon, Jardy, Jerez, Paris-Champ de Mars, La Baule. At 10 & 11 years old with Eric Navet, he won at Aachen (3 times 2nd), Cannes, Deauville (2 victories), Caen (1st Master des Etalons), Paris-Bercy, Modena, Genèce, Jardy (1st Grand Prix), Bordeaux (2 victories, 2nd Sires of the World, best French Stallion), La Baule (2nd Derby 99 & 2000), Vichy (1st Derby, 2nd Grand Prix).
FRENCH CHAMPION 1999 at Fontainebleau, Voted " Performing stallion of the year 1999 " and obtained the highest ever ISO by a Stallion to this day ISO : 190 ; Best French Stallion.
At 12yrs old Eric and Alligator won 16 international victories in 13 shows CSI/CSIO in 2000 … another record ! In 2001, 8 international victories and 2nd at the Dinard Derby. ALLIGATOR FONTAINE has accumulated more than 1,5 millions francs in winnings, around 230,000 euros. In 2002, ALLIGATOR started an early and well deserved half retirement, staying at the stud to breed between February and August, to go back to the shows with Eric later on in the year. After 11 months away from the international rings, Alligator made his comeback at the CSI at St Lo in September 2002. He won his first event and came in 2nd the next day !
ALLIGATOR FONTAINE is classed amongst the 200 best stallions in the world (Breeding News).
Breeding Tips "ALLIGATOR FONTAINE corresponds particularly well to sporty mares of an average size, type SF, AA, or KWPN requiring a stallion with lots of " RAYON ". Some of his larger foals, like him, can be late developers and deserve that you take your time. Dont forget that ALLIGATOR and his younger brother FRASCATOR were late bloomers but have both gone on to become International Champions.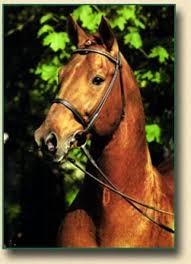 ..and some interesting current news about Moulin Fontaine's sire, Alligator Fontaine...
Alligator fontaine seems to be proving a good broodmare sire. This year he has been the dam sire of the winner of the famous Le Baule in France - a mare called Ornella Mail sired by Lando and from an Alligator Fontaine mare ridden by Patrice Delaveau
Also the Olympic champion Steve Guerdat has purchased a new 7 year old stallion called Kavalier. He is sired by Kannan and is again from an Alligator Fontaine mother.
The most famous offspring of Alligator Fontaine is a mare called Jalisca Solier who was also ridden by Steve Guerdat to many successes at International level.
Grand Dam of Moulin Fontaine is Qualite De Lisle x Nankin (Nankin is Dam sire of Quidam De Revel)
Hortense du Moulin, the dam of Moulin Fontaine, has THREE World Cup siblings - : Klotaire du Moulin; Ella du Moulin; and Bleu Perche.
Klotaire Du Moulin - 1998 Stallion By Voltaire. Fully Approved stallion in France, he jumped with Penelope Le Provost at 1.60 level before being sold to the United States in 2009 to compete with a young girl rider.
Ella du Moulin - '92 mare by Voltaire She competed at World Cup level with Eric Navet and Patrice Delaveau for France
Bleu Perche - '89 Stallion By Palestro Represented Chile at the World Equestrian Games in Jerez in 2002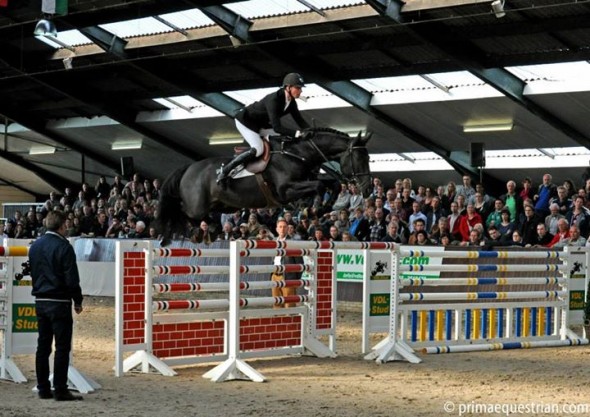 GLASGOW VDL is an exceptionally interestingly bred stallion. Sire Nabab de Reve and grand sire Darco both, have performed at the highest level in Grand Prix, World Cups and World championships.
In breeding, both Stallions are highly placed in the World Rankings and they are sire to many top horses.
Glasgow van 't Merelnest has a fantastic damline; mother Wendelina jumps at International Grand Prix level with rider Marc van Dijk. Wendelina is the full sister to Sapphire, the succesfull jumper of McLain Ward.
Sapphire won 2 Olympic Gold Medals for the American Team and won also several Grand Prix like Calgary and Wellington.
SOLD TO USA: Moulin Fontaine's first foal - a 2013 filly foal by Camillo VDL (Douglas x Baloubet du Rouet x Cor de la Bryere)