VIEANDA VAN HET KELDERKEN: Vieanda is a Belgian Warmblood and comes with an outstanding parentage, and top performance siblings.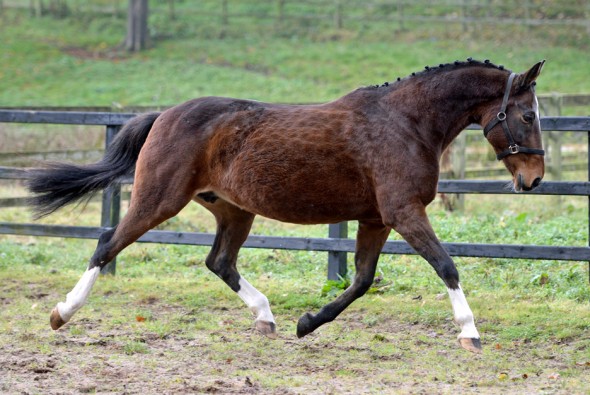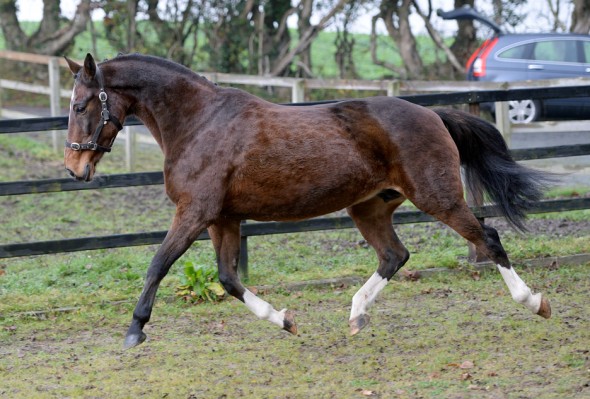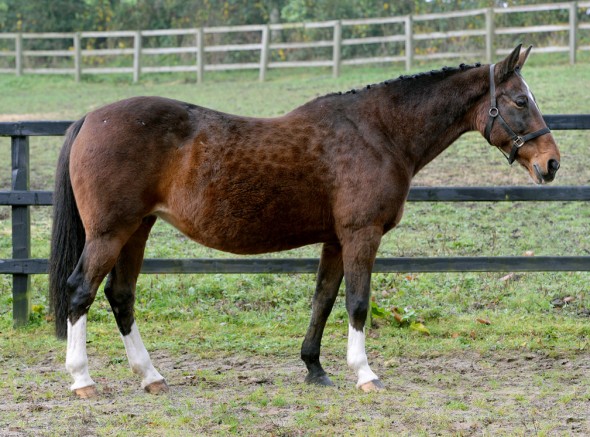 20th April 2016 Vieanda van't Kelderken foals to Connor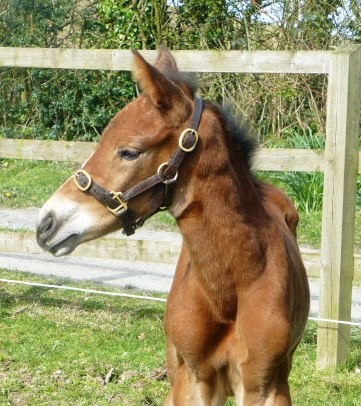 Introducing Ringfort Coromandel, bay colt born yesterday and bred in the purple. By Connor (Casall la Silla ex Korrada by Cor de la Bryere, a full sister to Corrado1) out of our Belgian warmblood broodmare and former showjumper, Vienda van't Kelderke
Vieanda's sire is Pachat 11, sire of Urano and Paradigm, damsire Nabab de Reve, sire of Glock London and like her, damsire of Scott Brash's Hello Sanctos.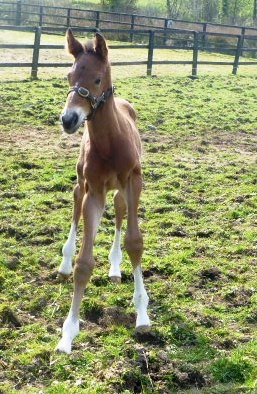 What a fabulous morning to greet the world...even if it is difficult to know what to do with these extremely long dangly things with white socks!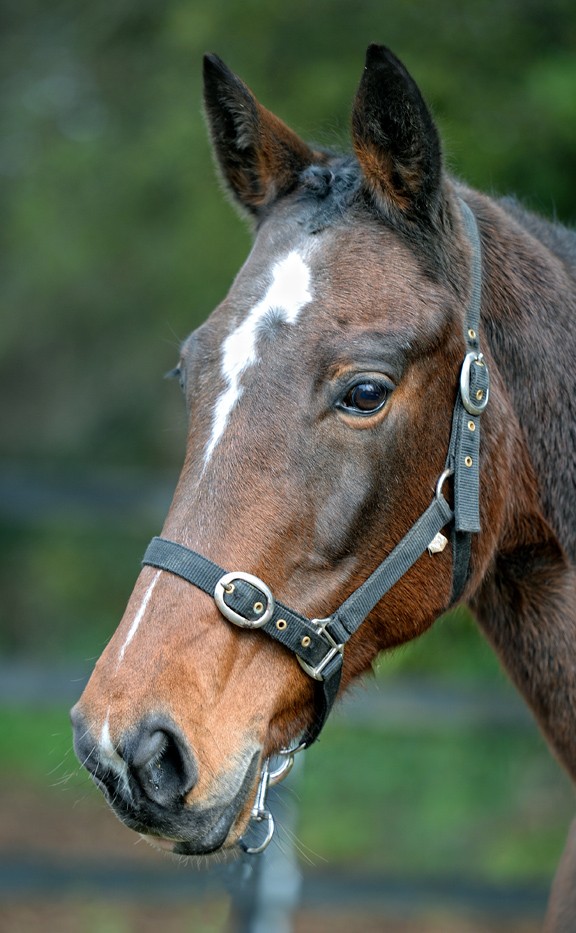 28th May 2015 Vieanda now confirmed in foal with Connor semen for 2016....very small picture of Connor!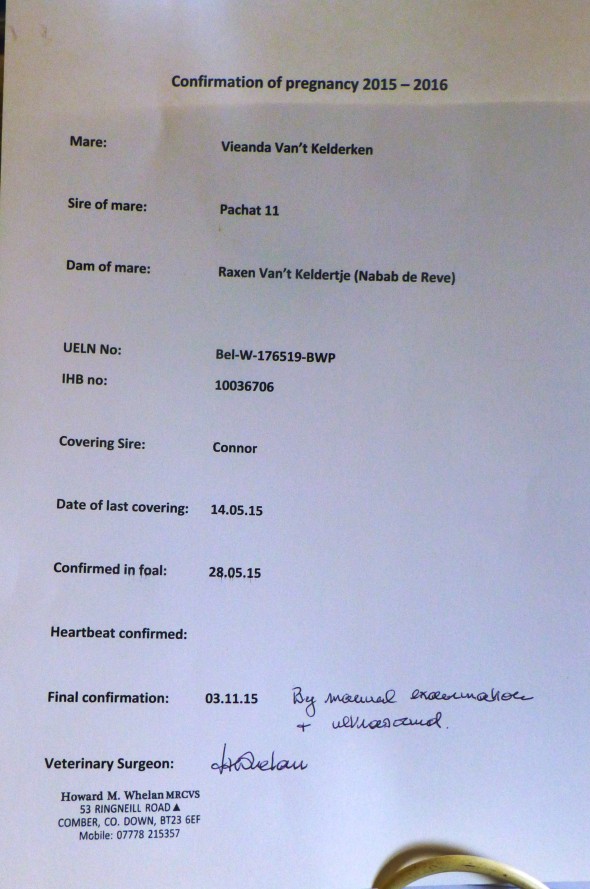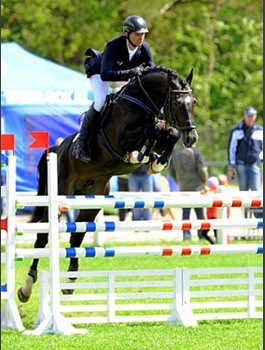 out of Korrada S (full sister of Corrado)
Dark Brown - age: 2006 - height 1.71 cm
According to successful breeders, you have to combine the interesting in order to attain the exceptional. Connor is a big-framed stallion with a particularly powerful back, long legs and correct feet. He does a scopey, careful, good quality jump.
At 6 and 7 years, Connor chalked up numerous wins in young jumper and show jumper classes to S level and also won the first ever 7-year-old jumper Championship at Elmshorn in 2013.
He has improved steadily since and has achieved numerous valuable placings, also in classes at S** level.
His sire Casall is a performance sire of high international standing. Connor's dam is a full sister to Corrado I which was successfully shown at international level by Bo Kristoffersen and Franke Sloothaak from 1991 to 1997, and chalked up numerous Grand Prix wins, for example at Leuwaarden, Dortmund, Aarhus, Neumünster, and Kiel.
Stem 6879 is rated a very high achieving mare family in the Holsteiner breeding programme. Already in the 1950s, this stem attracted attention for the successful mares Baden (Hans Evers) and Original Holsatia (Fritz Thiedemann), later for Landlord (Breido Graf zu Rantzau, Ludger Beerbaum), and Lausbub (Achaz von Buchwaldt).
Connor's first crops have already yielded several state premium mares and four licensed Holsteiner sons, two of them licensed in 2013, one the reserve champion stallion Coruscant, the other Connect, a frequently used stallion stationed in the Netherlands.
Vieanda van't Kelderken's sire is Pachat 11, sire of, among others, Jessica Kurten's top horse Urano and the Olympic horse Paradigm. Damsire is Nabab de Reve, sire of Eurocommerce London, mount of Gerco Schroder and currently on the market at €6 million, and damsire of Scott Brash's Hello Sanctus (formerly known as Sanctos Van Het Gravenhof).
Show-jumping Gold and Silver Team Medals and a Silver Individual Medal at the 2012 Olympics between them!
Dancer van het Veldkruis, (below) 1.40 show-jumping half-brother to Vieanda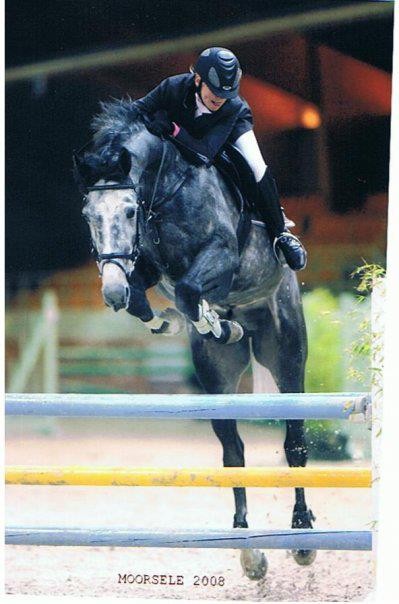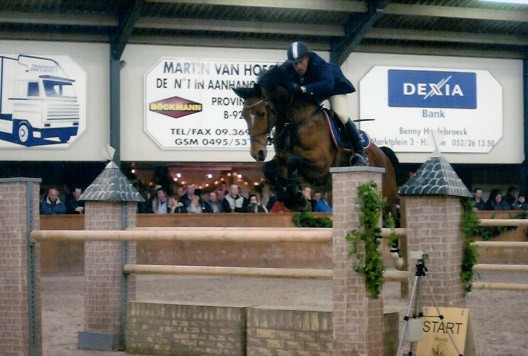 Above - another 1.40 showjumping half-brother to Vieanda, Amilton van het Kelderken - Joris De Brabander - Stal de Muze
Vieanda has two half-brothers, one in Italy and one in Belgium, both jumping 1.40; she jumped herself to 1.20 with a 13 year old girl.
Vieanda with her former rider, 13 year old Gemma Kennedy, winning at 1.20.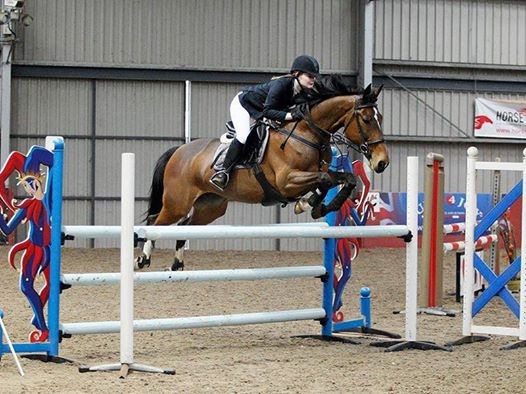 She has had three foals, the Indorado called Diva is jumping 1.40, and two by Hemmingway are just three and four years old so all to play for there...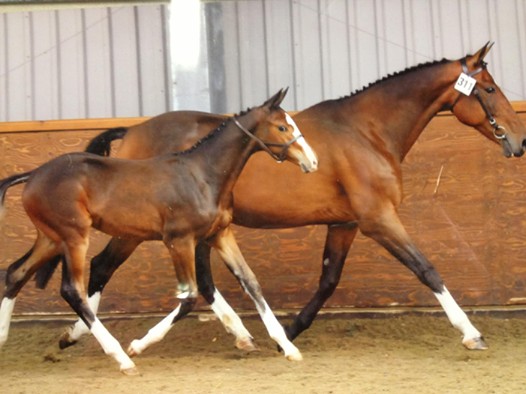 Vieanda, who took breaks in her career to have foals, was competing until very recently until an accident with her leg trapped in a farrier's box made her destined for the breeding paddock full-time.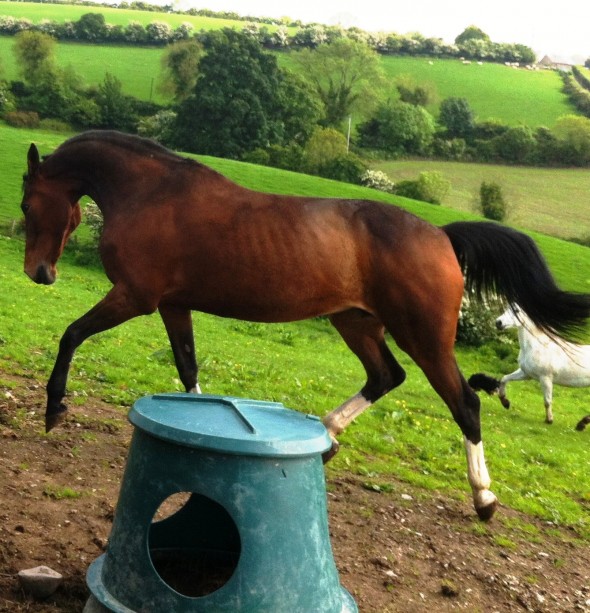 Picture shows her arriving home from Drumhowan Stud, in foal to Ringfort Cruise and looking good! As is the Hay Hutch!