WE HAVE BEEN FORTUNATE TO HAVE BRED MANY SUPERSTARS IN THE PAST. BUT WE LOVE TO HEAR FROM ALL RINGFORT HORSE OWNERS - AT WHATEVER LEVEL.
Another one this July 2014 weekend from Ellie Anne Brown who bought Ringfort Fighting Chance...
Hi Diane!
I just wanted to give you an update on Conquer.. He came out of his short summer vacation to win his second preliminary in flagstaff, AZ. This one was definitely all him as I completely messed up my turn to a corner, and he didn't even think about not jumping what was in front of him. Such a good boy! Thank you for such an amazing partner
...and one from Rachael...
I have a lovely Ringfort horse by the name of Ringfort Caruso (aka. Harvey) and I just wondered if you had any more information about him. He came to me from a girl down in Clougher who but I don't know much about what he did before he came to me. I got him as an 8 year old and he is now 12. I'd love to know what he did in his early life, but I know you have had a lot of horses over the years so I understand if you lost track of him. I'm lucky to know he came from such a well respected yard, and I know a lot of people don't even have that much information about their horses.
But I'd just like you to know you bred a wonderful horse. Harvey is the loveliest animal I have ever encountered and he's opened more doors for me than I could ever have imagined. He has an amazing scopey jump and a temperament to die for. He'l will be with me for the rest of his days. Thank you.
Here's a little photo of him that was taken in July. Ever the professional, winning with his eyes closed.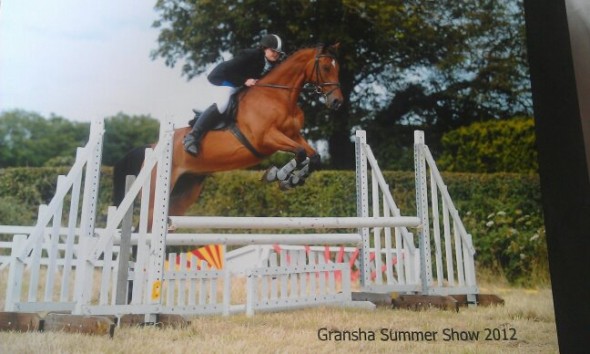 ...and another herogram, this time from the US...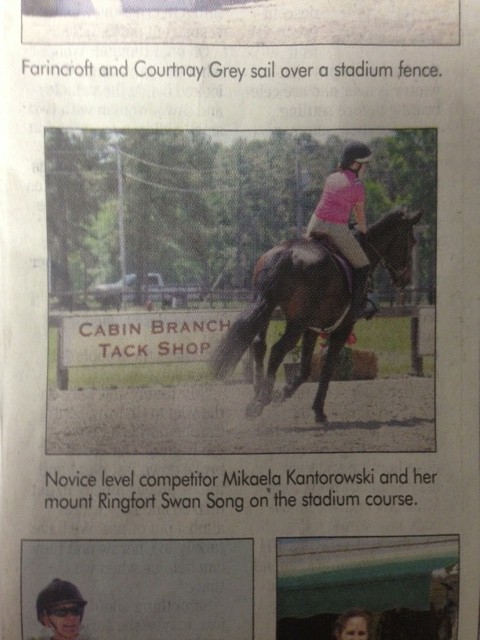 Hello, My name is Mikaela Kantorowski and I recently bought Ringfort Swan Song and brought her to the USA this March. Recently she did her first event in May at the novice level(US novice) and placed 5th and even got her picture in the paper. And then in her second event she won and was the only horse to break into the 20's in the dressage and one of only two to finish on her dressage score. We adore her.
For Mikaela's information, Johnny Mulligan rode Swan Song for the Smith Brothers (see below) - and he also adored her.