2022 Accessible frozen semen.
With problems anticipated getting certain semen into Northern Ireland, this is worth noting...
Ringfort Cruise has moved South but will still be available with frozen semen to Northern Ireland breeders.
Stud Fee: £300 per straw. To book and pay for semen in advance, Northern Ireland mare owners contact Diane Harron Eakin either by Facebook or telephone 07793491005.
All semen is frozen and available from Tullyraine Equine Clinic (Hugh Suffern) tel Marnie: 07923469561
They will welcome your mares to stay there for all stud work too.
DETAILS OF PEDIGREE AND PERFORMANCE OF RINGFORT CRUISE
5* fully Approved stallion with HSI. A 1.60 jumper who represented Ireland throughout Europe at Nations Cup and Grand Prix level, ridden by Capt. David O'Brien of the Irish Army. He is the only 1.60 fully Approved son of Cruising standing in Ireland
If you're hoping to breed a top performer, or a safe sensible horse for the less lofty classes, he is the sire to use - not only for performance, but to benefit from his exceptional temperament which he passes on to his progeny.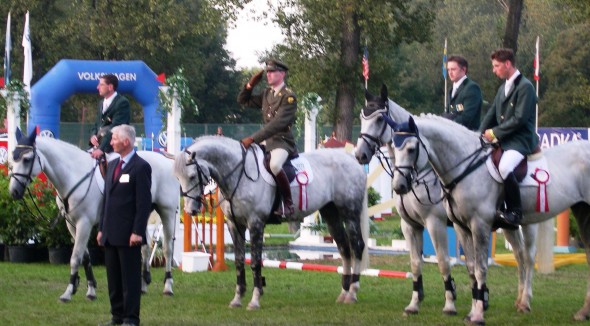 Ringfort Cruise (ISH) by Cruising (ISH) out of Renkum Woudina.
Approved stallion in the Irish Sport Horse Stud Book. Awarded a 5* showjumping own performance rating in the Irish Sport Horse Stud Book. Sire of 136 ISH foals (70 fillies, 66 colts). Successful at FEI CSIO5* 1.60m (David O'Brien (IRL)). Team win Lummen CSIO5* Nations Cup 2006; team 2nd and double clear Lisbon CSIO4* Nations Cup 2006; team 3rd Podebrady CSIO4* Nations Cup 2005; 4th Naples CSI4* Grand Prix 2006; 4th Modena CSI4* 1.50 Speed 2005.etc.
Ringfort Cruise is by the legendary stallion Cruising, who in turn was sired by the Irish Draught Stallion 'Seacrest'. Cruising was sire to many International showjumpers such as: Sails Away, World Cruise, Mo Chroi, Cruise Hill, Cruisings Mickey Finn, Cruiseway, Killossery Kruisette, and Master Cruise. Cruising became famous for his tremendous success in the ring. His wins include: 1st at Aachen 1999, 1st Dortmund 1999, 2nd World Games Grand Prix Rome 1997. He won numerous World Cup Qualifiers including: World Cup Millstreet 1997 & 1998 and Geneva 1999, and participated on 5 Nations' Cup teams for Ireland as did Ringfort Cruise.
Ringfort Cruise's dam is none other than Renkum Woudina, dam of the approved stallion Renkum Englishman who was also a Grade A showjumper. Woudina is by the famous showjumping stallion Nimmerdor, who is also sire of the stunningly successful stallion Heartbreaker.
SOLD TO THE UNITED STATES: Ringfort Lough Cruise - Classy 2013 colt by Ringfort Cruise out of Flemmingh mare Ushi.
Ringfort Lough Cruise (Ringfort Cruise out of Ushi by Flemmingh) as a yearling braving the snow his first winter in Connecticut.
2015 filly by Ringfort Cruise for full sister of WEG horse...
Filly by Ringfort Cruise out of the full sister to Clover, 4* and Swedish WEG eventing horse, owned and ridden by Anna Hasso. The filly will be retained for breeding, but will be aimed at competition in Sweden first - when she comes of age! Anna travelled from Sweden this week to see her new filly and her verdict - "The filly out of the Clover Brigade mare. Very correct and lovely movements. Big trot and round canter".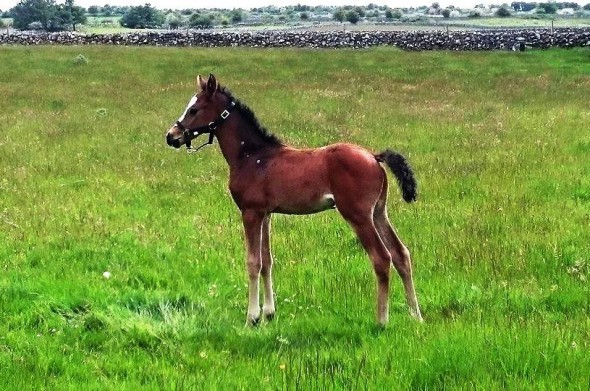 Ringfort Patron Saint, born on St. Patrick's Day 2012 - by Ringfort Cruise out of 3* event mare Ringfort Rara Ruby - seen here as a foal and winner of the Two Year old Futurity at Millstreet in 2014.
Winner of the Two Year Old Futurity Championship at Millstreet - Ringfort Patron Saint by Ringfort Cruise.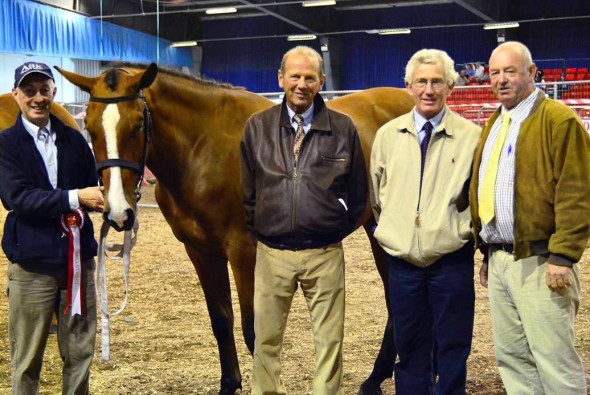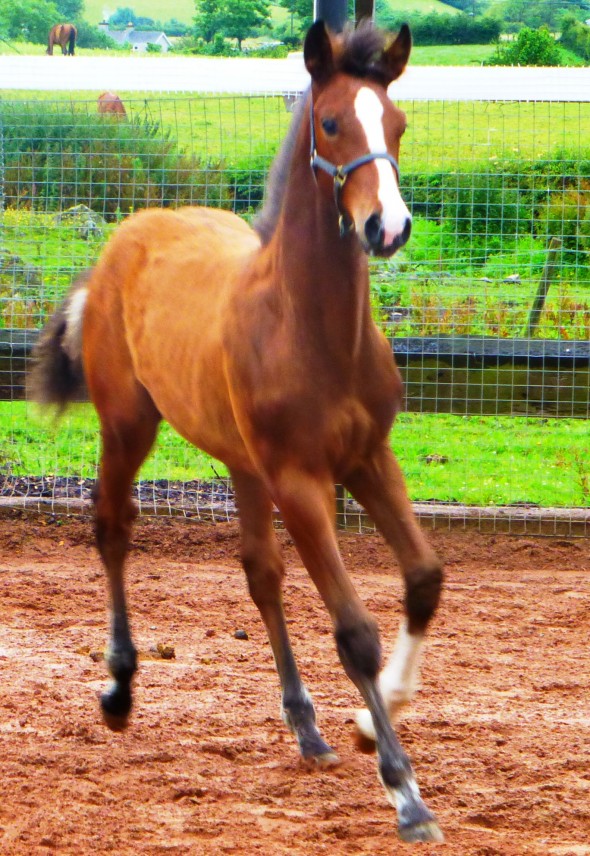 ABOVE: Ringfort Patron Saint as a foal.
Winner of the Performance Foal Championship - Ringfort Ruby's Cruise by Ringfort Cruise..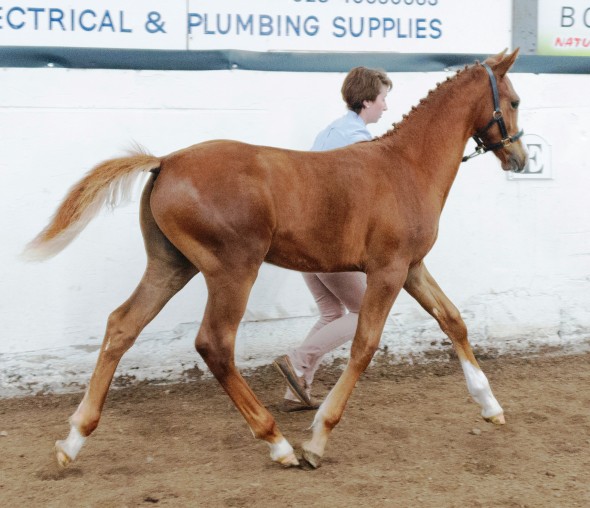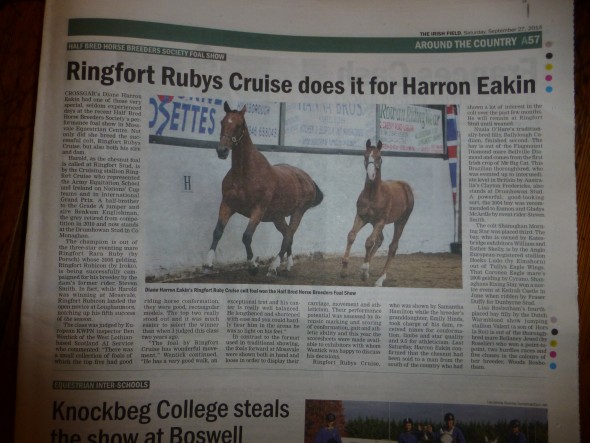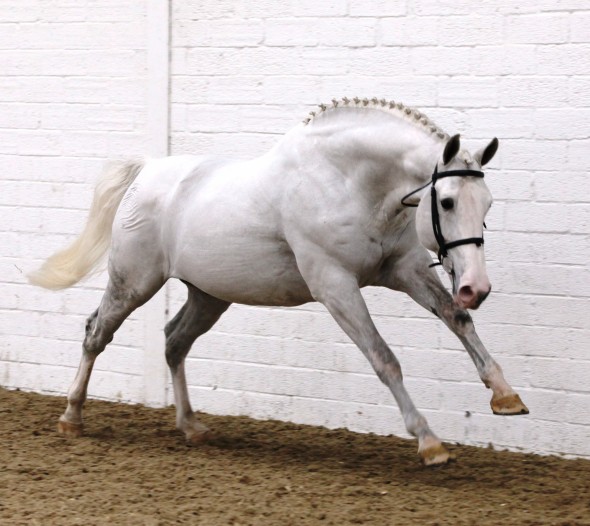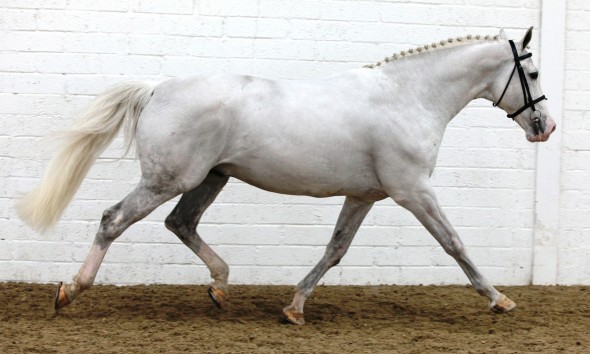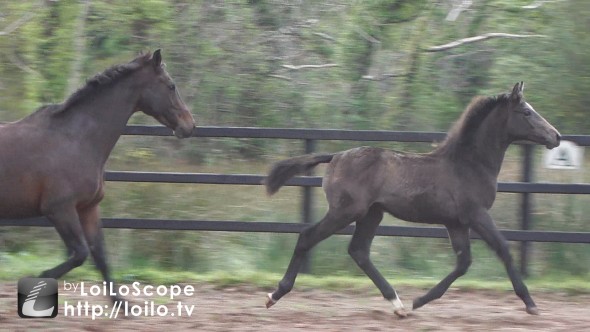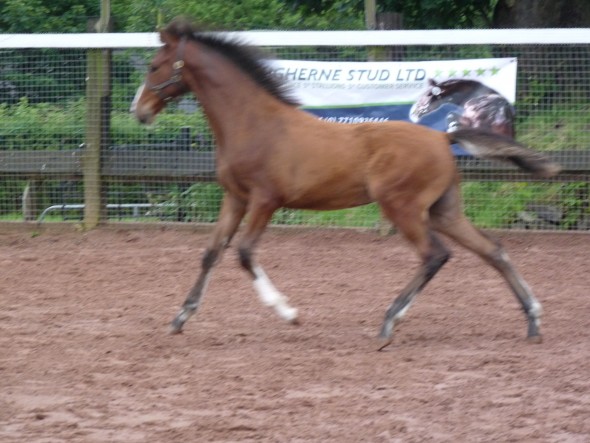 The Show-jumping and Eventing Sire
ISH - Light Grey - Born 1997 - 168cms Fully Approved with Irish Horse Board
Ringfort Cruise competed with the Irish Army for many years as a young horse, including competing on five Nations Cups for Ireland (same as his sire Cruising) with Capt David O'Brien. He has won and placed in numerous Grand Prix competitions here and abroad, before retiring to stud in 2009. Ringfort Cruise already has two progeny that were produced when he was a three year old and one of these has gone to America where she is competing successfully in three day eventing. Ringfort Cruise gives all Cruising enthusiasts a chance to use top Irish bloodlines mixed with famous Dutch lines. He boasts a superb temperament and is a true gentleman.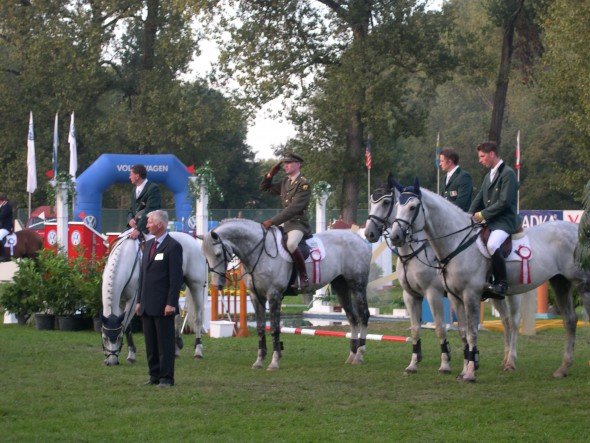 Ringfort Cruise competing in Grand Prix in Italy and Spain and in the Nations Cup in Podebrady. He has also won for his owner and breeder, Diane Harron Eakin, numerous Breeder Awards.
RINGFORT CRUISE JUMPING AT SANTANDER IN SPAIN WITH YOUNG RIDER EDUARDO ALVAREZ AZNAR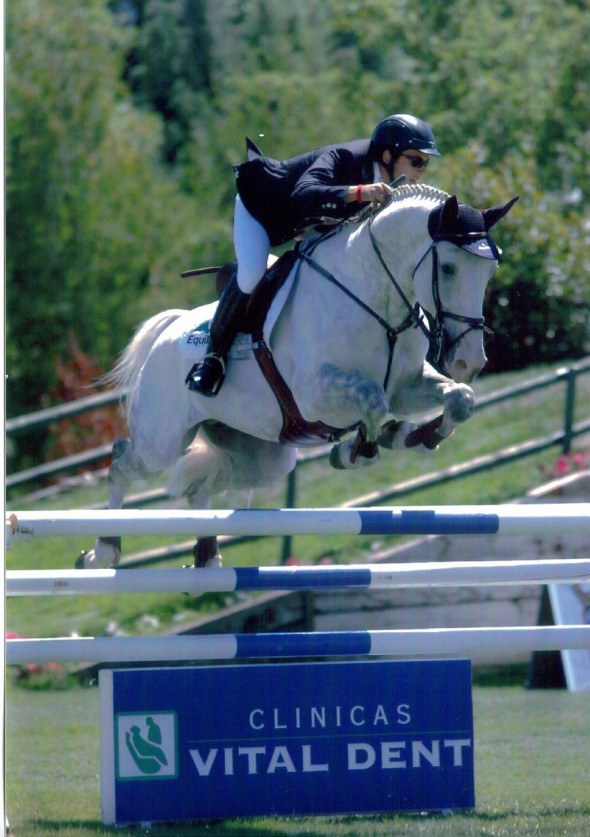 CAPT. DAVID O'BRIEN OF THE IRISH DEFENCE FORCES RIDING RINGFORT CRUISE TO A SUPERB DOUBLE CLEAR IN NAPLES IN ITALY.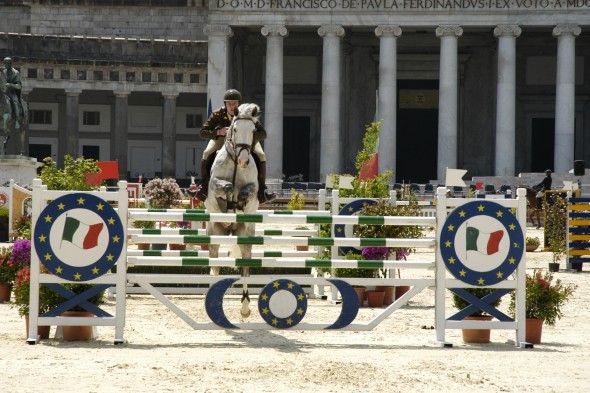 The video attached below is of Capt. David O'Brien achieving a fantastic double clear with Ringfort Cruise in the Grand Prix in Naples. It is irritating to watch in dribs and drabs, so let it stagger though once, and then press REPLAY and you will see it non-stop.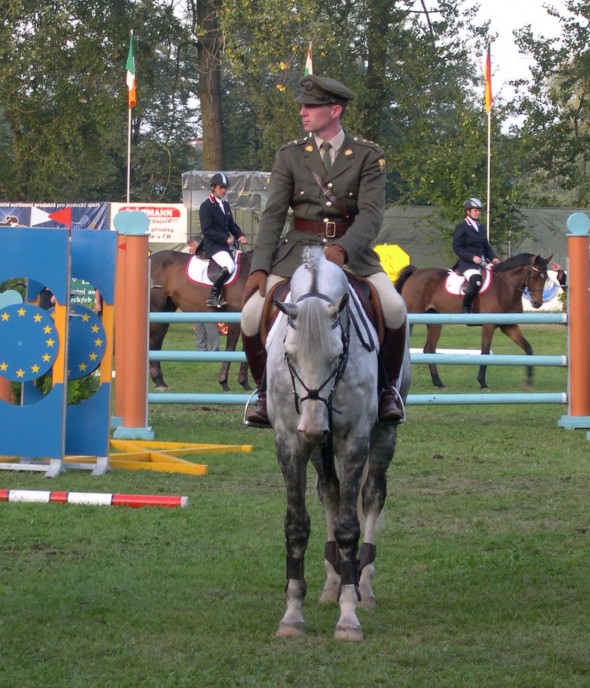 A ringing endorsement from Capt. David O'Brien, with whom Ringfort Cruise travelled all over Europe to compete under the Irish flag.
" I produced Ringfort Cruise from the age of six right up to International Nations Cup/Grand Prix level. His temperament was excellent, he had a great canter, and tremendous scope which he ably demonstrated when jumping a double clear round for Ireland in the Nations Cup in Lisbon, Portugal.
He was a very versatile horse, not only competing at Grand Prix jumping but he also had the ability to win International Speed Classes "
Winning at home too - Cavan International Grand Prix 2006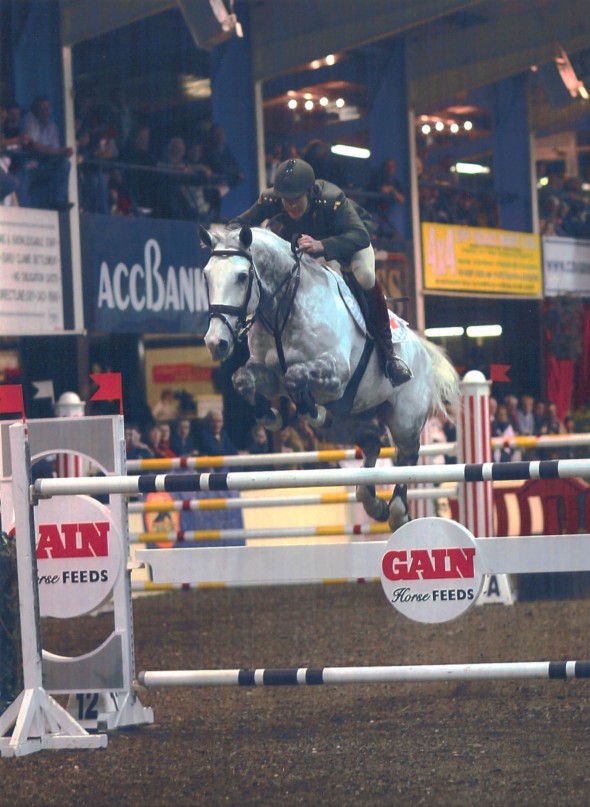 ...and looking just as good at Cavan Stallion Show as he goes into retirement to stand at Stud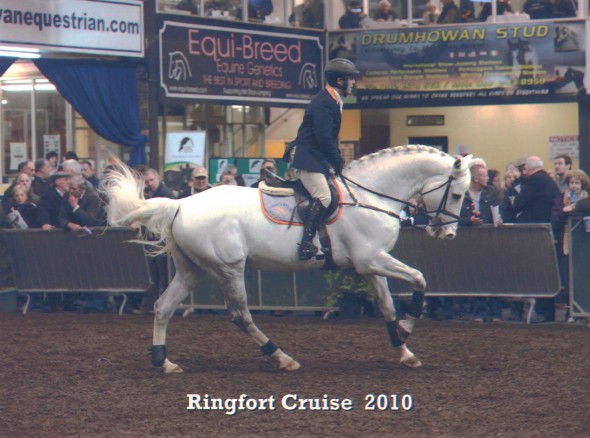 Ringfort Cruise is primarily a sire for for breeding showjumpers like himself - but he has another string to his bow as this endorsement demonstrates:
"If I wanted to breed a top class eventer I would bring my best thoroughbred mares to Ringfort Cruise: " Lt.Col Gerry O'Gorman, former Officer Commanding, Irish Army Equitation School
Steven Smith of Gilford riding Ringfort Carragheen by Ringfort Cruise to success locally before she was exported to the United States.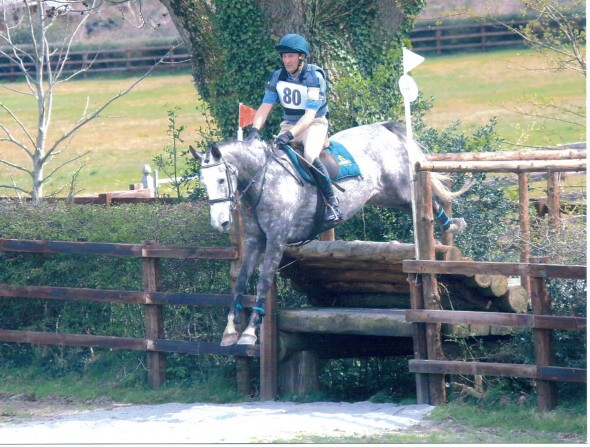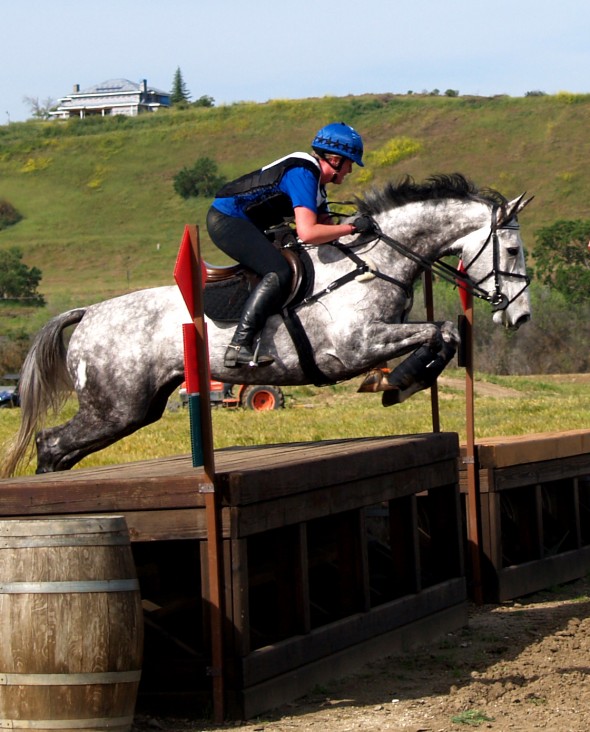 Ringfort Carragheen (above) by Ringfort Cruise winning at Twin Rivers in California under her Young Rider Tori Howe
Ringfort Patron Saint, by Ringfort Cruise, with his friends!